CLUB NEWS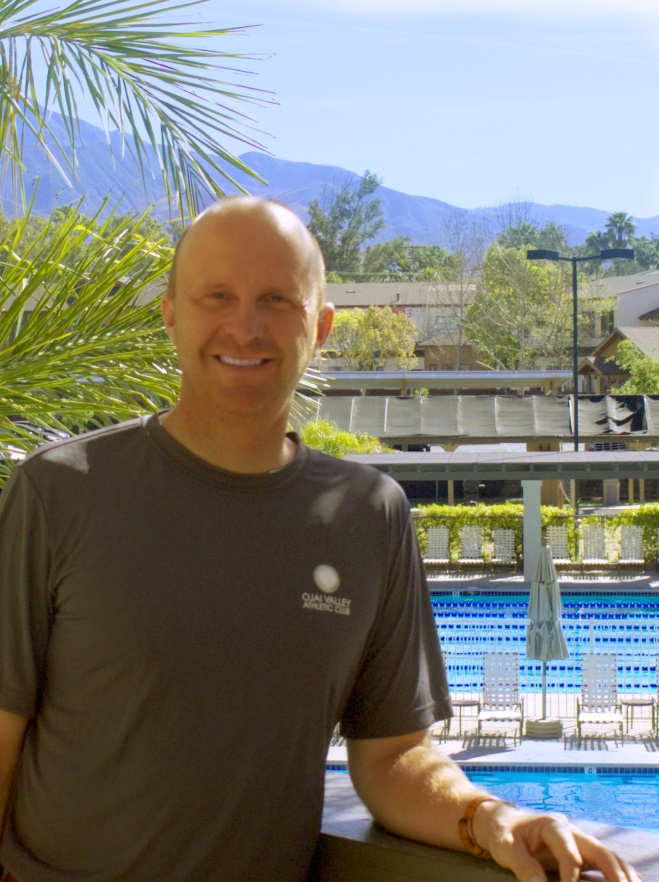 I just love April! Everything is in bloom, the weather is beautiful and most important... THE OJAI TOURNAMENT!! It is always great to be able to sit back and watch some of the greatest college athletes compete here at the club. This year will be a little different as we switch to a team competition format. I could try to explain it in detail but I might just confuse you more. I can tell you as a former college tennis player, it is an amazing format with lots of energy and excitement. There is really nothing else like it in tennis. I encourage everyone to drop by the club for lunch and watch some amazing PAC-12 ladies tennis! I hope everyone has a great April!!
See Ya at the Club!
Ryan
CONGRATULATIONS MEG MCCORMICK!
Introducing Chloe Lilz, born March 20!
From all of us at OVAC, we are so happy
for you and your family.
Wishing you a lifetime of happiness, laughter and joy.
Welcome to the world Chloe!
TO DREAM OR NOT TO DREAM, THAT IS THE QUESTION.
by Julie Fox, Pilates Instructor
~You dream of being strong, flexible, and lean
~You dream of moving throughout your days easily
~You dream of being comfortable in your body and free of pain or discomfort
~You dream that your body will do what you ask of it without hesitation
~You dream of being a better athlete
~You dream of leaving your workout session feeling better than you did before you started it

You're dreaming of Pilates!
Make your dreams come true.Private Pilates.Inquire at the front desk.
SWIM CLINICS FOR ALL AGES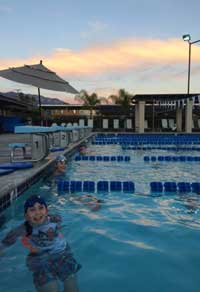 Ojai Master's Stroke Technique
• Monday, Wednesday, Friday 9-10am
Adult Freestyle Clinic
• Monday 5-6pm
• $12.00/drop in
10 And Up Stroke Development
• Wednesday 5-6pm
• Thursday 4-5pm
• $12/drop in
6-9 Pre-Swim Team
• Monday 4:15-5pm
• Wednesday 4:15-5pm
• $12/drop-in or $65/mo.
4-6 Pre-Swim Team
• Monday 3:45-4:15pm
• Wednesday 3:45-4:15pm
• $12/drop-in or $65/mo
GET A HEAD START ON SWIM LESSONS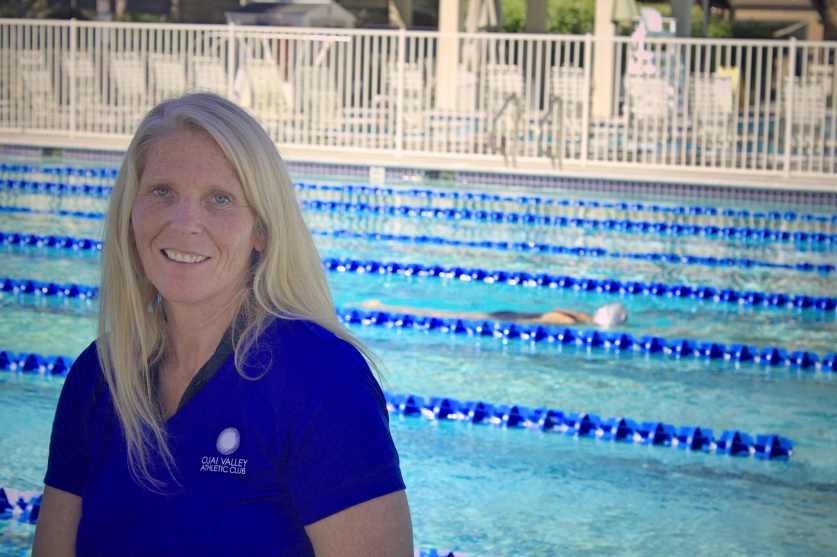 OVAC is excited to welcome our new swim instructor Wendy Hellstrom! Wendy is now available for private lessons. It's a great time of year to get started on swim lessons before the summer rush. Wendy has been giving lessons for many years to all ages and is excited to share her knowledge and experience with our members.
To contact Wendy: email: windyhillstrom@gmail.com or text: 805-204-6930
4/30 min lessons $150.00
NO SWIM TEAM PRACTICE APRIL 3-7TH
OVAC HEAT WAVES swim team will be on break April 3-7 for Spring Break. The Lap Pool will be available in the afternoons during those days for lap swimming. Clinics are still in session ENJOY!



OVAC 2017 SWIM PENTATHLON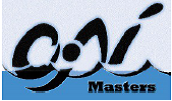 5 X THE FUN!
OPEN TO ALL OVAC CLUB MEMBERS
SATURDAY, MAY 6TH

Warm-Up will start at 8:00 AM
Meet Starts at 9:00 AM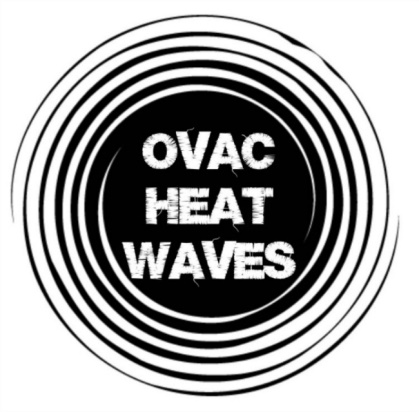 Registration
All participants must register before Monday, April 22.
Meet forms will be available at the pool and at the front desk.
Entry fee $10.00 per swimmer(checks to Jo O'Connell)
All participants will receive a meet T-shirt.
Snacks and drinks will be available, provided by the club.
Results will be posted by Monday, May 1.
Each entrant must swim five events, to include:
50 MT Butterfly
50 MT Backstroke
50 MT Breaststroke
50 MT Freestyle
100 MT Individual Medley
Times will be added up and ranked according to gender and age groups.
NEW 2017 SPRING LAP POOL SCHEDULE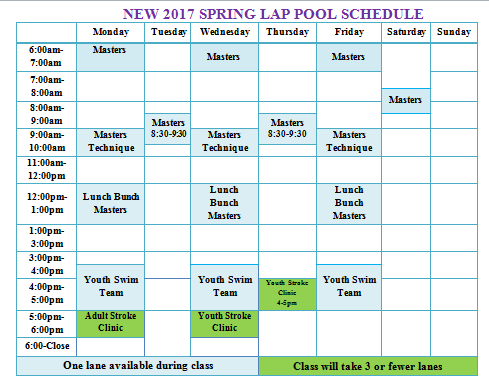 SHARING A LAP LANE
Many times at OVAC you will find an empty lane that's all your own, but sometimes you will show up at the pool for your swim and see that each lane has one or more swimmers already going or a class in session.
This doesn't mean you're out of luck. A single lane can accommodate several swimmers (just go watch a swim team practice) provided they all go at a comparable pace. Take a minute to observe each of the lanes and get a sense of which one you match up with best. Some pools designate slow lanes and fast lanes, but seeing the swimmers that are already going is an even better gauge.
If you're ready to pick a lane and start swimming, make sure everyone in that lane is aware that you're going to join them. Sit by the edge of the pool and wait for them to finish a set, or wave a kickboard underwater to get their attention, or jump in and stand in the corner of the lane until they acknowledge you're joining them. Use one of these techniques to share the lane:
Splitting the Lane:
In this scenario, one of you swims on one side of the lane and one of you swims on the other, the black line separating the lane down the middle. If you're splitting the lane, you stay in your half no matter what.
Circle Swim:
Much like traffic on a road, always swim on the right side of the lane. This means swimming on one side of the lane going down and the other side of the lane coming back. Swimmers move in a counterclockwise circle, hence the name.
Enjoy your swim!
JUNIOR TENNIS CLINIC SCHEDULE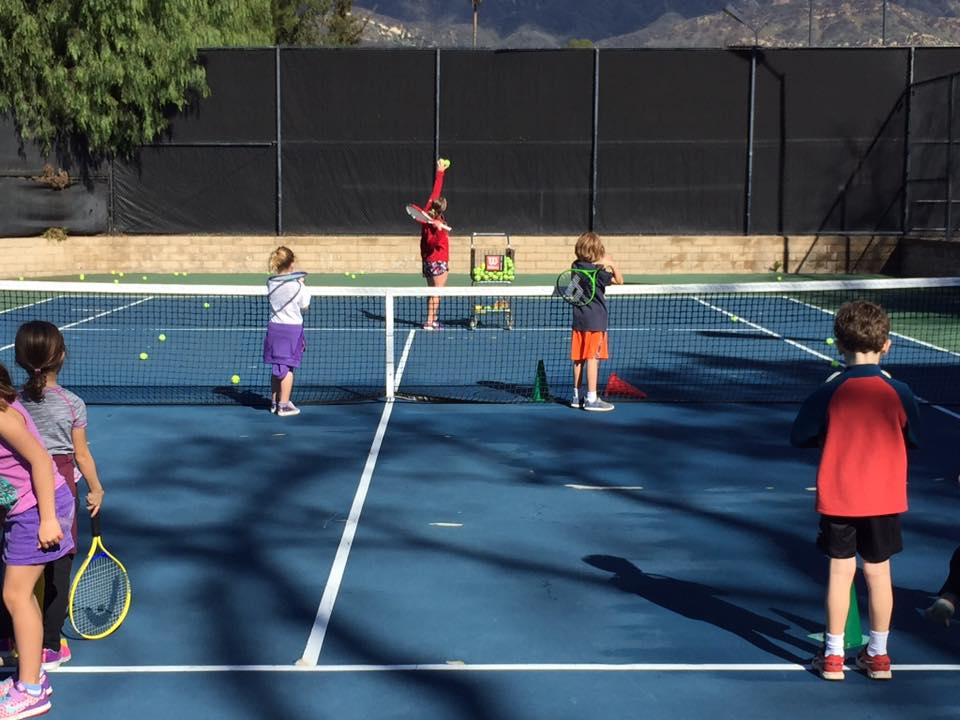 Future Stars
Ages 4 to 5, Saturday 10am-11am
Ages 6 to 8, Saturday 11am-12pm
**For more information please contact
Katya at 805-798-3699

Intermediate Clinic
Thursday 4pm-5pm

Advanced Clinics
Monday and Wednesday 4:30pm-5:30pm
**For more information please contact
Thomas at 805-407-4481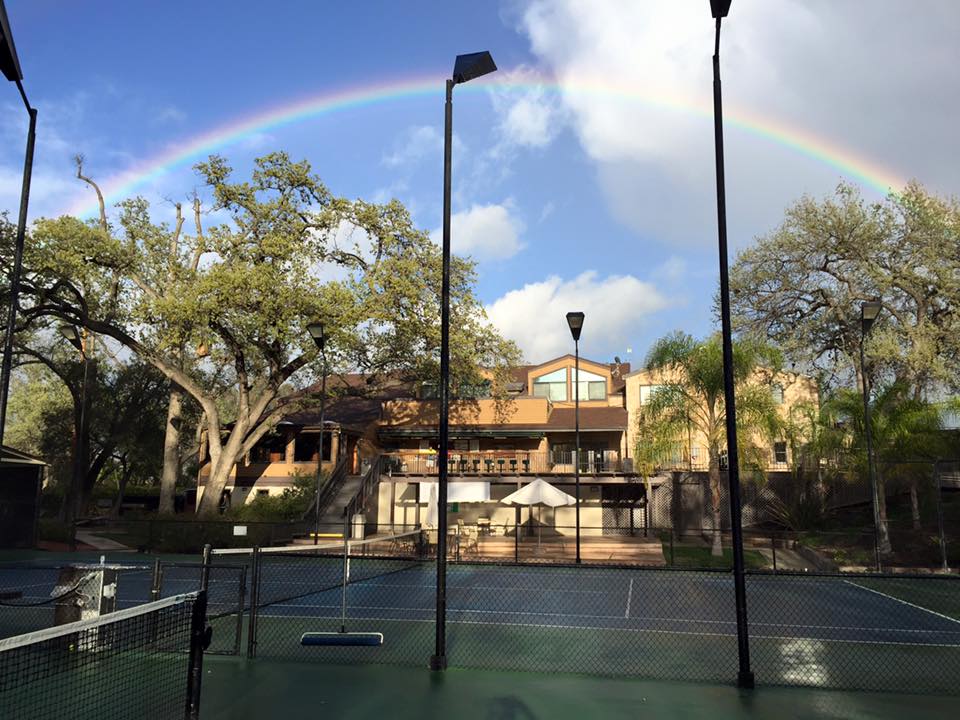 COURT RESURFACING
Courts 3-10 are being resurfaced and should be ready for action the second week of April. Both clay courts will be available for play.




ST PATRICK'S DAY MIXER
Thanks to everyone that participated and made this event a huge success!


THE OJAI
The Ojai Tournament starts April 25th. Court use will be limited during that week. Come out and enjoy watching some high level college and professional players.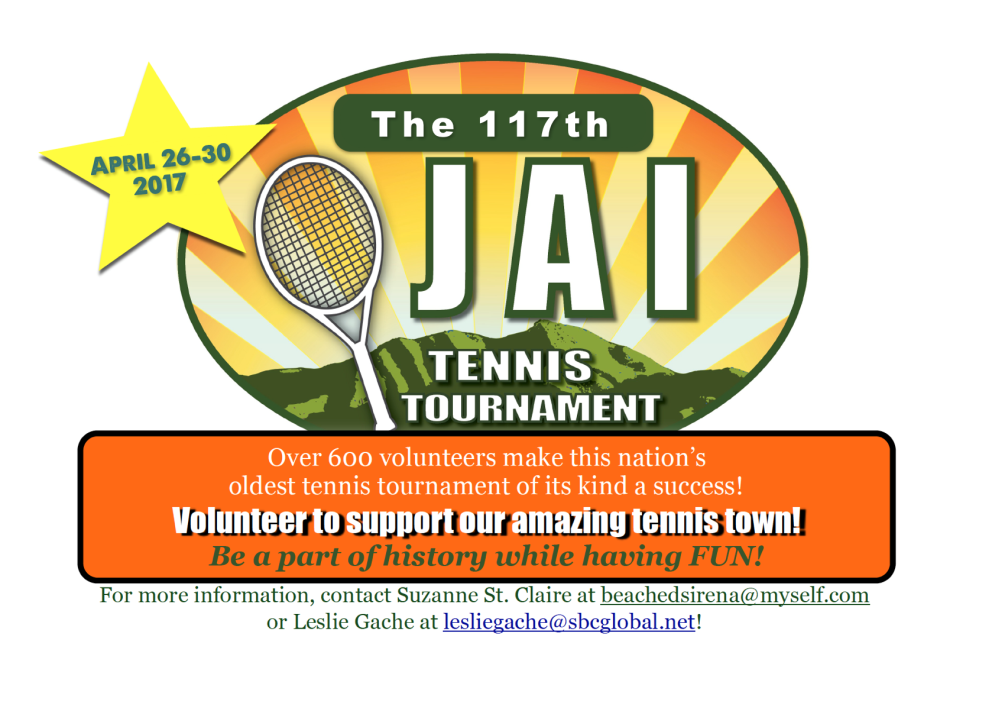 LOOKING TO BUILD A STRONGER & HEALTHIER SQUAT?
-Danielle Williams, Fitness Director
The squat is one of the kingpins to building strength and great looking buns. Unfortunately, a strong, stable and healthy squat can be daunting and elusive to develop. The Goblet Squat is a great exercise to develop the proper ankle, knee and hip tracking necessary for a healthy squat in the correct upright posture position (yes, your core will be working). The Goblet Squat allows you to explore a more comfortable, balanced squat with the help of a counterbalance to assist in a more upright squat patterning.Goblet Squats are often done with light to moderate loading under slow, contracted, and controlled movements. https://www.youtube.com/watch?v=O6bdMT152tc



NEW SPINNING WEIGHT LOSS PROGRAM
Weight loss is never easy and sometimes we just find ourselves stuck. OVAC certified personal trainer and Spin instructor Corkey Solow understands that you might need something new to break you out of your plateau. We all can ride a bike, so why not incorporate this fun activity into an all encompassing weight loss plan? The Spinning 8-Week Weight Loss Program was created with you in mind to be an EFFECTIVE, AFFORDABLE and FUN solution to losing those stubborn pounds.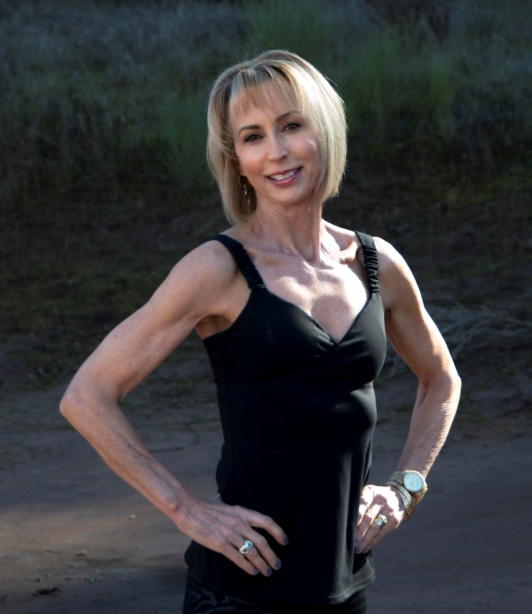 Corkey is prepared to change how you look and your entire relationship with food in the Spinning 8-Week Weight Loss Program. You will spend 20 minutes of each class riding away unwanted fat on a Spin bike and another 20 minutes doing bodyweight exercises beside the bike for a complete strength + cardio workout.
In addition, Corkey will be teaching all you need to know about the Spinning 8-Week Weight Loss Nutrition Plan to make sure you look great, feel better and make changes in the kitchen that will last a life time.
You will receive a full Nutrition Manual, 8 Spin+Bodyweight Workouts with Corkey, and two optional Solo Strength Training Workouts for you to choose if you want the added fat blast.
You will be surprised at what you can do – a new you is only 8 short weeks away. Sign up by contacting Corkey directly at
csolow@caclubs.com
or 805-218-4629.
DATES: Eight consecutive Mondays beginning April 3rd, 2017
TIME: 7:00-8:00am
COST: Members: $198.50 non-refundable for 8-weeks split into two payments ($99.25 billed
in April and another $99.25 billed again in May). Non-members: $238 non-refundable
pre-payment.
CONGRATULATIONS JOANNE TERRY
Keith Michael Critzer was born March 17th weighing in at 8lbs 14oz. Joanne and Michael are loving every moment with their alert, happy, healthy and curious baby boy. You are going to have a wonderful life Keith with such adoring and attentive parents!


MARK YOUR CALENDARS FOR THE FIRST WEEK IN MAY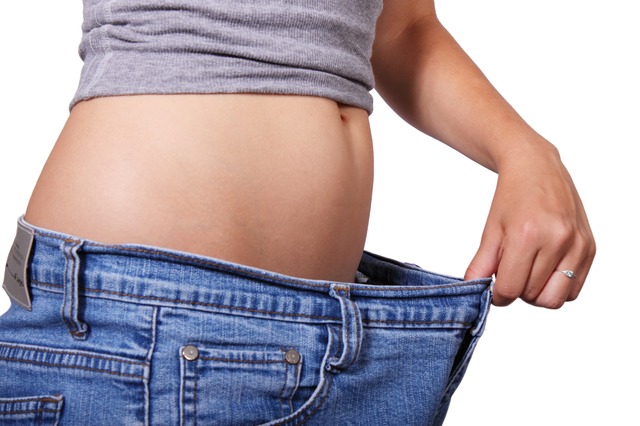 ROCK YOUR DREAM JEANS
STOP THE FRUSTRATION AND START LOSING INCHES
SCULPT THE BODY YOU WANT IN 8 WEEKS!

What Makes This Program Special? IT WORKS! Every last bit of information that you will need to make sure you get the most out these 8-weeks and look your best in those dream jeans. If you've done Dream Jeans in the past, you are definitely going to want to try the all new Rock Your Dream Jeans 8-Week Transformation.
What Should You Expect? You will bring in a pair of jeans that you would like to fit into but currently can't get buttoned. In just 8 weeks you WILL be wearing those jeans. This is a REINVENT your body program. You will learn the importance of strength training and metabolic training in the quest to lose fat. You will experience breakthrough moments and the feelings of empowerment that come along with such breakthroughs.
What Does It Include?
*Two Small Group Training sessions per week for the entire 8-week transformation with a certified personal trainer utilizing the proven effective all new Rock Your Dream Jeans metabolic workouts.
*Eight more all new solo strength training programs designed to maximize your fat loss.
*A complete Nutrition Plan and Food Journal.
*Personal motivation via group emails from the Rock Your Dream Jeans Expert Trainer Danielle Williams.
*Five educational emails per week about health and fitness.
*Q & A via email with Rock Your Dream Jeans Expert Trainer Danielle Williams on all training and nutrition questions.
*Delicious recipe ideas designed to be healthy, nutritious, and supportive of your weight loss goals so you can stay excited and interested at mealtimes.
*Travel and Home Workout options in case you need to be away for part of the 8-week transformation.
When Does It Happen? BEGINS THE FIRST WEEK OF MAY
Tuesdays & Thursdays at 9:45am with Danielle
Mondays & Wednesdays at 5:00pm with Sarah
Mondays & Wednesdays at 6:45am with Corkey.
On vacation some of these dates? We can accommodate make-ups or pro-rate out your missed sessions.
What Does It Cost? Two payments of $198.50 for members non-refundable (billed in May and in June). $476 non-refundable pre-pay for non-members. Note that non-members will enjoy complete gym access during open gym hours during the 8-week transformation to complete your solo strength training workouts.
How Do I Sign Up? Spaces are limited and will be filled on a first come-first served basis by emailing Danielle Williams at dwilliams@caclubs.com or calling 818-219-4835.



CAFÉ HOURS
Beginning April 1st, the Café will be open 9am-6pm.