THE LAST HAPPY HOUR OF 2015…FIESTA!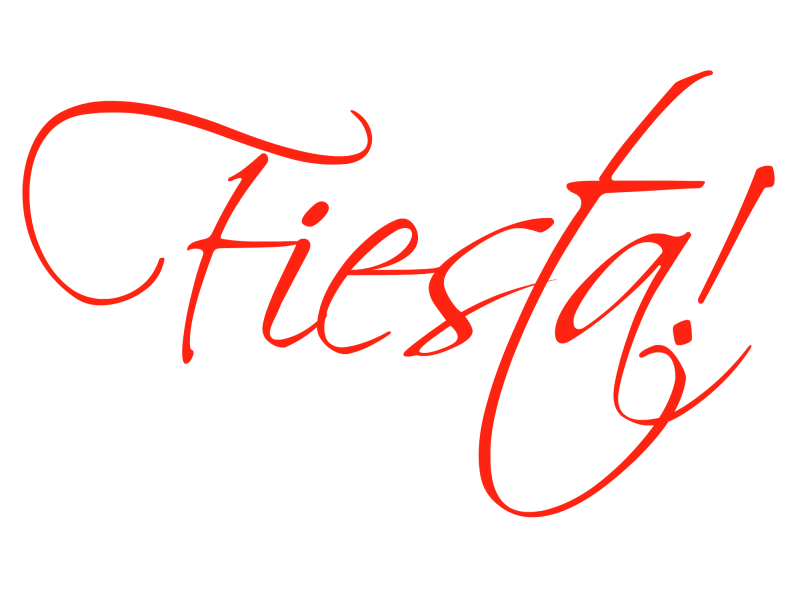 Join us August 21st for our farewell to summer Happy Hour
5pm
LIVE BAND
Buffet Dinner
Free to members and their guests!


WIN 20 HOURS OF FREE CHILD CARE!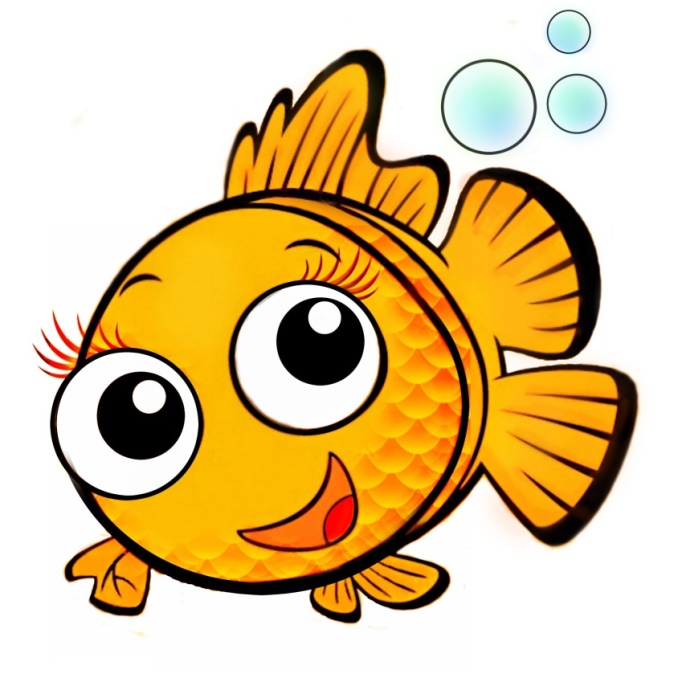 Sign your child/children into Kid's Club on Sundays in July and August. Your name will be entered into our drawing for each hour of child care you use on Sundays through August. Winner will be chosen at the end of August. Kid's Club is open on Sundays from 8:30am- 12 Noon.  
TENNIS NEWS
Quite an interesting July! I have to say, in the 15 years I have been doing Summer Tennis in Ojai I have never had a rain out...until this July! Crazy weather but we still managed to have some great weeks of tennis. Some of you might have noticed but if you haven't, check out the new Challenge Ladder we have by court 1. It's a great way to get connected with other members. If you have any interest in participating just give me a call or email. Would love to have as many as possible get involved!

See Ya on the Courts!
Ryan



TENNIS CARDIO CLASS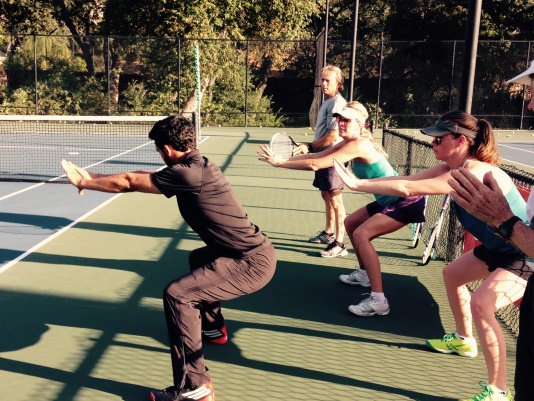 WEDNESDAY 6:00PM
For the Summer months we are hosting a fun Tennis Cardio class free for Tennis Members only. Personal Trainer Blake, along with Katya and Ryan put together a fun class where members go through different stations of cardio along with tennis drills. It's a great way to break a sweat along with hitting some balls. Come drop in Wednesday 6:00 on courts 4 & 5.
SUMMER TENNIS CAMPS
Come join Ryan Gaston and his staff this summer for a great time on the tennis courts! With a 5:1 student to coach ratio, we promise your kids will get the most out of our programs. From intro to tennis all the way to tournament players, we have something for everyone!
Future Star Tennis Program (Ages 5-8)
Time: 9:00-11:30
Cost: $100
This program is a great intro for kids looking to get interested in the game. We will cover the basics while having fun playing different types of games geared towards their tennis future. Tennis from 9:00-11:00 then Instructional Water Activities 11:00-11:30
August 3-7
Intermediate/Advanced Tennis Program (Ages 9 & Up)
Time: 9:00-12:00
Cost: $125
This program covers many different levels. We divide the players according to their skill and ability. The program will push players with intense drills while also having fun with games and competition. Tennis from 9:00-11:30 then Instructional Water Activities 11:30-12:00
August 10-14

 
AUGUST YOUTH SWIM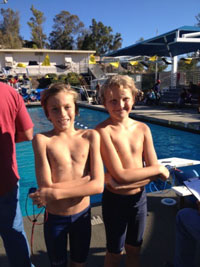 Keep your swimmer conditioned!
Work up to joining swim team in September!
• Regular Ojai Heat Swim Team will be on Summer Break August 5- September 7
• Coach Meg will be offering conditioning workouts during August
• Monday and Wednesday 4-5 $65/8 $12/drop-in (no practice 8/19)

Contact Coach Meg for more info meg.mccormick.4@gmail.com


FRIDAY DIVE CLASSES AVAILABLE THROUGH AUGUST!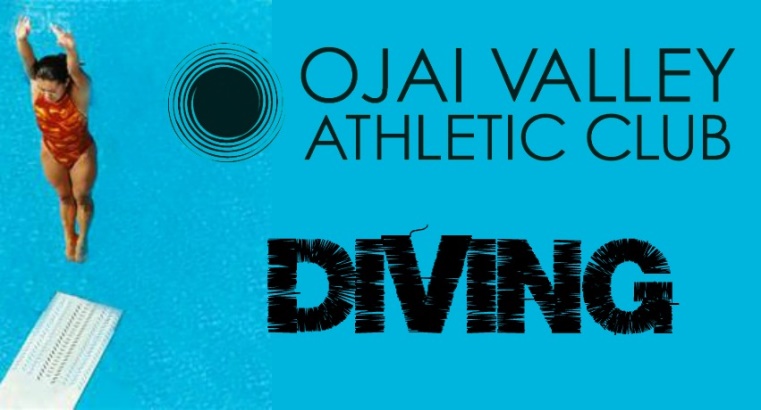 $25 –Drop- in $80/4 -Group Classes
***INCLUDES END OF SUMMER DIVE MEET***
(small entry fee required)
Private Lessons are also available!
$40/1- 30 min or $150/4-30 min
Contact: twright@caclubs.com Text or Call: 805-294-8247



YOUTH SWIM TEAM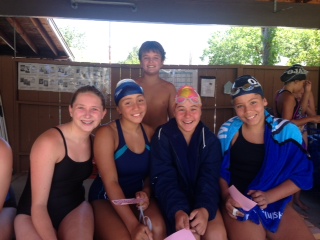 Ojai Heat Youth Swim Team has enjoyed another great summer season. We will finish up our summer season at the Channel Islands Swim League Championships August 1. GOOOO OJAI!
Come join us for our Fall Session!!
FALL SEASON STARTS WEDNESDAY SEPTEMBER 9

Please see ovac.caclubs.com and click on Aquatics for more information or stop by the front desk for a registration form.
Questions: echeverez@caclubs.com
NON-IMPACT CARDIO WORKOUTS WITH THE ARC TRAINER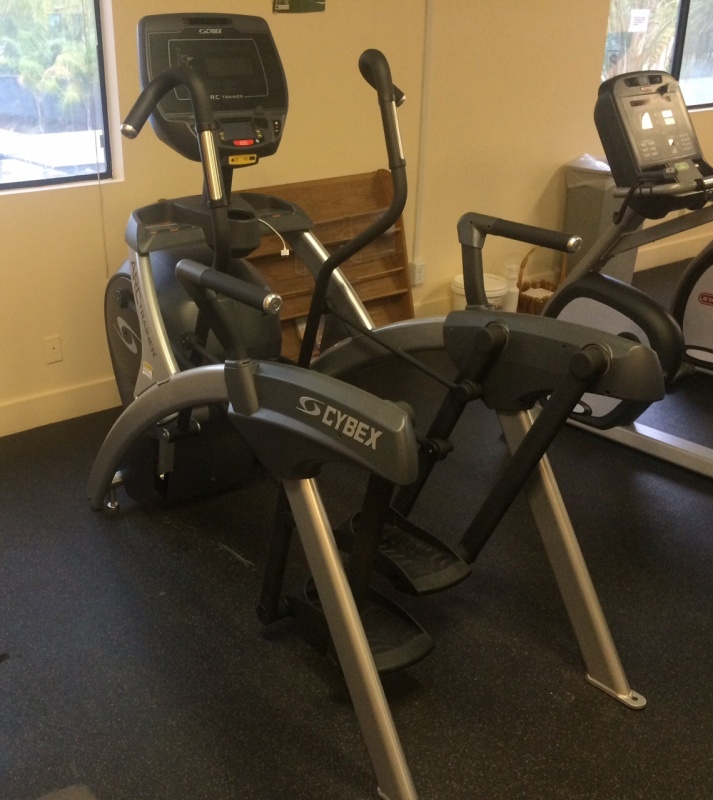 By Danielle Williams, Fitness Director
Are all non-impact cardio workouts created equal? Definitely not, especially if calorie burn is your goal. In fact, recent research has shown that people burn 16% more calories on the Cybex Arc Trainer versus an elliptical. That equates to an extra 26,000 calories (or 7 pounds of fat) per year.

Besides just fat loss, the Cybex Arc Trainer can help a wide variety of goals. The owner of a training and research facility who has extensively studied this machine states that, "Despite its classification as a cardio device, the Cybex Arc Trainer will improve one's workload capacity while increasing lower body endurance. These will have direct benefits in performing daily activities, participating in athletic events, and reducing injury risks."

It's simple really – the better you feel when you exercise, the more likely you are to push yourself, leading to better results. And the Arc Trainer provides less discomfort during a workout due to its unique down-and-back motion, which allows you to exercise at relatively high workloads with minimal knee stress.

Although the Arc Trainer may look more intimidating than a traditional elliptical, anyone can use it, whether you are an athlete, someone looking to make a lifestyle change, or a strong and steady senior hoping to maintain your independence. You can use the Arc Trainer to increase power and speed, lose weight, or reduce your risk of falls. The versatility of the Arc Trainer provides you with multiple fitness solutions.

Non-impact cardio trainers are not created equal. The choice you make will have a major impact on the quality of your workout and therefore your satisfaction and likelihood to continue. Try the Cybex Arc Trainer for an new and incredible experience. Below are some sample workouts to try…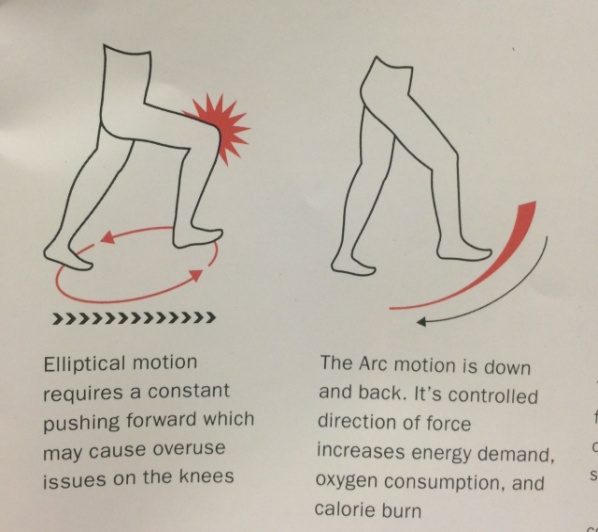 GETTING STRONGER: Want to get a great muscular strength and endurance workout? Try using the Arc Trainer. Set the incline level to 7 and get your stride rate up to 120 strides per minute. Next, increase the resistance as high as you can while maintaining your stride rate. Try to stay at that workload for 2 – 4 minutes, and then rest for a minute. Repeat four times. Do this a couple of times each week, and after 4 weeks, you'll notice a difference in your leg strength and endurance.
BURN CALORIES: Getting a great figure means burning calories, so don't forget your cardio. Try using the Total Body Arc Trainer for twenty minutes. Set it on manual and don't forget to enter your body weight and get your stride rate up to 140 strides per minute. On the Arc, you can focus on either your legs or your arms. Try pushing and pulling very hard with your arms for a few minutes several times during your 20 minutes - you'll get an extra strength workout for your chest, back, and arm muscles.
INTERVALS: Select the Interval Program. Set the resistance level so it is challenging to maintain 100 strides per minute during the peak of the interval – really push yourself! During the low levels just coast and then crank it up again when resistance goes up! Decrease the resistance level if you start to feel too out of breath.
STRONG HEARTS ENDURANCE TRAINING: Choose the Cardio Program then pick a level that leaves you breathing heavy but not winded while keeping the strides per minute over 100 during the high levels.
Best Butt Workout: Pick a low incline (0-3) and increase the resistance until you feel the burn…now don't slow down! Keep it at 100 strides per minute for best results!
-Source: National Fitness Trade Journal Special Edition 2015



THE DREAM JEANS CHALLENGE
SOME PEOPLE ARE READY TO CHANGE, SOME ARE NOT
A proven weight loss program that is based on safe and intelligent science
*****NEW DAYS/TIMES ADDED*****
If you want to build a ship, don't drum up people together to collect wood and don't assign them tasks and work, but rather teach them to long for the endless immensity of the sea." Antoine de Saint-Exupery

The 8-Week Dream Jeans Challenge was created to make sure you can embrace the journey and say YES I'M READY TO LOSE WEIGHT! We know you are tired of failing at losing weight and would like a PROVEN system that will keep you looking FABULOUS all year round.
I know that it can feel as if there are just too many things in the way. But your Dream Jean's coaches are ready to help you find a way that is within your capabilities, and to grab a vision of what it might feel like to successfully fit into your "dream jeans".

If you want to strip fat, whether it's the first fifty pounds or last few pounds, to fit into your favorite jeans, you need top-notch info. Getting a flawless figure is totally about strategy, science and simplicity. The 8-Week Dream Jeans Challenge offers all of this and much more with an exercise and nutrition system that will get you to your weight loss goal in the safest and fastest way possible. This system has helped so many say, "I love my body!" Recent Dream Jeans participant Mary has this to say about her experience…"I think I'm going to cry. I put on a pair of pants that I had given up on ever wearing. They buttoned so easily I seriously think I could cry. I am so happy." Another participant had this to say, "I'm not a 'gym rat' and I prefer my workouts / exercises to be outdoors, hiking, biking, ocean swimming etc. Well, I signed up for Dream Jeans and we're 3 weeks in and now I wake each morning relishing the challenge. We're at the Gym 4 to 5 days a week now for at least an hour and I have to admit, I love it. My body is changing but more importantly so too is my MIND and that's what's important as I try to convince my metabolism to do what I want it to do 'at my age."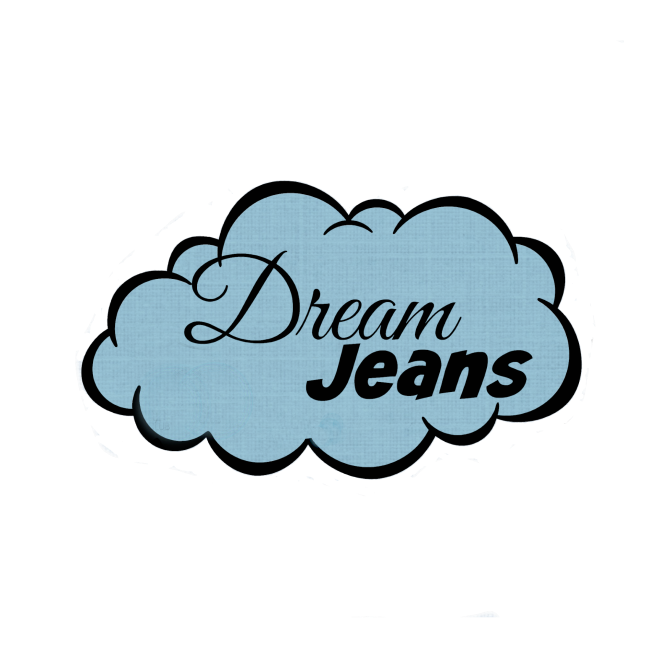 The 8-Week Dream Jeans Challenge is not easy. And that's the exact reason it will not fail you like every "quick and easy" method that has misled you. Whether you're a busy college student, mom, career-lady, making a fitness comeback or long-time fitness buff… it's possible for anyone to achieve the eye-catching physique most only dream about. And although it is tough, the 8-Week Dream Jeans Challenge is scalable for ALL FITNESS LEVELS and body types.

It's time for you to take your body to dazzling new heights and we are honored to be by your side every step of the way through the 8-WEEK DREAM JEANS CHALLENGE
HERE'S THE DATES
Aug 17 – Oct 7, 2015 M &W 5:45-6:45am with Eric
Aug 17 – Oct 7, 2015 M&W 4:00-5:00pm with Danielle *NEW DAY/TIME*
Aug 18 – Oct 8, 2015 Tu & Th 9:45-10:45am with Danielle
HERE'S WHAT IT INCLUDES
*2 group training sessions per week for 8 weeks led by a certified personal trainer.
*8 more solo workouts designed by a certified personal trainer (2 per week).
*Nutrition program and journal.
*A positive mindset AND you WILL fit into your "dream jeans."
HERE IS THE COST (non-refundable) Reserve your spot with an email to dwilliams@caclubs.com. $198.50 billed in September plus another $198.50 billed in October (non-members pre-pay $476). Away during this time? No problem, we can pro-rate out the time you are away if you notify us before the start date.
QUESTIONS OR TO SIGN UP: contact Danielle Williams at dwilliams@caclubs.com or 818-219-4835.


NOW AVAILABLE AT OVAC…ROCKTAPE
RockTape is the world's best kinesiology tape. It can be used to treat sports and non-sports injuries, including shin splints, plantar fasciitis, runner's knee and back pain. RockTape microscopically lifts the skin away from the muscle and fascia below, which decompresses the area and promotes blood flow. Stretchier, stickier and stronger than the competition, RockTape is preferred by medical professionals throughout the world.
Turn down the volume on pain
More specifically, it runs interference on pain. Ever whack your shin and rub it, and suddenly realize you feel better? RockTape on the skin can interfere with painful signals which are directed to the brain. When the signals arriving to the brain are altered, it does not produce the sensation of pain. When kinesiology tape is properly applied, many of our customers call it "magic" or think that it fixed their injury instantly. In fact, it helps to change how your body interprets pain, turning down the pain "volume" that your body hears. RockTape does so by affecting the nerve endings and different types of receptors in the skin of the injured area.
Decompresses an area of swelling and inflammation
When RockTape is applied to the skin, it has a microscopic lifting effect underneath the skin and between the many layers. This allows for greater blood flow to and from an area, all while allowing the by-products created by inflammation to be removed more quickly.
It does so by allowing congested or compressed blood vessels (capillaries, lymph vessels, arteries, veins) to flow more freely. It also creates more room in between layers of fascia, muscle, fat, skin, and other structures.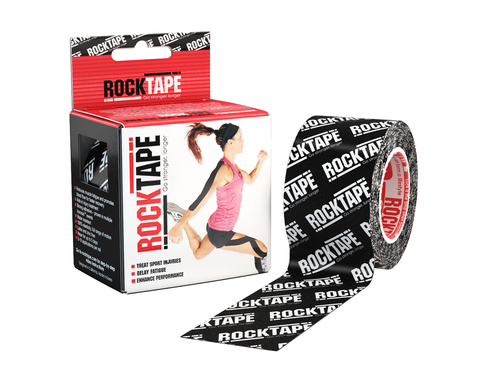 It delays fatigue
Research has shown that RockTape on skin can attenuate muscle fatigue. In rehab, this is very important, not only for the parts of your body that are currently hurting, but also for the surrounding areas as they help to pick up the slack for muscles that are currently not working well.
It normalizes muscle tone
When someone is injured, fatigued, sick, or inflamed, the symphony of muscle action that normally takes place with great accuracy often falls out of tune. This can happen all over the body. For instance, research has shown that people who sprain their ankle tend to have altered activity of their hip muscle as a result. RockTape helps bring dormant muscle back to life and helps calm down the overactive muscles. It helps your body coordinate movement as if it weren't hurt, hence allowing it to heal properly.
It spreads physical stress
Unlike conventional taping which is meant to prevent any movement at all, RockTape is meant to allow full movement of the taped area. Through elastic properties and quick recoil, RockTape can help distribute forces to other nearby areas through the fascia, ligaments, and even bones.
NOT SURE HOW TO USE THE TAPE?
OVAC PERSONAL TRAINERS ARE HERE TO HELP
Contact Fitness Director Danielle Williams with questions 818-219-4835



INTRODUCING YOUR POWERHOUSE
Joseph Pilates placed great emphasis on the powerhouse, considering it a physical center of the body from which all movements should proceed from. Many exercises are designed to strengthen the powerhouse, and a desire to keep the powerhouse working consistently throughout a given exercise. If the powerhouse is being used appropriately, the limbs should be able to move freely through space in a more productive, coordinated, and connected manner.

Many people in fitness, dance, and rehabilitation refer to the powerhouse as the "core" and the positioning and activation of this area during movement as "core stability". "Core stability" can be thought of as the ability to keep the pelvis and spine in the desired position while moving the limbs or the whole body through space without undesired distortion or compensation. Someone who is not maintaining desired control of this area in a given movement and who arches the lower back or moves the pelvis excessively is often said to have a weak core or demonstrate poor core stability or poor core control. People who have weak core or just do not know how to engage the core muscles for stability are more likely to be prone to injuries of the back and/or pull muscles during activities. So let's start by learning what muscles make up the powerhouse. The powerhouse in Pilate's terminology consists of the abdomen, spinal extensors and the pelvic.

The abdominals have long been appreciated for their potential to help create a flatter appearance in the stomach region, enhance movement technique, improve certain postural problems and reduce the risk for certain types of back injuries. There are four paired abdominal muscles: rectus abdominis, external oblique, and transversus abdominis. All of the abdominals attach into a tendinous band that runs vertically down the center of the abdomen called the linea alba.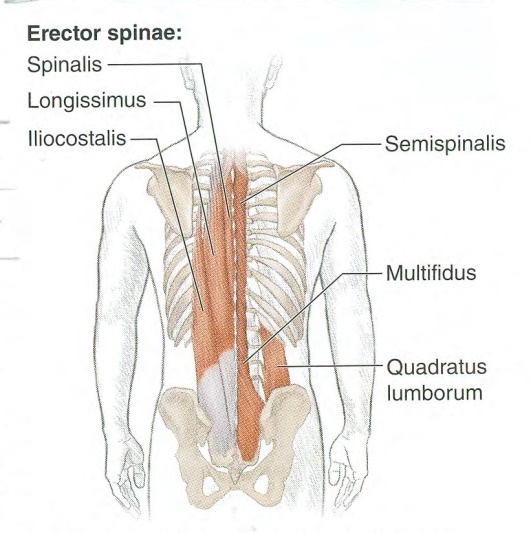 The spinal extensors are located on the back of the trunk and they share the common action of spinal stability and extending the spine. These vital muscles have been shown to be key for optimal movement performance, with prevention of certain back injuries, osteoporosis, and certain postural problems. The spinal extensors are made up of Spinalis, Longissimus, Illiocostalis, Semispinalis, Multifidus, and Quadratus lumborum.

The pelvic muscles are made up of the illiopsoas and the pelvic floor. These muscles control the position of the Pelvis which can have a chain effect of the alignment of the spine. Spinal lumbar lordosis and kyphosis can be helped and prevented by strengthening these muscles to change the position of the pelvis..

The exercise which strengthen these muscles will be broken down, demonstrated and discuss in the next few newsletters with more reasons why these exercises are need to have a more productive and pain free life. You can also contact Julie Fox or me, Victoria Ott if you would like to get started on this life style now with Pilates.