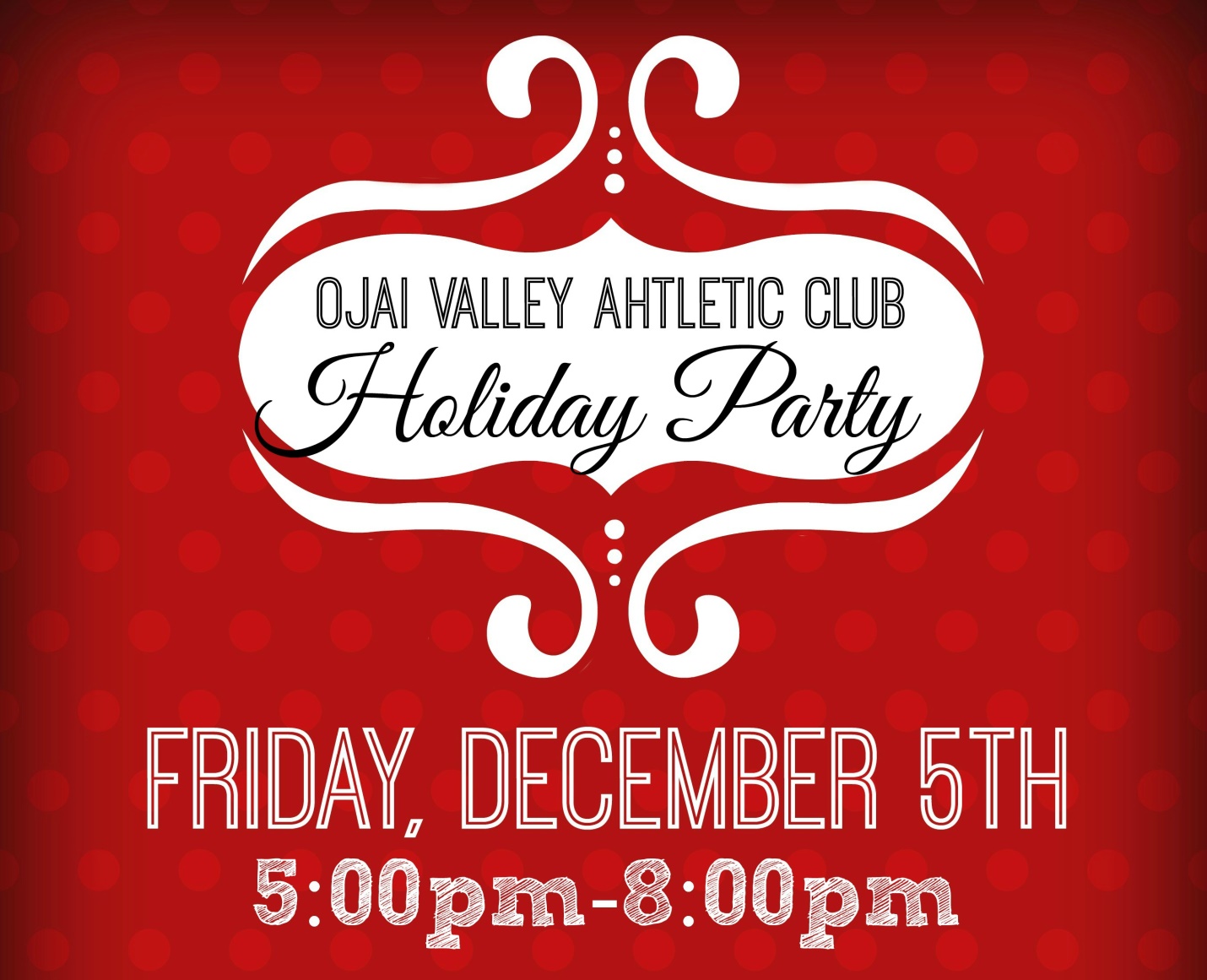 Join us for pictures with Santa, Kids Crafts, Hor'Dourves, and a Train Ride!
FREE FOR MEMBERS
BRING IN A CANNED GOOD AND GET A PRIZE!
HAPPY HOLIDAYS FROM OJAI HEAT SWIM TEAM!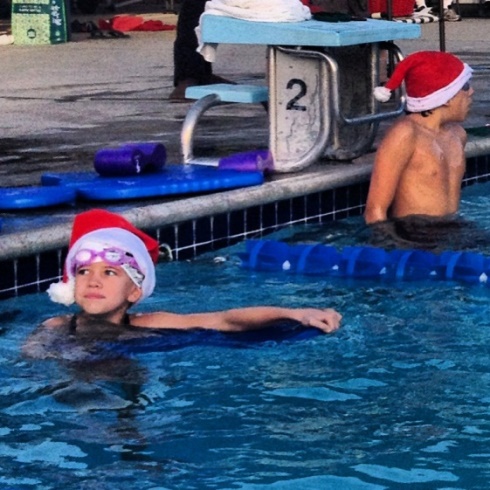 We will be on holiday break from December 10-January 5!
Come join us in our 12 week Winter/Spring session starting Wednesday January 7
AFTERNOON HOLIDAY LAP SWIMMING
There will be no afternoon swim classes from December 23-January 6. Please enjoy full use of the Lap Pool on all afternoons during this time without running into swim classes. Enjoy!
KEEP YOUR SWIMMER CONDITIONED!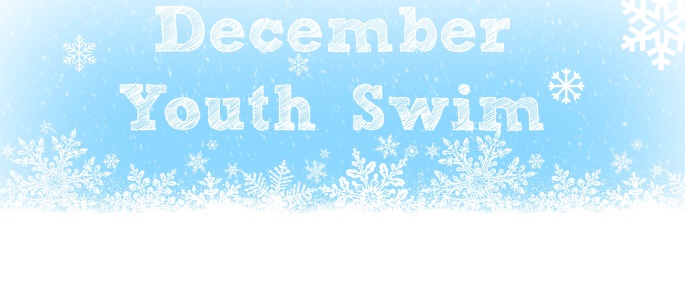 WORK UP TO JOINING SWIM TEAM IN JANUARY!
Drop-in workouts with Coach Meg:
December 10,12,15,17,19
MWF 4:00-5:00
$12.00 drop-in/$55.00 all
All levels welcome! Bring a friend!

Questions? Contact Aquatic Director Elin Cheverez 805-448-0577 or Swim Instructor Meg McCormick 805-421-9572
20% OFF PRO SHOP SALE!
Enjoy 20% off regular priced pro shop items during the month of December. Offer valid towards regular priced items only. Not valid towards sale items.
Expires December 31st, 2014.
GIFTS FROM THE PILATES GALS!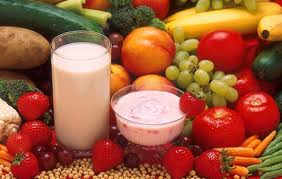 We want to give back to you this month. With any Pilates package purchase (say that 3 times fast!) you will receive a $20 Gift Certificate from Pilates Director, Pamela Vos towards anything from her beauty products website.
Get your Gift on!
1. Come in for your complimentary Private Pilates Session in December and receive a FREE SMOOTHIE from our awesome Cafe!
2. Receive a $20 Gift Certificate toward any Beautycounter product with any Pilates Purchase during December.
TENNIS NEWS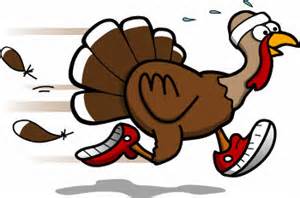 I have to say that I LOVE this time of year. Lots of Holiday cheer but also great weather for tennis. We just got through having one of the best Turkey Trots ever! I am so glad to see such an amazing turnout! We had a great final with Anne Williamson and Dave Jones edging out Nancy Pierson and Drew Lurie in a competitive tie breaker. I hope everyone has a great Holiday Season!
See Ya on the Courts!
Ryan
CONGRATS USTA TEAMS!!
Congrats to two of our USTA teams this month. Our Ladies 3.0 team once again won their division and are heading out to compete in Sectionals. Our Junior 14& under team also kicked butt and won their division in Ventura County. We are very proud to have you guys represent OVAC!
FREE ADVANCED BODY FAT TESTING AT OVAC IN DECEMBER
A BETTER WAY TO MONITOR YOUR HEALTH
OVAC is pleased to offer technologically advanced body composition testing with the Tanita InnerScan Body Composition Monitor. This state of the art instrument will tell you your segmental body fat percentages (total body, left arm, right arm, left leg, right leg, and trunk) and whether you are in a healthy body fat percentage range. In addition, the test will inform you of your weight, body water percentage, muscle mass (total body, left arm, right arm, left leg, right leg, and trunk), rate your physique, provide a bone mass reading, a visceral fat score, your metabolic age, and a daily caloric intake number that can be used to lose or gain weight. The test only takes 5 minutes.
ALL THIS AT NO CHARGE FOR A VERY LIMITED TIME.
WHEN:
December 9th Tuesday 9:45-10:45am
December 10th Wednesday 7:00-9:00am
December 10th Wednesday 5:00-7:00pm
December 15th Monday 9:30am-11:00am
OTHER DAYS/TIMES AVAILABLE – CALL DANIELLE WILLIAMS TO SCHEDULE AT 818-219-4835
WHERE: MEET IN OVAC LOBBY (Testing will be done privately)
DECEMBER ONE-ON-ONE PERSONAL TRAINING SPECIAL
3 FOR $99
If you are not currently working with a personal trainer, take advantage of this rare opportunity to see what strength training can do for you – your health, your appearance, your energy level. All sessions must be completed by January 31st, 2015. Special pricing ends December 31st, 2014. Need help selecting a trainer? Contact Fitness Director Danielle Williams (cell 818-219-4835). What a great holiday gift!!! (purchase subject to each personal trainer's availability).
RECOMMENDED FITNESS HOLIDAY GIFTS
1. A gift certificate for One-on-One Personal Training at OVAC (ask about our 3 for $99 special in December at the Front Desk).
2. A gift certificate for a SGT Personal Training session (FREE in December and available at the Front Desk).
3. A gift certificate to OVAC's pro shop.
4. A TRX system or video (
www.fitnessanywhere.com
)
5. A heart rate monitor (Polar and most other brands available at
www.amazon.com
).
6. A foam roller (available in the OVAC proshop).
7. "The Impact! Body Plan" book by Todd Durkin (
www.amazon.com
).
8. A massage.
9. A gift certificate for a delicious recovery shake in OVAC's café.
10. An OVAC Club Cat 2015 calendar (proceeds donated to the Ojai Humane Society). 
STILL THINK WEIGHT LOSS IS "IMPOSSIBLE" FOR YOU?
THINK AGAIN…
Listen, transformation is not an event, it's a process! The first step of that process is putting your trust into a fat loss expert. What makes a personal trainer a fat loss expert? RESULTS!
At the end of the day, results are what matter! As the leader of the Ojai Valley Athletic Club's Dream Jeans Challenge, I have dedicated my life to helping people like you overcome the "impossible" and I KNOW what I'm doing. The Dream Jeans Challenge gets results. CONSISTENTLY. And we have fun doing it! What wouldn't be fun about losing 6 inches in just 8 weeks (yes, I can make that happen).
Young or old…male or female…ectomorph or endomorph…average genes or amazing genes…deconditioned or pro lifter…it makes no difference!
I don't care what set of obstacles life has dealt you…I am going to SMASH your genetics and incinerate the fat and make your body DRIP with confidence so you can LOVE your body 365-days a year. And I am going to make sure you have FUN along the way.
The next DREAM JEANS CHALLENGE starts the week of JANUARY 6TH. Please see below for full details or email me at dwilliams@caclubs.com...
Jan 6th-Feb 26th Tu &Th 9:45-10:45am with Danielle
Jan 5th-Feb 25th M &W 6:00-7:00am with Eric
HERE'S HOW IT WORKS You will bring in a pair of jeans that you would like to fit into. You should be unable to button these jeans. We keep the jeans here at OVAC. In 8 weeks you WILL be wearing those jeans.
HERE'S WHAT IT INCLUDES
*2 group training sessions per week for 8 weeks led by a certified personal trainer.
*8 more solo workouts designed by a certified personal trainer (2 per week).
*Nutrition program and journal.
*Fitting into your dream jeans.
HOW IS THIS PROGRAM DIFFERENT? You will not rely on a scale. This is not a weight loss program. This is a REINVENT your body FAT LOSS program. You will learn the importance of strength training and metabolic training in the quest to lose fat. You will experience breakthrough moments and the feelings of empowerment that come along with such moments.
COST
(non-refundable) Reserve your spot with a payment at the Front Desk.
$198.50 billed Jan + another $198.50 billed Feb
for members and $417 pre-pay for non-members.