OVAC UPDATE FROM RYAN
Well, this Holiday season is like no other! To say it's different would be the understatement of the year. I really hope everyone is staying safe and smart during these next couple of months. We are working harder than ever to keep OVAC the best destination for our members! You might not be able to travel much at this time, but that just means you can enjoy the club more! Come get a great workout at our new outdoor facility or take a swim in the heated pools. We are adding more heaters to the outdoor areas so everyone can be comfortable while taking a class or getting a workout in. We also added a new treadmill and cardio machine out by the upstairs awning.

I want to take time to thank each and every one of you for helping us survive these crazy times. I can't thank you enough for your support of the club and our amazing employees!

Take care, be safe and Happy Holidays!!

See Ya at the Club!

Ryan
HOLIDAY HOURS

Christmas Eve – 8:30am-12pm
Christmas Day – CLOSED
New Year's Eve –8am-4pm
New Year's Day – 10am-4pm

Thank you for your continued support of OVAC!
TAKE A BREAK TUESDAY'S

DECEMBER'S MENU

Happy Holidays from OVAC's Fox Street Cafe!!!
Here are the Take a Break Tuesday Dinners for December! We hope you find a few dinners to order or all! We will have gift certificates available if you'd like to give a gift of dinners!

December 1 - Chicken Tortilla Soup
• Jalapeño Cheddar Cornbread
• Mexican Street Salad
• House salad (ranch or balsamic)

December 8 - Cobb Salad
• Garlic Bread
• Peanut Butter Cookie

December 15 - Meatloaf
• Garlic Herb Roasted Veggies and Potatoes
• House salad (ranch or balsamic)

December 22 - Chicken Cordon Bleu Lasagna
• Warm Roasted Beet Salad
• Tater-tots
• House salad (ranch or balsamic)

December 29 - Albondiga Soup (meatball soup)
• Black Bean Dip and Chips
• House salad (ranch or balsamic)
• Churros

The Cafe will also have tamales for sale again this year!
- Green Chili and Cheese
- Pork
- Chicken
You can preorder and pick up for Christmas or New Years.
For December 23rd pick-up you need to order by noon on 12/20/20.
For December 30th pick-up you need to order by noon on 12/27/20.
MAT PILATES ZOOM

Don't forget that the Pilates Department is offering PRIVATE ZOOM classes. This is a great way of getting lots of Mat Pilates training in, which is so important because it is the foundation to what Pilates is! Mat work uses only your own body weight. A reminder that we are in full control of how we feel! If you have not come back to the Club and are interested in training on Zoom, please contact Georgia at gcotsis@caclubs.com.
STRESS, STRESS, EVERYWHERE STRESS

-Fitness Director Danielle Wommack

Stressful events seem to hit us from all sides lately. Unfortunately, stress isn't just an emotional or mental issue causing depression, anxiety, or anger – it can cause physical symptoms as well. Chronic tension or stress can lead to headaches, back pain, insomnia, upset stomach, and has been linked to heart disease, type 2 diabetes and high blood pressure.
Reaching for a bottle of wine, pint of ice cream, or the tv remote for a day on the couch isn't the answer. Instead, come sweat it out at OVAC. Simply getting up and moving is a powerful antidote to stress as it allows your muscles to move and encourage blood flow while also getting us to breath deeply (thus triggering the body's natural relaxation response). OVAC would like to remind you of the following wonder stress relieving options:
Yoga/Qi Gong/Stretch classes can help increase your resilience and flexibility, which in turn relieves physical tension. This combined with the breathing aspect of yoga triggers your body's relaxation response. Yoga also helps promote mental focus, a key component to stress management, by requiring you to focus on your poses. By concentrating on your poses and breath work you won't be able to worry.
Dance classes have many physical and mental benefits in addition to improving grace and agility while raising your heart rate. The sense of community and connection in a dance class can lower stress and boost your mood.
Circuit Training, Small Group Personal Training, Strength/Cardio Classes provide a high intensity workout that helps pump up your body's endorphin levels, which will improve your mood.
Pilates emphasizes body awareness, core strength and proper alignment which, like yoga, requires mental concentration that leaves little room for worrying about life. In addition, Pilates is known for helping with back/neck pain, both of which can be a side effect of stress.
Tennis, Swimming and Water Aerobics are great cardio workouts that can prevent many stress-related diseases like high blood pressure and heart disease. Our swim and tennis community here at OVAC will help keep you connected to others which is so important for stress reduction. Again, bring on the endorphins. These biochemicals produce euphoric feels of peace and satisfaction.
Strength training is another form of exercise that offers an outlet for the buildup of stress and tension. In addition to all of the benefits previously mentioned, you will build up confidence and self-worth as you strengthen your body. Such physical and mental strength makes life easier to face and that alone eases stress.
Healthy eating=less inflammation=stronger immune system=one less thing to worry about. We can all use more energy to deal with these stressful times and eating right is a great first step. OVAC's Fox Street Café is here to help, as well as our popular Rock Your Diet 21-Day Makeover. Rock Your Diet will show you exactly how and what to eat to boost your immune system, heal your gut, and fight inflammation. The Tuesday night take out specials from Fox Street Café helps take the pressure off you to make dinner one night a week. Every little bit helps.
We are here to help. Always and in any way possible. Please do not hesitate to reach out and let me know what you need dwommack@caclubs.com
TENNIS/PICKLEBALL NEWS

Saturday, November 21 saw the socially- distanced but still well-attended Turkey Trot mixed doubles social take place. Jacqui Bergeand Jeff Jenkins prevailed for the second consecutive year narrowly defeating Deborah Heron-Mulligan and Katya "Kevin" Welborn (some day experiment) in the final. Thanks to all who came out to play and here's hoping that, as with all things, we will be back to normal next year.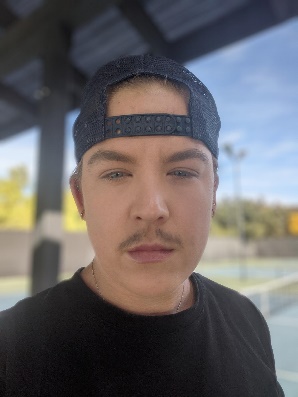 Katya "Kevin" Welborn's game face.
TENNIS BALL RECYCLING
It is estimated that in the US alone, 125 million tennis balls wind up in landfills every year!! That is 20,000 metric tons of methane- producing rubber waste that takes 400 years to decompose! This problem is exacerbated at OVAC Due to our proximity to San Antonio creek as over the years thousands of balls have been washed down stream affecting the environment all the way to the ocean. Please do not throw your used tennis balls in the trash or launch them over fences.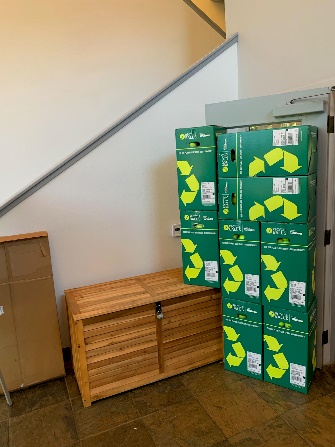 WE HAVE A SOLUTION! We have recently partnered with recycleballs.org powered by Wilson and hopefully you have already noticed some of the recycling receptacles around the club. These are provided to us by RecycleBalls at no cost. We simply collect the balls and ship the pre-paid cardboard containers back and the balls are recycled into various products. Please also continue to use the permanent outdoor receptacle located between courts five and six.
Recycle balls is a 501(C)3 nonprofit organization. This program is available to us at no cost. The program currently operates at an annual net expense and needs sponsors. Recycle balls exists solely to keep tennis balls out of landfills. There really is no money in it due to low-cost ubiquitous tire rubber. Please consider becoming the program sponsor for OVAC. The cost of the sponsorship is $600 (tax deductible) per 12 months. Your business or name will be highlighted on an 11 x 14 framed plaque and you will also be designated as the recipient for the tax deduction value of the balls donated by our facility which can be several thousand dollars a year if a nominal value is placed on each donated ball. There is only one program sponsorship opportunity available per facility per year. It is available to individual businesses or families. Please let me know if you'd like to lessen the impact that our great makes on the environment and be the program sponsor for OVAC.
PICKLEBALL

On Saturday, November 28 we held the first of what I hope will be many pickleball round robins. 16 players came out to compete on our four new pickleball courts on a beautiful day. Hopefully we can do this often. Congratulations to Badaoui Mouderres who was undefeated on the day with his various partners in 5 games. This is all the more impressive in that it was only his second time playing pickle ball.
TENNIS CLINICS
Contact Steve at sbeckendorf@caclubs.com to sign up for any clinic.


JUNIOR CLINICS:
Intermediate Clinic- Invitation Only
Monday & Wednesday 3pm-4:30pm
Ages 9-14. Cost: $18 member/$21 non-member

Future Stars
Tuesday & Thursday 3pm-3:45pm
Ages 5-8. Cost: $12 member/$15 non-member

Bigger Littles Clinic
Tuesday & Thursday 4:45pm-5:45pm
Ages 8-12. Cost: $15 member/$18 non-member


ADULT CLINICS
Advanced Live Ball- Invitation Only
Mondays 4:30pm-5:30pm. Cost: $15 member/$18 non-member

Ladies Intermediate Live Ball- Invitation Only
Wednesdays 5pm-6pm. Cost: $15 member/$18 non-member
Saturdays 9am-10am. Cost: $15 member/$18 non-member

Adult Beginner/Intermediate Clinic
Saturdays 10-11:30am. Cost: $18 members/$21 non-members


DROP IN TENNIS
Drop in Doubles: Tuesday/Thursday at 3:30pm Courts 1&2
Cronies Doubles: Monday/Wednesday/Friday at 7am Courts 1&2


PICKLEBALL
Adult Beginner Pickleball Instruction
Wednesdays 10-11am. Cost: $15 member/$18 non-member

Open Play: Pickleball is open all day, 7 days a week. Paddles and balls available at the front desk. All membership types may play.
AQUATICS

Drop-in Aquatic Drop-in Classes! Click Here to Sign Up

Water Polo Skill Clinic
NOTE: No Class Dec 4
Join water polo coach Bethany to learn the basics of water polo to get ready for future participation in water polo. Meet at the rec pool diving area.
Ages 8-13
Friday's 3:15-3:45
Drop-in $15 per class
Must be able to swim 25 yards unassisted and tread water for 1 min

Saturday Drop-in Swim Basics
NOTE: No class Dec 5
Pre swim team basics and stroke technique for youth swimmers. Meet at the rec pool stairs.
Saturday's
Level One ages 6-9 12:15-12:45
Levels One ages 6-9 12:45-1:15
Drop-in $15 per class
Must be able to swim unassisted

*Youth will be physically distanced during all classes and all equipment is sanitized before and after class. Questions: Aquatic Director: Elin Cheverez echeverez@caclubs.com

Tips to Obtain a Lap Lane:
Create an account using the email address you provided when you joined
Accounts can be accessed by our app or our website
Click on "reservations" and "swimming"
Lane reservations open each day at 5pm for the following day
If you want to swim during popular morning times, try make the reservation when the booking window opens at 5pm the day prior
Choosing a specific lane number will narrow your options
If you can't get the time desired, try scheduling less time (15 min, 30 min)
One reservation per day, per member is allowed
Family members may share the reserved lane
The front desk can make reservations for you
The lap pool wall lanes and the rec pool lanes are first come first serve
During the swim team holiday break (Dec 23-Jan 1), weekday afternoon lane reservations will be available
If you can't make your reservation time, please cancel so another member may use the time
Please Contact Aquatic Director Elin Cheverez echeverez@caclubs.com for help with reservations