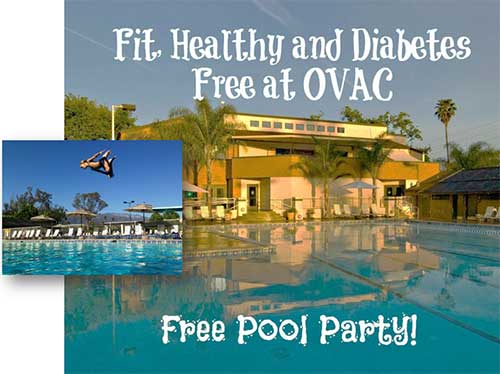 Everyone is invited to attend OVAC's free Pool Party!
Saturday, July 27th from 11am to 4pm
*LIVE BAND *POOL ACTIVITIES *SILENT AUCTION
*HULA LESSONS *NO CHARGE FOR GUESTS
It's Free and the Whole Community is Welcome!!!
Benefiting the American Diabetes Association
IS DIABETES INEVITABLE?
Diabetes is becoming increasingly common in the U.S., but it's not inevitable. Studies have shown as we age we may develop insulin resistance which is one the major risk factors for diabetes. This resistance is due in part to a decline in the activity of our mitochondria (the power-houses of our cells). The good news is physical activity can boost the number & activity of our mitochondria. Exercise, along with a healthy diet low in starchy foods can delay or prevent type 2 diabetes.
We are here to help you!
The staff of Ojai Valley Athletic Club wants to help you to design a sensible exercise plan. The American Diabetes Association recommends doing some type of moderate to vigorous aerobic exercise for 30 minutes at least 5 times per week. Aerobic exercise has been shown to help the body use insulin better, plus it strengthens your heart and bones, lowers blood glucose, reduces cholesterol and blood pressure. We recommend you start slow and then increase the frequency and intensity of your exercise. We offer many aerobic group fitness classes including Hiking with Robert, Water Aerobics, Dance, Spinning and Zumba.
In addition to aerobic exercise, the A.D.A. recommends you do strength training at least 2 times per week. Strength training makes your body more sensitive to insulin and can lower blood glucose. It helps to maintain and build strong muscles and bones, and the more muscle you have, the more calories you burn – even when your body is at rest. The club offers some strength training classes in Group Fitness. Ball Blast and Bosu Shredabolics are for advanced levels, Tempo Power Circuit is moderate and for people just beginning strength training we offer a beginning class at 7:45am on Tuesdays (Devotion to Motion) and Thursdays (Ease into Exercise). Plus you can always do strength training in the gym.
Source: American Diabetes Association website


DUES INCREASE
Our next dues adjustment takes place on August 1st. Each year we evaluate the costs of running the club, while trying to keep member needs in mind. The 3% dues increase will be reflected on your next statement. If you have any questions, please contact Nancy Prather.
BEST CORE EXERCISES FOR CORE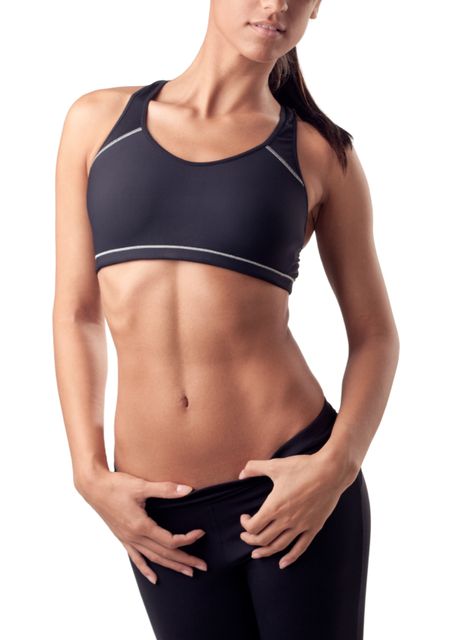 (ARE YOU STILL GETTING THIS WRONG?)

Let's start with a pop quiz…are sit-ups a core exercise? Nope, they are a hip flexor exercise and not a very good one. Crunches are ok, but there is a much better way to exercise your core.

Think of your core as doing four things:
1.) Bracing your spine so it doesn't snap forward
2.) Bracing your spine so it doesn't snap back
3.) Bracing your spine so it doesn't snap sideways
4.) Bracing your spine so it doesn't rotate

So a smart core routine will have you doing these things with planks and bridges. Or another way to think about it would be to "plank in all four directions". With the addition of some the single leg exercise to cover rotational bracing, you have a simplistic, effective and quite AWESOME core workout.

AWESOME CORE WORKOUT:
1.) Single Leg Plank x 0:30 Left+ 0:30 Right
2.) Side Plank x 0:30 Left + 0:30 Right
3.) Single Leg Hip Bridge x 0:30 Left+0:30 Right
Repeat that circuit until you feel like you "got what you came for"

AWESOME BEGINNER CORE WORKOUT:
1.) Plank x 0:30
2.) Opposite Arm Leg Raise x 1:00 Left + 1:00 Right
3.) Hip Bridge x 1:00
You still get the rotational core work with the Opposite Arm Leg Raise, and you still get the flexion/and extension core work with the plank and the hip bridge. This is an AWESOME place to begin.

THE EXERCISES: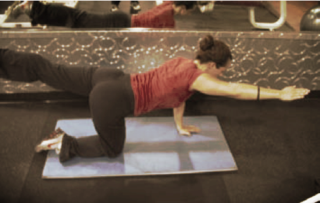 Opposite Arm Leg Raise: Anti-Rotational Core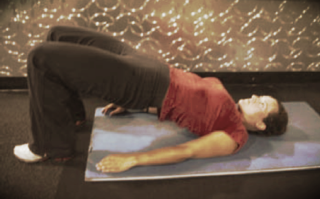 Hip Bridge: Glutes + Anti-Flexion Core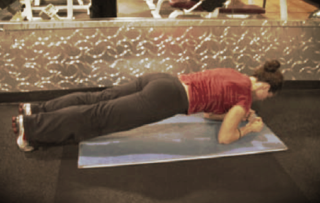 Plank: Anti-Extension Core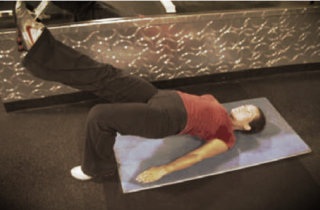 Single Leg Hip Bridge: Glutes + Anti-Flexion AND Anti-Rotation Core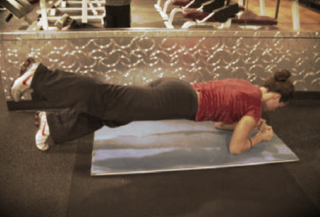 Single Leg Plank: Anti-Extension AND Anti-Rotation Core

In case you were wondering - here are the muscles getting worked:
Anti-Extension: Abs
Anti-Flexion: Glutes and Spinal Erectors
Anti-Rotation: External Obliques and Internal Obliques
Anti-Lateral-Flexion: External Obliques, Internal Obliques and Glute Medius


NEWSFLASH - ABS ARE STILL MADE IN THE KITCHEN
You want to have solid core strength mostly because it protects your back and allows you to go stronger in more advanced full-body-fat-loss exercises like kettlebell swings, squats, deadlifts, single leg deadlifts, military presses, etc. So while building your core strength happens in the gym, being able to see a lean core comes from what you eat. The maxim still stands - if you've got a layer of fat over your abs, doing a core workout isn't going to change that.

Questions? Want a certified personal trainer to program a more complete core workout for your individual body? Contact Fitness Director Danielle Williams at 818-219-4835.

Source Josh Hillis



DO YOU SELF-SABOTAGE?
As a personal trainer, I know what it takes to get and stay in shape. After all, it's how I make my living. So why don't I always have the body I desire? Why isn't it quite where it used to be? Why do I neglect the body I worked so hard to get, even though I have the tools, the knowledge and the basic motivation?

The simple answer is life stress. When I feel frustrated or unmoored, I choose to eat badly. I lose focus and gain fat – serious self-sabotage. As a full time working mother of 3, it is easy to forget about my own needs while looking after those of my family and my clients. Add in a day where I am sad or angry and on some level I start to think I need this food. And trust me, it's not something healthy. As a trainer, this makes me feel fraudulent. The pounds start to pile on. Eventually, my clothes don't fit and I can't stand working in a place with mirrors everywhere. The shame is debilitating. How could I allow this to happen to me? The extra weight isn't the only problem, but rather feeling like I'd lost my core identity, my sense of self. How can I function as a personal trainer if I feel like a fraud after losing several rounds with ice cream and cookies?

By reaching out to others in my field, I realized that this happens to many female fitness coaches. So many get derailed by having babies, menopause, working long hours, and struggling to lose weight that once came off so easily. And these are smart, capable women who truly love fitness and health and who are dedicated to making a difference in their client's lives. They also lost the focus in their lives and lost faith in themselves. Just like me.

So how did I get things back on track? What lessons did I learn from other female fitness coaches? The first lesson I learned was that I needed to admit that even with all my training and background, I couldn't manage on my own. Life had stressed me to the max. My decision-making energy was all used up. The tank was empty. I had nothing left for taking better care of myself. Sure, I already knew what I "ought" to do. But I couldn't be in charge of everything. So I did my research and decided to undertake the Dream Jeans Challenge. I knew I had to do something. As it turned out, it led to me from a size 12 to a size 6 and more strength than I ever dreamed possible. These days, I find such purpose and fulfillment working as a coach in the Dream Jeans Challenge program.

The 3 critical lessons I have learned from the Dream Jeans Challenge are:
1. You must make your own health and fitness a priority and other areas of your life will fall into place.
2. A good mentor and coach can encourage you, push you, and most of all, hold you accountable. She can reawaken your competitive spirit and help you achieve your very best.
3. Community is key. Teamwork - connection with our peers – is a powerful and highly efficient motivator. We need others to become our best selves.
It is so very fulfilling working alongside others towards the same goal – not to mention how much fun it can be.

I would love nothing more than to help you get back on track with your weight loss goals with OVAC's next round of THE DREAM JEANS CHALLENGE. You can do it. I know, because I did, and I still do.

HERE ARE THE DATES
July 8th-Aug 28th M &W 6:00-7:00am with Brooke
July 9th-Aug 29th Tu & Th 9:45-10:45am with Danielle
HERE'S HOW IT WORKS You will bring in a pair of jeans that you would like to fit into. You should be unable to button these jeans. We keep the jeans here at OVAC. In 8 weeks you WILL be wearing those jeans.
HERE'S WHAT IT INCLUDES
*2 group training sessions per week for 8 weeks led by a certified personal trainer.
*8 more solo workouts designed by a certified personal trainer (2 per week).
*Nutrition program and journal.
*Fitting into your dream jeans.
HERE IS THE COST (non-refundable) Reserve your spot with an email to dwilliams@caclubs.com. $198.50 billed May + $198.50 billed June for members and $477 pre-pay for non-members.

Questions? E-mail Danielle Williams at dwilliams@caclubs.com.



OVAC Lap Pool Schedule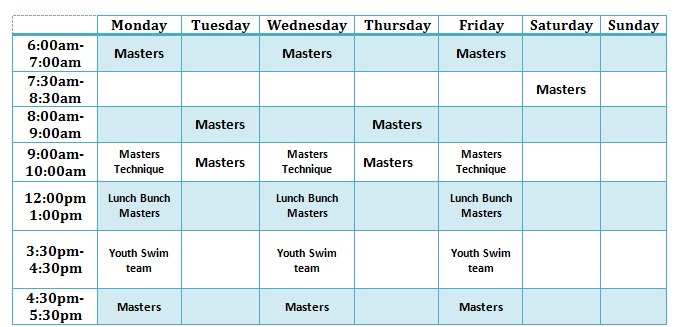 OVAC coaches will always do their best to accommodate lap swimmers. As swim class attendance continues to grow you may be asked to share a lane if you plan to swim during scheduled classes. To ensure a comfortable lap swim, it's best to plan your lap pool workout before or after swim classes.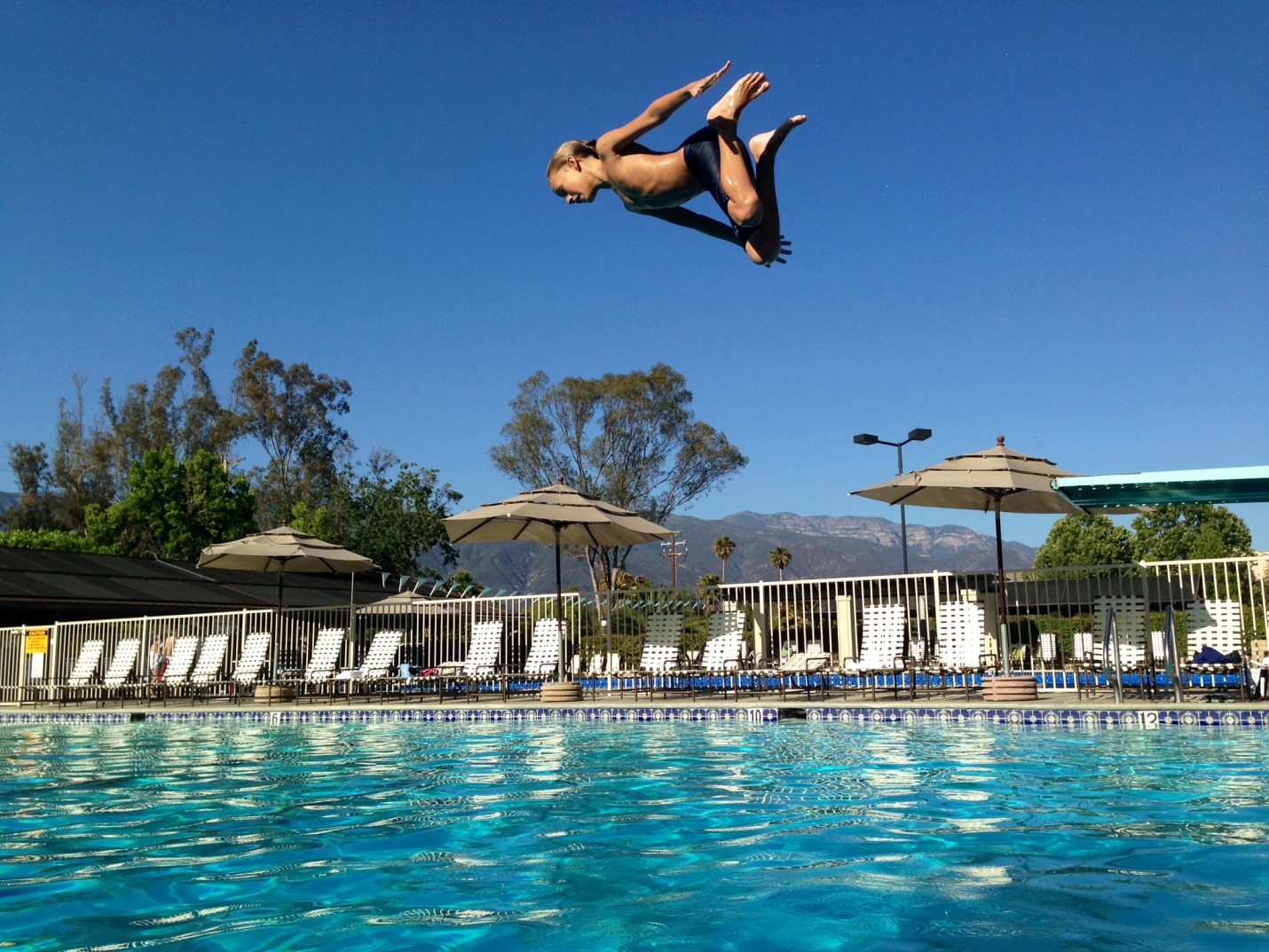 PHOTO TAKEN BY KELLY VAN HOUTEN


JULY GROUP SWIM LESSONS STILL AVAILABLE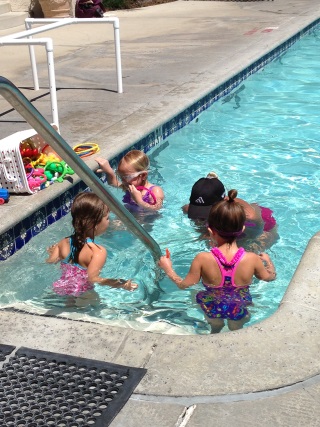 We still have room in our group swim lesson program during July. The lessons are for children 3-7 and run in one week sessions (M-F) for 30 min per day. Late morning and afternoon time slots are available. Meg and Kevin are excellent instructors and kids have fun while learning basic aquatic skills. Non-members welcome! Register at the front desk today!
UPCOMING YOUTH SWIM MEETS
• Sat. July 13th OJAI @ Montecito
• Sat. August 3 SUMMER CHAMPIONSHIP


SWIM COACH SPOTLIGHT- WENKE SEIDER

OVAC is proud to have such an incredible swimmer and coach. Wenke grew up in Germany and swam for the National Team there. She came to the US on a swimming scholarship for UCSB and decided to make the States her permanent home. As a masters swimmer she qualified for the US Olympic Trials, posted several Masters World and National records, and currently holds 107 US Master's top ten achievements, 10 All American Honors and 3 All Star Honors.
Wenke holds teaching credentials for French and German, as well as a Masters in Education from UCSB. Prior to joining OVAC, she has coached all levels (Novice, Age Group, Seniors, and Masters) at the Santa Barbara Swim Club and Age Group at the Cathedral Oaks Athletic Club.


PRIVATE SWIM LESSONS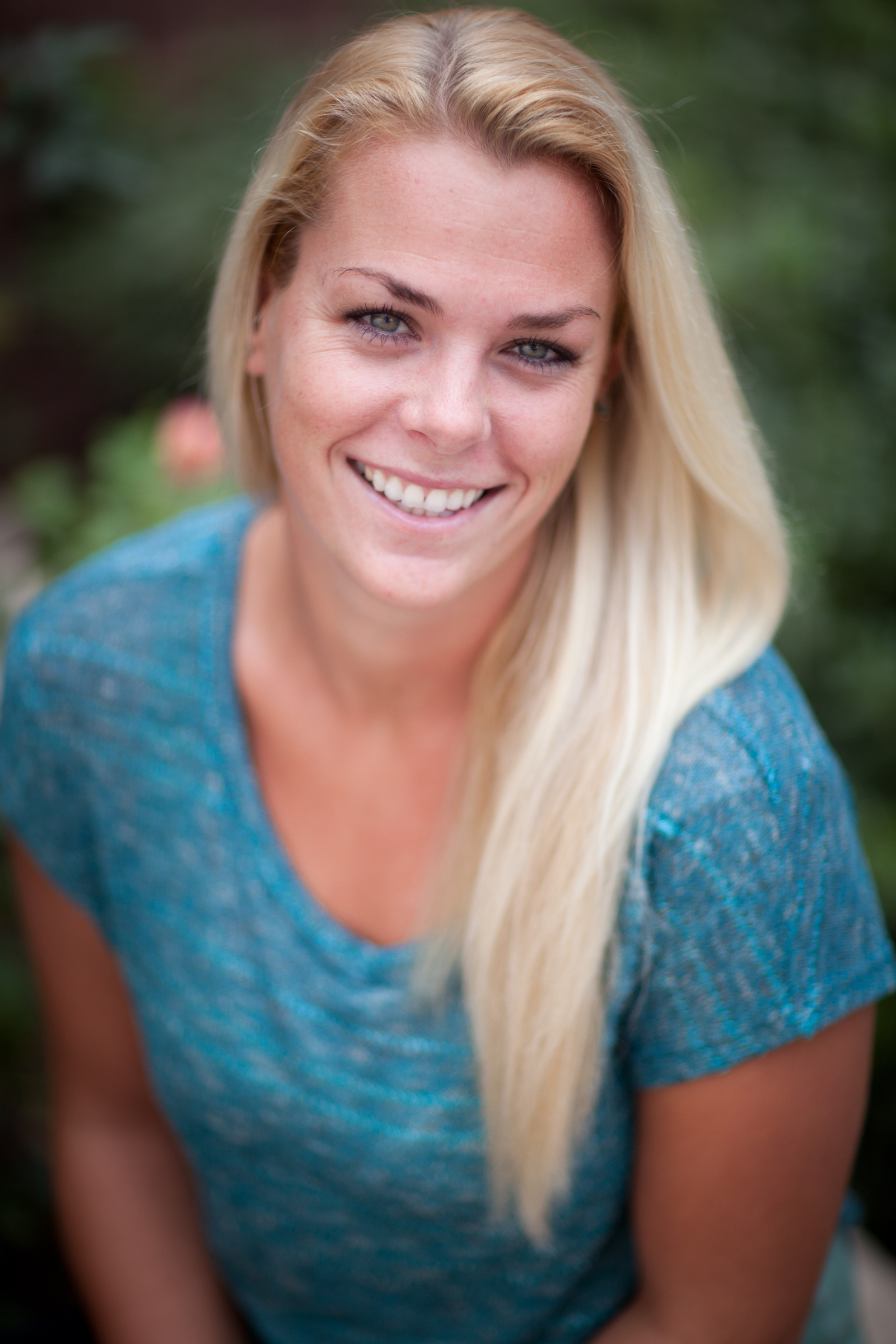 Both Meg McCormick and Kevin Rapp offer private lessons to swimmers of all ages and levels. One on one instruction is a great way to learn to swim or fine tune strokes for more efficiency. Six 30 minute lessons are only $180.00 for members and $210.00 for non-members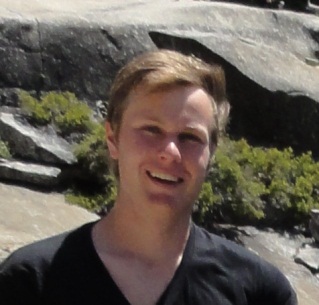 Call or text to set up a lesson today!

Kevin Rapp: 805-231-2802
Meg Mc Cormick: 805-421-9572





TENNIS UPDATE
Summer is here and I couldn't be happier! I just love being on the courts with our awesome juniors. Our summer programs are going great and I look forward to the next couple of months! If you have any questions regarding our clinics during the summer please contact me at 746-5094. We have been trying to get a fun social together but numbers have been hard to find as dates seem to conflict with other events. We hope to have a fun event in the near future! Hope everyone has a great July!

See Ya on the Courts!
Ryan


OVAC JUNIOR TENNIS CLINICS
Pee Wee Clinic
Tuesday 4:00-4:45pm $10 per clinic
-This is our introductory clinic for kids aged 4-6
Thursday 4:00-4:45pm $10 per clinic
-This clinic is designed for more advanced kids aged 6-8

Intermediate Clinic
Thursday 4:00-4:45pm $14 per clinic
-Clinic designated for juniors aged 8 & up.
-Players should have a basic understanding of the game.

Intermediate/Advanced Clinic
Wednesday 5:00-6:00pm $14 per clinic

Tournament Players Clinic
Monday and Wednesday 4:00-5:00pm $14 per clinic
We are going to continue our clinics throughout the summer months as long as numbers stay good. The exception is when we have a Pee Wee Summer Week Program, the clinic that week will be canceled. This goes for the older programs also throughout the summer months. Any questions please contact Ryan Gaston


OVAC JUNIOR SUMMER TENNIS PROGRAM 2013


Kids will learn the fundamentals in a fun and exciting environment. We have a great kid to coach ratio (6:1). Also each junior will enjoy the OVAC pool with some fun swimming activities!
Pee Wee Summer Tennis Program
(Ages 4-7)
July 15-19
August 5-9
Hours: 9am-11:30am
Cost: $100.00

Intermediate Summer Tennis Program
(Ages 8 & up)
July 22-26
August 12-16
Hours: 9am-12 Noon
Cost $130.00

Tournament Players Summer Tennis Program
(Contact Ryan for details)
July 8-12
July 29-August 2
Hours: 9am-12 Noon
Cost: $130.00

OVAC Ladies Tennis Week of Fun!
A great way to get your game in gear before the upcoming Fall season. This is always a fun time with tons of instruction to get you to the next level!
August 19-23
Hours: 9:00-11:00am
Cost: $85.00