4TH OF JULY HOURS
We will be open from 8:00am-6:00pm on the 4th of July. There will be no Group Fitness classes or Childcare on the 4th.


SUMMER POOL PARTY!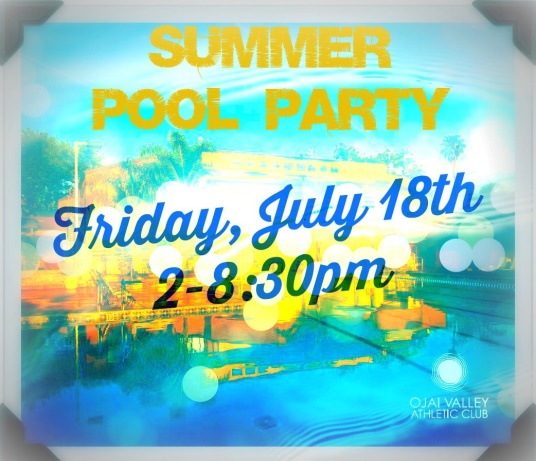 JULY 18TH, 2- 8:30PM
LIVE MUSIC FROM 2-8:30PM!
…TERESA RUSSELL AND THE TRB BAND
…LATIN TOUCH
FIRE DANCING!
HULA DANCING
GAMES
PRIZES
TACO BAR!
FUN FOR THE WHOLE FAMILY!


SEND WENKE TO WORLDS FUNDRAISER SUCCESS!!
The fundraiser to send Ojai Masters Star swimmer Wenke Seider to the Worlds Swim Meet in Montreal raised over $3000 dollars. Wenke was overwhelmed with gratitude and during a speech at the movie she expressed her thanks and determination to do her best at the meet. Filmmaker and Ojai Masters swimmer Jim Beckett's movie Sons of Africa was played during special showing to raise funds to send Wenke and her family to Montreal for the swim meet.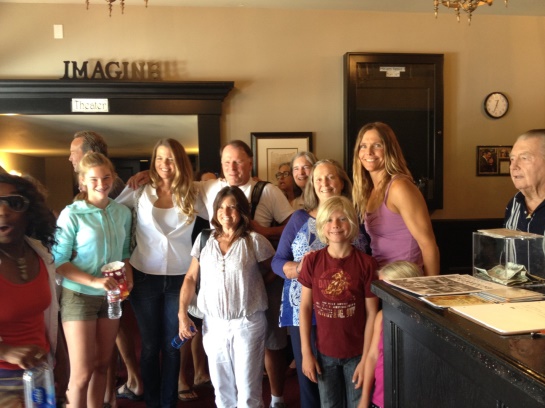 The movie tells the story of a recent reconciliatory peace trek to the summit of Mt. Kilimanjaro between the adult sons of two bitter opposing leaders of a war between Uganda and Tanzania in 1978.
Left: Masters coach Rick Goeden and Star swimmer Wenke Seider at the Sons of Africa Screening. Also shown Bob and Rita May, Lexi and Kathy Wachtell, Mayo Goeden and Quin Seider.



IT'S NOT TOO LATE TO REGISTER FOR GROUP SWIM LESSONS!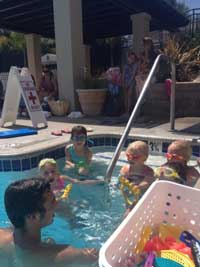 FOUR MORE SESSIONS THROUGH JULY!
Monday-Thursdays
30 minute lesson per day
Children Ages 3-9

MEMBERS $53/session
(use coupon code:OVACMEMBER)
NON-MEMBERS $63/session

Sign up online or at the front desk
ovac.caclubs.com

Above: Swim Instructor Alec Kruse with the Minnows


PILATES
"In 10 sessions, you will feel the difference, in 20 sessions you will see the difference and in 30 sessions you will have a whole new body". -Joseph Pilates

Call today for your complimentary private session!

Pamela Vos 805-832-2020 pvos@caclubs.com



ARE YOU TIRED OF BEING IN PAIN? A MOVEMENT SCREEN CAN CHANGE YOUR LIFE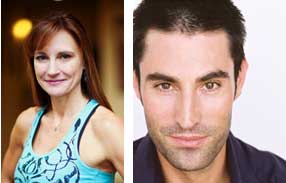 Congratulations to OVAC Personal Trainers Danielle Williams and David Rogge for obtaining their Level 2 Functional Movement Screen (FMS) Certification.

With a simple analysis of how your body moves in seven different patterns, the FMS allows a personal trainer to quickly and easily identify individuals at risk for injury, devise an exercise strategy to improve functional movement patterns, and track the progress of an exercise program. The number one goal with an exercise program is to prevent injury, whether you are working on fat loss, muscle building or performance. The FMS allows a personal trainer to screen and identify your weak links and correct them, laying the foundation for fitness and performance.

Call to schedule a FMS with Danielle at 818-219-4835 or David at 323-717-6018. The cost for this assessment, along with a complete print out of your corrective strategy is only $54 for a limited time.
POOL PARTIES AT THE CLUB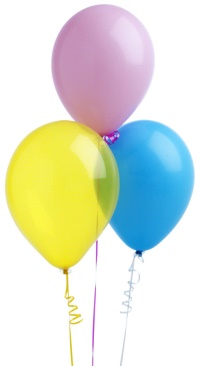 OVAC welcomes members to have pool parties at the club. However, you must contact our Special Events Coordinator, Jamie MacLean, to schedule your party. We also require members to have a dedicated Lifeguard at their party, and we charge a fee for this. We also charge a guest fee for each non-member who attends. If you are interested, or have any questions, please call Jamie MacLean or Nancy Prather at 646-7213.


TENNIS NEWS
We've had a great June with fun Junior Camps and exciting USTA Leagues. I am very happy with the camps so far. The kids have been great and getting better each day! The USTA teams are wrapping up with the 4.5 men playing one last match. They are in the hunt for Sectionals so good luck to them! I am also very excited to say our 3.0 ladies kicked butt and are on their way to Sectionals this August. My wonderful wife, Michelle captained the team and I'm very excited to see how far they go. They have a great team and the sky's the limit! Let's take all the way to Nationals! Hope everyone enjoys their 4th of July!!

See Ya on the Courts!
Ryan


SUMMER TENNIS CAMPS

PEE WEE CAMPS
Ages 5-8 9:00-11:30am Cost $100
July 14-18, July 28-August 1 and August 18-22

FUTURES CAMP
Ages 8&up 9:00-12:00 Cost $135
July 21-25 and August 11-15

TOURNAMENT PLAYERS CAMP
Contact Ryan 9:00-12:00 Cost $135
July 7-11 and August 4-8
Sign-ups are available in the lobby.


TENNIS CLINICS
Intermediate/Advanced | Wednesday 5:00-6:00 | Cost $14
Tournament Level | Monday 5:00-6:00 and Wednesday 4:00-5:00 | Cost $14
Friday Adult Clinic | Friday 10:00-11:00 | Cost $14

***Pee Wee and Futures Clinics are cancelled for the Summer. We look forward to starting them back up this Fall.




PRIVATE WELLNESS COACHING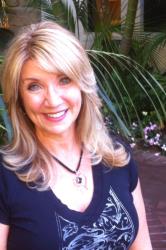 July Special! 3 Sessions $145 (members) $165 (non-members)

Wellness Coaches are great listeners and enjoy your stories. They foster self-acceptance and self-respect. They arouse, engage, energize, and challenge you to reach higher at the right moment. They have a bird dog's ability to sniff out your strengths, values, and desires. They take risks and ask courageous questions. They don't rescue you from emotional muck - sometimes you need to sit in it for a bit to energize your desire to change. They know that your life is at stake if you don't take care of yourself. And they know how to celebrate your successes. The process of wellness coaching progresses through several stages:

1. You provide background information through a well-being assessment so that you and your coach are well-informed on the key issues, including medical considerations.
2. During the first 60-90 minute coaching session, you identify your priorities and develop a personal wellness plan including a vision, three month goals and the first steps.
3. In subsequent 30-40 minute coaching sessions you and your coach review the progress toward your vision and goals, explore and resolve the most pressing issues, learn something new, and then agree on a set of goals for the following week. You will enjoy plenty of ah-ah insights along the way.
Contact Pamela Vos at 805-832-2020 or Pam@ForeverFitLiving.com for further information or to get started today!

Note: Sessions are conducted confidentially via telephone anywhere in the USA.

Pamela Vos has been a fitness instructor for 18 years. Her Certifications include:
NASM Certified Personal Trainer
Certified Pilates Instructor, Physical Mind Institute
Madd Dog Athletics SPIN Instructor
Wellcoaches Certified Wellness Coach
Published (award winning) Fitness Writer
DID YOU KNOW?????
Our Café makes our own fresh salsa, guacamole and quinoa!
Give it a try today!
 

HOW TO AVOID A SHOULDER INJURY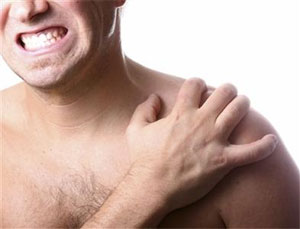 By Danielle Williams, Fitness Director
Here's a list of 10 simple guidelines to follow to keep your shoulders healthy and pain-free:
WARM UP BEFORE YOUR WORKOUT
Spend 5-10 minutes on mobility and activation drills before hitting the weights.
AVOID BACK SQUATS AFTER PRESSING HEAVY
Don't back squat the day after you bench if your shoulder is causing you grief. Instead wait another day on the back squats. Why? Think of the position of the shoulder during a back squat while holding the barbell.
INCORPORATE BODY WEIGHT & DUMBBELL EXERCISES REGULARLY
Body weight exercises have the advantage of allowing you to move freely and naturally through space. There are so many variations of push-ups – don't limit yourself. Also, use dumbbells for pressing as often as possible. This doesn't have to be in place of your barbell work, but in addition to or for some variety. Doing nothing but barbell pressing will aggravate your shoulder as the bar locks the joints into a more limited path of motion.
PULL MORE THAN YOU PUSH
Especially if you press heavy weight, you should be careful to balance it out by doing A LOT of pulling. And doing Chin-ups don't count because of the amount of bicep involvement and shoulder flexion. Instead focus on rowing variations to strengthen the upper back and traps and you will have gone a long way toward reducing your chance of shoulder injuries.
AVOID LOW REP, HEAVY ROWS OR CHIN UPS
Remember that your training is balanced when you do enough volume on pulling exercises in relation to pushing. Balance does NOT come from trying to do equal load on pushes versus pull (bench pressing what you row). Heavy weighted chin ups are probably more risky for your shoulders than heavy bench presses. Also, heavy 3-rep rows are a big gamble too.
AVOID LOW REP, HEAVY BICEP CURLS
Lifting heavy on bicep curls is not only asking for wrist and elbow problems but it can also aggravate the biceps tendon and lead to shoulder problems. Stick with moderate weights, controlled tempos and low rest periods.
"LACROSSE BALL" YOUR CHEST AND UPPER BACK
Yes it may be painful, but so necessary. The tissue in those areas get gunked up and can contribute to injuries if you don't get in there regularly.
BEWARE OF YOUR COMBINATIONS OF UPPER & LOWER BODY EXERCISES
The following exercises are almost always done on a lower body day but also greatly involve upper body/shoulder joints:
• Turkish Get Ups
• Ab Wheel Rollouts
• Snatches
• High Pulls
• Overhead Squats
• Cleans
CHANGE UP YOUR EXERCISES REGULARLY
Repetitive use injuries occur when you do the same thing over and over. Always vary your training every few weeks to avoid overuse injuries from doing the same thing over and over.
YOUR BODY TALKS TO YOU – BE SURE TO LISTEN
Don't work through pain. When something is bothering you, simply stop and don't do it. Switch to something that doesn't hurt.
CHECK OUT THE NEW CYBEX ARC TOTAL BODY CROSS TRAINER IN THE UPSTAIRS FITNESS CENTER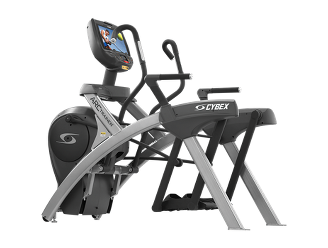 CROSS TRAINERS VS ELLIPTICALS
Not all cross trainers are created equal. Cross training refers to working various parts of the body by combining different exercises in a variety of ways. Typically one activity or sport trains certain parts of the body but not others. Cross training aims to eliminate this. Cross trainers are generally non-impact machines sometimes called ellipticals which refers to a specific motion. All ellipticals are cross trainers but not all cross trainers are ellipticals.

BURNS MORE CALORIES
More results in less time. Research shows that the Cybex Arc Trainer burns more calories than any other cross trainer or elliptical cross trainer tested. The science behind the Arc Trainers big calorie burn is the Arc motion. It engages the right muscles quads and glutes that demand lots of energy from the body when they are called upon to work. That means big calorie burn. And ... because the Arc is demanding of the muscles not the joints, it can be used longer without putting a strain on the knees, hip or back.

THREE MACHINES IN ONE
Train for strength, power, endurance, cardio, and weight loss. The Cybex Arc Trainer offers broad incline and resistance ranges which means it is really 3 machines in one. At the lower incline levels, the glide is a cross country skier. In the mid-range levels, the motion is a stride (like an elliptical except with proper positioning). At the high levels, the climb of a stepper or climber. Glide, Stride, and Climb. And ... lots of programs also make the Arc Trainer fun to use.

EASY ON THE JOINTS
No more elliptical knees. Unlike other cross trainers on the market, the patented Arc pattern of motion allows the hip and knee to move synchronously while the foot stays under the knee reducing joint pains and providing a more comfortable workout.

Exercise is simply more fun with the latest in exercise technology here at the Ojai Valley Athletic Club.