CLUB NEWS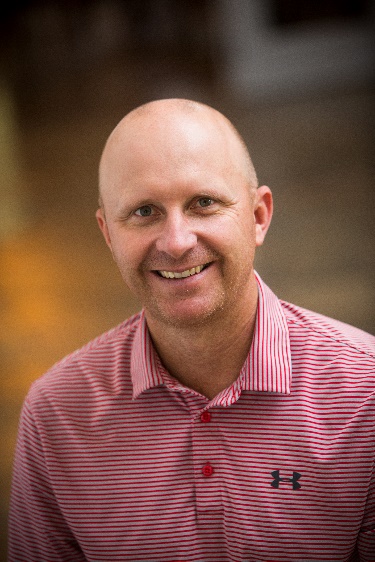 I'm sure the heat is just around the corner but I have to say that June was one cool month! It was a nice start to the Summer. We had some great events last month with many more to come in July and August! Get ready for some great Happy Hours featuring Todd Hannigan & Sleeping Chief July 19th along with The Diane Miller Band July 26th. Both should be a great time!

Want to give everyone a heads up regarding a few things that have happened in the past. Please do not bring your pets to the club and leave them in the car. Even for a brief moment, it leads the staff to worry and might lead to us calling the police. It gets hot and we have many concerned members. Also, if you are planning to visit the club on July 4th please be aware that it is one of the busiest days of the year for the club. In the past, some people have gotten frustrated with the number of people. We try to accommodate as many as we can at the pool but it is busy especially if the weather is hot. Just want members to be prepared.

I hope everyone has a great July!!!
See Ya at the Club!
Ryan
SUMMER PARTY SERIES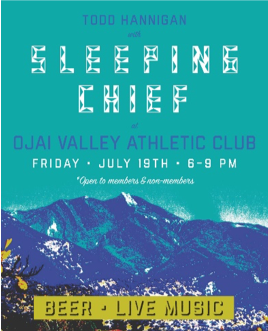 TODD HANNIGAN WITH SLEEPING CHIEF
FRIDAY, JULY 19TH 6PM-9PM
Live Music
Happy Hour Pricing at the Cafe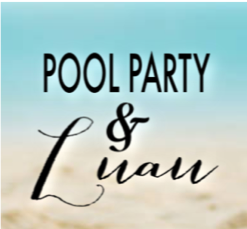 LUAU & POOL PARTY HAPPY HOUR
FRIDAY, JULY 26th 2pm-8pm
Please join us for an afternoon and evening at the club! We'll start at 2pm out at the pool with a DJ, waterslide jumper, Shave Ice and cotton candy. Then from 5-8pm we'll move to the Café deck for dancing and music from Dianne Miller Band, hula dancers, hula lesson and a special performance from Mari's water class. Fun for the whole family!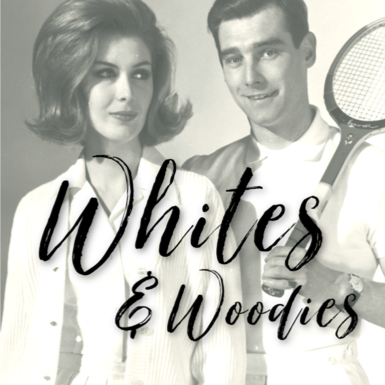 WHITES & WOODIES
JULY 6th
Whites and Woodies is Coming on Saturday July 6th! Please see the sign-up poster board in the Lobby. It'll be great fun playing with wood racquets and white balls.
SUMMER CAMP
Kids summer tennis camps are underway and we're having a blast! There are still some spots available in the second and third sessions of tennis/swim sport camp as well as for the advanced session. Please see the website or sign-up board in the lobby for details.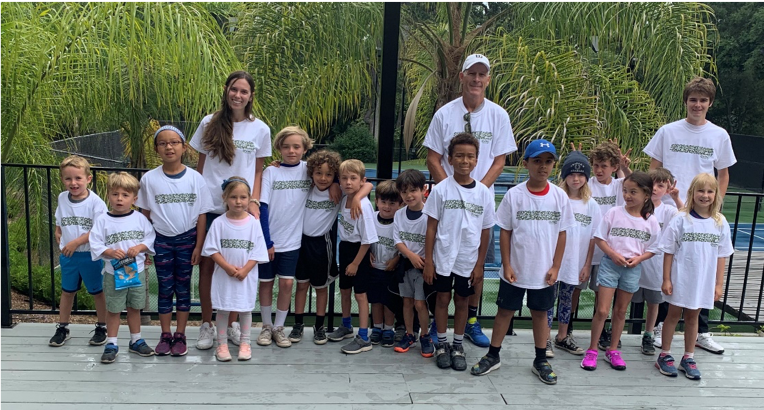 A good looking crew turned for our future stars session # 1
PARDON OUR DUST
We'll be doing some sorely needed court resurfacing work on courts 9 and 10 the week of July 8th. We apologize for the inconvenience but know you'll appreciate the finished product.
AQUATICS NEWS
OJAI HEAT WAVES JUNE AGE GROUP INVITATIONAL, VENTURA (JUNE 13-16)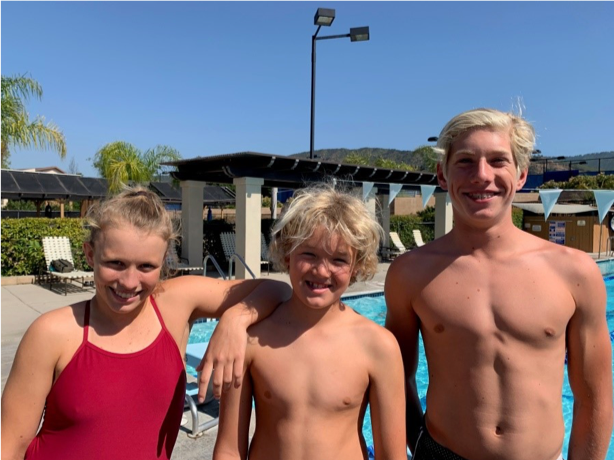 We had three swimmers qualify for the JAGs meet this June. Quin Seider (13), Amelie Pinkernell (12) and Flynn Van Auker (10) represented the Ojai Heatwaves at this high-level swim meet with teams from all over Southern California (from San Luis Obispo to Mission Viejo). Our swimmers swam great and were able to achieve several new best times. Quin dropped two seconds in the 200 free (2:16.,67) and added three tenth in the 100 free (1:01.,98). Unfortunately, after these two swim he came down with the flu and was not able to compete in the 50 free. Amelie was able to drop almost three seconds in the 200 free (2:29.87) and 1.6 seconds in the 100 free (1:08.04). Flynn Van Auker had two outstanding swims dropping almost six seconds in the 200 free (2:48,10) and a little over 4 seconds in the 100 back (1:30.27). We are proud of these young swimmers for this great accomplishment.
NEW CLASS ALERT!
PARENT & CHILD WATER CLASS WITH BETHANY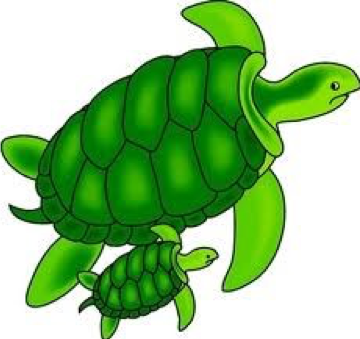 Water introduction- Learning water safety and awareness Parents learn techniques to further child's aquatic success.
SATURDAY MORNING's in August
August 3,10,17,24,31
10:30am-11:00am
Cost: $80/session
Log into your club account and register under "programs"
CONTACT: bwickholm@caclubs.com


SWIMMER OF THE MONTH - QUIN SEIDER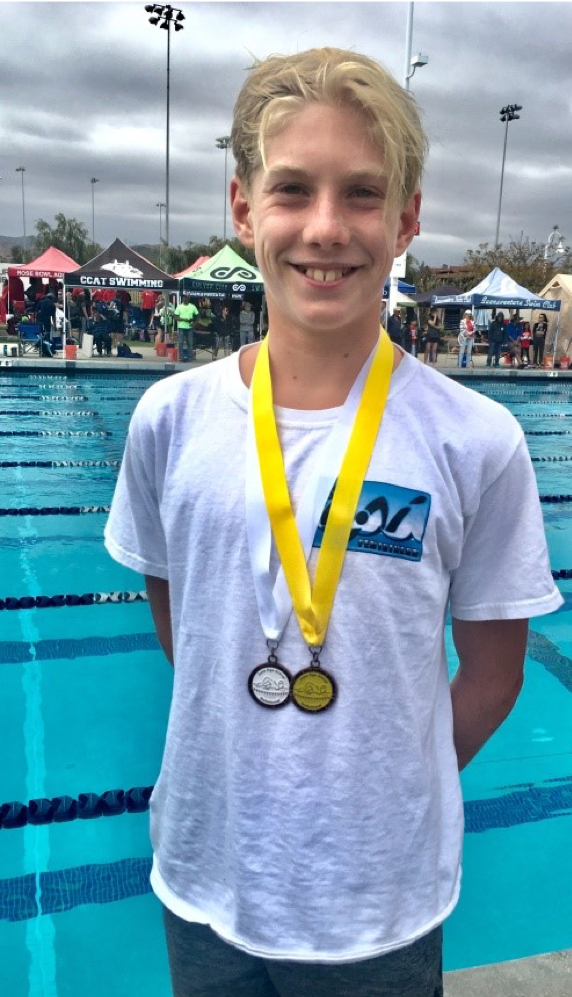 How long have you been swimming?
I've been swimming 6 or 7 years.
What's your favorite stroke?
Freestyle

What's your favorite distance/event?
I think right now it's the 200 IM, weird right?

What was your most memorable achievement so far?
When I won high-point award at the David Graham Memorial meet.

Do you have a goal for this year?
Yeah, to get my long course 50 free time under 27 seconds.

What's your favorite workout?
The Paris IM set.

What else do you like to do?
I like to go surfing and biking with my friends.

What's your favorite after-swim snack?
A half-pound steak with a marinated- I'm just kidding, I like to have a Cliff Bar after swim
SAY NO TO FORCING CORRECT ALIGNMENT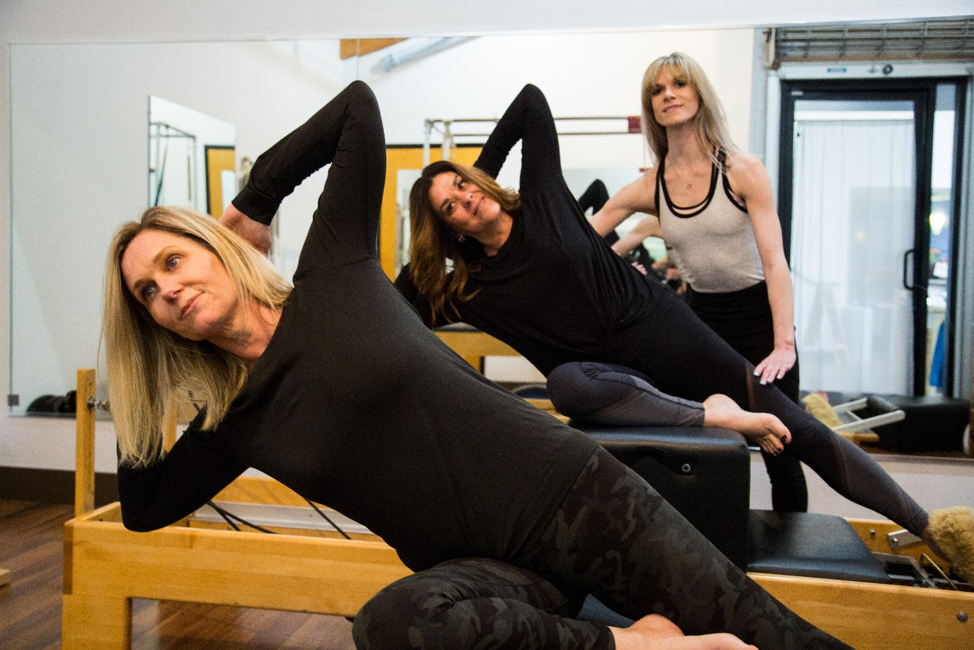 In this last month, I have had great feedback from some of my clients who learned something new about their alignment. Pilates has continuously taught me, that a lot of the time, "less is more" is an accurate statement. There are times where we think that we have to force our shoulders down, or force our legs to extend. Believe it or not, it is all about pulling up (engaging) the core.
Every single one of us are not perfectly symmetric. We need to accept this about our bodies and just become aware of it. The stronger your core becomes the more your body will naturally fall into place and where it feels most comfortable. When one of my client's finished her session, she came back to the studio right after she looked at herself in the mirror to share with me that the shoulder that usually tends to rise up, was all of the sudden in line with her opposite shoulder. She could not believe that she did not have to think about pressing it down. That muscle group just found more space because she was holding her ENTIRE body better.
In closing, if it appeals to you to move with more ease, but receive faster and clearer results do not hesitate to sign up for you Free Pilates Session across from the front desk. Plus, there is not better time than the Summer to start Pilates training!
WHAT YOU NEED TO KNOW ABOUT YOUR KNEES
By Robert Evans
I probably work with more knee issues than any other body part, even more than shoulders. I rock tape knees with great success but if the symptoms persist, I recommend getting an X-ray. That lets us see if the issue is more structural. If that's inclusive an MRI might be needed to look for tears in the soft tissue.
So, let's talk a bit about knees and I'll try to not use a lot of big confusing words. The knee is often described as a hinge joint, but it's much, much more than that. While it does resemble a hinge because its' primary movements are flexion (bending to draw the thigh and calf towards each other) and extension (straightening to move the thigh and calf away from each other). However, it also glides and rotates which makes it more versatile but also more vulnerable to injury. To keep the knee stable it relies on tendons, ligaments, cartilage, and the joint itself (not the muscles as we might assume). The knee is least stable when it's bent. Also, if we hyperextend or lock the knees, we excessively squeeze the front part of the knee and press the tissues backward out of their natural placement.
Try standing with your knees in a more relaxed straight position, firm your calf muscles and notice how your leg muscles engage. Your knees should feel pretty stable and practicing this over time will re-educate your muscles.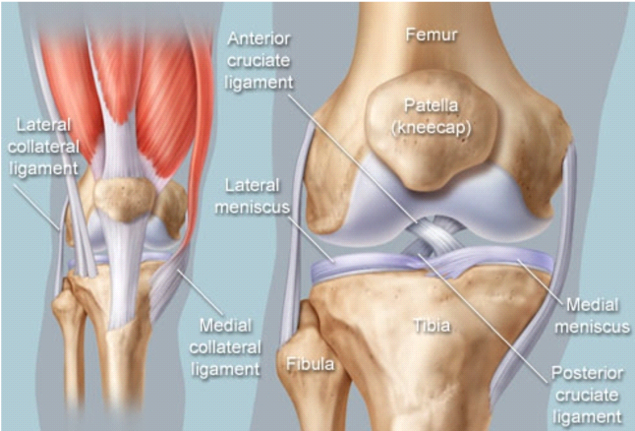 Ideally, we want the kneecap to slide smoothly. However, there is a strength imbalance in our front thigh muscles. The inner parts are larger, thicker and deeper than the outer parts. This asymmetry makes it normal for the kneecaps to slightly glance toward each other. Over time this can cause the knee cap to pull out and up creating chronic and acute pain if not corrected.
Try sitting with your back up against a wall with a small towel rolled up under your knees with your toes pointed up. Press out through your heels then press down through your knees. Hold for 10-20 seconds release and repeat several times.
So please be nice to your knees. Remember they're stuck in the middle and absorb energy from your feet and hips. If you take them beyond normal rotation or put too much pressure on them you greatly increase the risk of harming them.