OVAC UPDATE
I was hoping this newsletter would be welcoming back everyone to the club but as you know we are still waiting for Ventura County to give us the green light. I do feel optimistic that we will be up and running sometime during the month of June. I am very proud to say that all of our employees have been paid their full wages throughout this whole situation but we need to get the club up and running soon.

I get emails and calls often regarding the pool opening and that some aquatic centers are open so why can't we? I want to be clear with everyone that we have to follow Ventura County guidelines for reopening. As some of you know, each County is different with a different set of rules and regulations. I am in contact with Ventura and Ojai multiple times a week to get the current info regarding gyms and pools. We are ready to go whenever the County tells us we can open. Trust me, we want to open as soon as we can and can't wait to have our members back.
I want to tell everyone that once we are able to get the pool open there will be different guidelines all members must follow. There will be an online reservation system in place for 6 lanes in the lap pool. PLEASE DOWNLOAD THE OVAC APP TO RESERVE A LANE. The app is the easiest way to reserve a 30 min spot. You can also make a reservation on our website once you log in to your account. Please get familiar with this as it will be the only way to guarantee a lane. We will also have two lanes for open swim and five lanes in the Rec pool. These will be first come first serve with a 30 min time limit.
Please be safe and cross your fingers that we will be open soon!!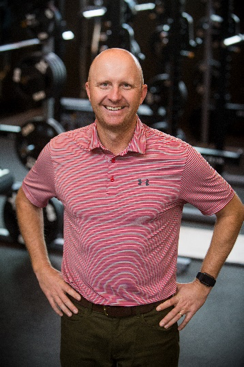 Take care and be safe,

Ryan
DISCOUNTED DUES FOR TENNIS MEMBERS
We hope everyone has enjoyed the Tennis and Pickle Courts being open during the month of May. Starting June 1st we will be charging Full Facility members 50% dues to help cover the costs of maintaining the facility and staff. We will be adding weekend hours so members have more opportunity to hit the courts. Once we are able to open the entire club dues will go back to normal. We thank you for your support as we navigate through these crazy times.
BUILDING MUSCLE WITHOUT WEIGHTS AT HOME

-Danielle J. Wommack, Fitness Director

The possibilities for at home workouts with no equipment are endless and have positive
benefits. But if you are looking to add muscle to your body, body weight workouts can fall
short. That is unless you add in one key component – explosiveness. You can use this simple
tool to maximize your results using gravity and, as a bonus, you will also increase your stamina.
Let's look at a specific body weight workout example created by Personal Trainer Brian Nguyen.
Do each exercise for 30 seconds before moving onto the next. After you complete all 12
exercises, rest for 3 minutes. Repeat 3-5 times in total.
1. Squat
2. Squat Jumps
3. Isometric Squats
4. Push Ups
5. Plyometric Push Ups
6. Pause Push Ups (stop for 1 second in the middle of the repetition)
7. Alternating Lunges
8. Split Squat Jumps
9. Isometric Lunge Holds
10. Side Planks
11. Front Plank
12. Hip Bridge

With this routine you will be starting off with a basic bodyweight version of an exercise o set your pace and get your body ready for the more explosive moves. Fatigue should set in during the more explosive moves and that is just what you want for muscle building. The isometric moves add a great finish as your muscles are already fatigued. This means that you will break more muscle cross fibers leading to muscle growth.

While you are dialing in your home workouts, the OVAC personal training staff have been working on their cleaning muscles, deep cleaning our fitness centers and group class rooms. Once OVAC re-opens, nothing will be more important to us that your health and safety, as well as keeping the Club clean. We are ready to do what it takes for you. So, hang in there a while longer and know that we are ready to help.

Please feel free to reach out to me at any time with your fitness or nutrition questions at
dwommack@caclubs.com
PREPARING FOR OUR POOL TO OPEN!

OVAC is anxiously awaiting word from Ventura County that we can re-open our beautiful pools! We are working to be up and ready as soon as we get the okay and we are preparing for various scenarios while we wait for the exact guidelines from the County. We expect that for the first phase of our opening we will have to implement social distancing with one swimmer per lane for lap swimming and classes. In an effort to get as many members into lanes as fairly as possible, we have set up a lane reservation system for six lanes and a drop-in waiting list managed at the front desk for six lanes.

The reservation system is available either through our app or by logging into your club account online. You can create an account HERE. Once you create an account you can click on "reservations" to secure your swim time.

Your health has always been our #1 priority, here are some guidelines to help us swim safely, stay healthy and stay open:
Pools will be open 6am-6pm M-F and 8am-4pm weekends
Pools will only be available for classes and lap swimming
Please check in the front desk
Arrive 5 min before your reservation dressed and ready to swim for your allotted time
Wear a face covering for the check in process
Please exit the lane on time for the next swimmer
Please avoid sharing equipment
We have suspended towel service and equipment check out at this time
Inside locker rooms are temporarily closed and pool locker rooms are for toilets only
Only one person will be allowed per lane
Lap pool lanes (1-6) will be on a reservation system (through our app)
Each member ages 16 and up will be allowed 1-30 min reservation per day
Booking will open each day at 5pm for the next day's reservations
Four lanes in the rec pool and the lap pool wall lanes will be on a first come first serve wait list managed by the front desk in 30 min slots
Waiting will not be allowed at the pool or in the lobby
Please respect social distancing while waiting or sign up and come back for your time slot
Masters and youth swim team schedules will remain the same
Cleaning and sanitizing will be done hourly
We do not have information on hot tubs or baby pool yet
Private swim lessons can be scheduled but only taught from the deck at this time
Please contact Aquatic Director Elin Cheverez echeverez@calubs.com if you have any questions, and Media Director Sarah Sidote ssidote@caclubs.com for help with setting up your online account. We look forward to seeing you at the pool and helping you get back in your swim routine!
FROM THE CAFÉ

The cafe staff has been hard at work getting ready for when everyone comes back. We have been cleaning and reorganizing to make sure we create a safe and comfortable environment for our members. We have created a small but delicious menu. All our items will be served in easily portable containers and we will have your drinks to go. Our local organic farmer John Fonteyn has let me know that he has fields planted and will be ready to provide us with organic produce! We will have signs posted to let you know where to order and pick-up your food. Decals will be placed to indicate space for social distancing.

We are excited about the day when we get to see everyone again and serve you your favorites!
STAYING UP WITH MAT WORK

By Georgia Cotsis

I hope everyone is doing well during this time! This is a good time to focus on what we truly want…what exercise works best for you etc.

Most of you already know this, but please feel free to join in on my Virtual Mat Pilates Class Wednesdays and Sundays at 9:00am! It is posted on my "Instagram LIVE" @georgiamaria7. Right at 9am simply click on my story located at the top of the Instagram home page. If you have any questions, whether it is related to the virtual class, or any specific exercises you need for yourself, please email me at gcotsis@caclubs.com.

Kelsey and I look forward to seeing you all at the Club soon!
TENNIS UPDATE

Hello Tennis friends,

I hope June finds you healthy and happy in what has been a very challenging 2020 thus far. In some respects tennis at OVAC is back to normal in that all members have weekday access to the courts for social singles and doubles play and we are able to offer lessons. We are however still operating under limited hours and social distancing guidelines and much uncertainty remains regarding summer programs, interclub leagues, USTA leagues and group clinics. We look forward to expanding the hours that courts are available each day and to include weekends once the pools are cleared to reopen.

In an abundance of hope I've selected June 15th as a potential start date for kids mini-camps contingent largely upon adequate interest. If there is enough interest these clinics will operate much differently than past summer programs. Some features, all of which may be subject to change:
A maximum of 8 children per session (two instructors)
Minimum age of 8 years (social distancing for our youngest will prove difficult)
Limited access to club facilities (access to pools/swim time may be added if possible once pools reopen)
Cost of $150 per session
9:00 AM - 11:00 Daily M-F
Lunch purchase option for additional fee each day
Please contact me at sbeckendorf@caclubs.com with questions or to reserve a spot. As we gauge interest in the camps, more definitive dates and weeks will be added on the OVAC website with delineations for age groups.

Lessons for those in the 5-7 age group are available on a private or semi-private basis.

Be Well,

Steve