MARCH IS KID'S HEALTH AND FITNESS MONTH AT OVAC!
Jump into the fun with your kids all around the club.
Look for these fun and healthy activities, special events and more all around the club in March:
ALL ABOARD!
All kids (up to age 12)
Pick up your MINI MEMBER PASSPORT
A game of healthy, fun activities around the club!
WIN PRIZES! And be entered into a drawing for a DISNEY GIFT CARD!! PICK UP YOUR PASSPORT AND JUMP ON BOARD!
Passports available in Kid's Club


ON THE TENNIS COURTS…KIDS HEALTH AND FITNESS MONTH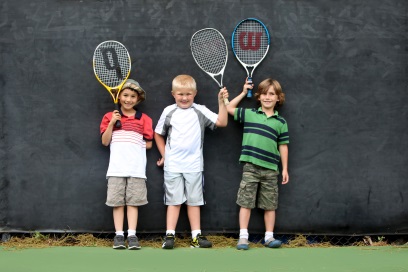 he OVAC Tennis Team is very excited about March being Kids Health and Fitness Month! We are going to have a couple of things happening in March to celebrate.
Every OVAC member under the age of 12 can bring a friend to one of our Junior Clinics for a 2 for 1 special. Two kids for the price of one!! It's a great deal and a great way to try out our tennis program. For more information please contact Ryan (746-5094)
We are also going to have a drawing at the front desk for free private lessons and group lessons with Ryan Gaston and Katya Welborn! Just sign up your child at the front desk and we will pull names at the end of the month. We will give four free private lessons and four free group clinics! This drawing is open to all members under the age of 12.
KIDS FITNESS…
Jump, Hop, Skip, Hula Hoop and more for fun and fitness. Games every day all around the club.
YogaWoga! Yoga for mini members and parents together.
* Date and time To Be Announced.
Special health and fitness theme Fit Kid's Classes.
IN THE CAFÉ…

Kid's happy, healthy snack attack! A new kid's Café special each week in March.

FIRST WEEKS' HEALTHY SNACK…MRS. SWEET POTATO FRIES!


IN THE POOL…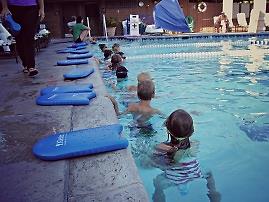 During March, come check out Swim Team and Pre-Swim Team. We will be offering one FREE drop-in to new swimmers who want try out swim team or pre-swim team.
No appointment is necessary.

Dolphins Pre-Swim Team(4-8)
(Must be able to swim across the shallow end of the pool unassisted)
Tuesdays and Thursdays 4:00-4:45 pm
$60.00/mo. $12.00/ drop-in

Ojai Heat Youth (6-14) Swim Team
Members of the Channel Islands Swim League
(Prerequisites required)
Mondays, Wednesdays, and Fridays 3:30pm – 4:30pm
$170.00/season $60.00/ month

Watch for our New Swim Team and Pre Swim team Schedule Coming in April!
AROUND THE CLUB…

MICKEY AND MINI ARE IN THE CLUB FOR THE MONTH OF MARCH!
They are here to remind you to pick up your Mini Member Passport from Kid's Club for a chance to win a Disney Gift Card!

Spot Mickey or Mini around the club and tell Kid's Club where you saw them and get a sticker for your Passport.
All Kid's (under 12) invited!
2014 ONE HOUR SWIM RESULTS
MASTERS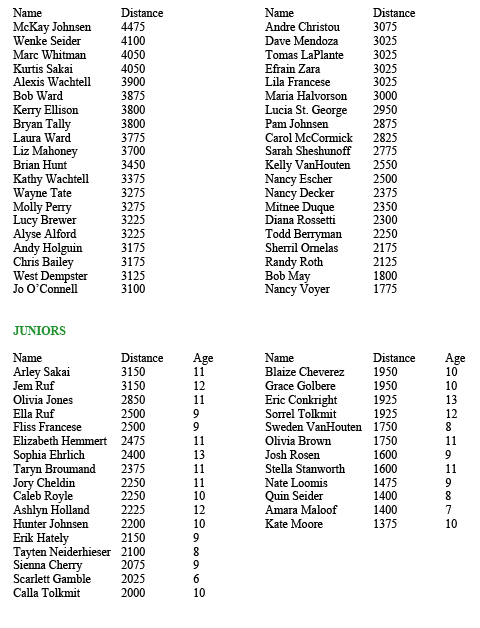 TENNIS UPDATE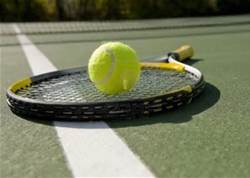 Man do we have a busy upcoming Spring! For the first time we have eight USTA teams competing for OVAC this season! This is very exciting but with more teams means more courts will be occupied during the weekends. Please remember this when you plan your tennis on Saturdays and Sundays. We are going to try to keep courts one and two open for member play throughout the weekend but times will happen when we might have to double book matches and all hard courts will be played for matches. When this happens please be reminded that the clay courts are your friends and always open for you. I just got through putting almost a ton of new clay on all the courts. They can get dry at times but we have water hoses on the courts so just give them a quick spray and they will be good to go. Also, the clay courts have some of the best views of the mountains anywhere in the valley!! Hope your spring is full of aces!!
See Ya on the Courts!
Ryan


JUNIOR AND ADULT CLINICS OVAC SPRING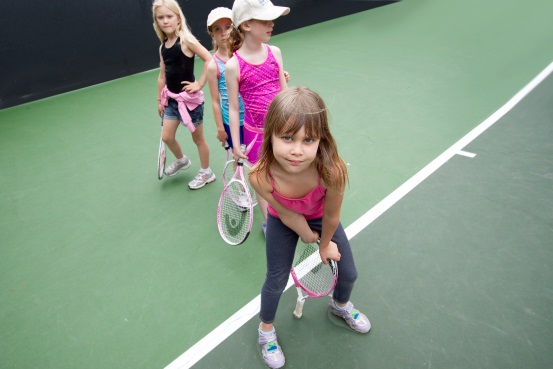 Pee Wee Tennis (Ages 4-7) | Tuesday 4:00-4:45 | Cost $10
Futures Tennis (Ages 8 & up) | Thursday 4:00-5:00 | Cost $14
Intermediate/Advanced | Wednesday | 5:00-6:00 | Cost $14
Tournament Level | Monday | 5:00-6:00 | Cost $14
Tournament Level | Wednesday | 4:00-5:00 | Cost $14
Friday Adult Clinic | Friday | 10:00-11:00 | Cost $14


UPCOMING SWIM MEETS:
March 8 @ OJAI 1:00pm
March 29 Winter Champs
Ojai Heat Swimmers Compete in Santa Barbara  
PILATES IS FOR YOU IF...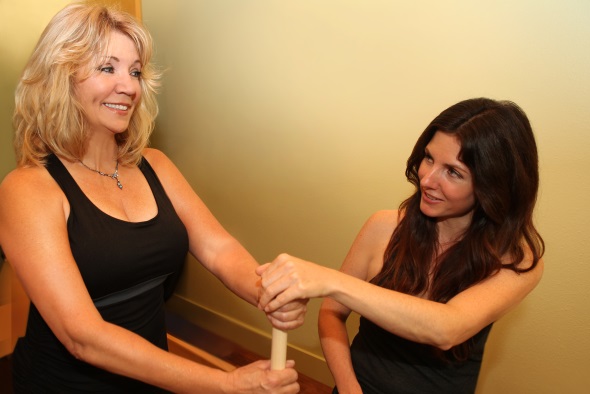 ~ You have low back pain
~ Your hamstrings and calves are tight
~ You lack flexibility in your spine
~ You want to gain core strength
~ You want long, lean muscles
~ You want to touch your toes when you lean over
~ You want to improve your tennis game
~ You want shapely shoulders and legs
~ You want to improve your posture
~ You want to improve your golf swing
~ You've had injuries, especially knee and back
~ You want to relieve body aches and pains
~ You want to improve your balance
~ You really want a great stretch!
Pilates is safe and effective for all fitness levels including seniors and those with physical limitations.

Contact Pamela Vos or Victoria Ott to schedule a complimentary "no obligation" workout on the reformer in our cozy private studio.
(You can also sign up at the front desk and one of us will call you).

805-832-2020
pvos@caclubs.com


THRIVE GRAND OPENING WAS A HUGE SUCCESS
Thank you to our wonderful members who have supported us through our remodel of our lower gym. If you haven't checked out our newest fitness center "Thrive" please come down, take a look, and tell us what you think!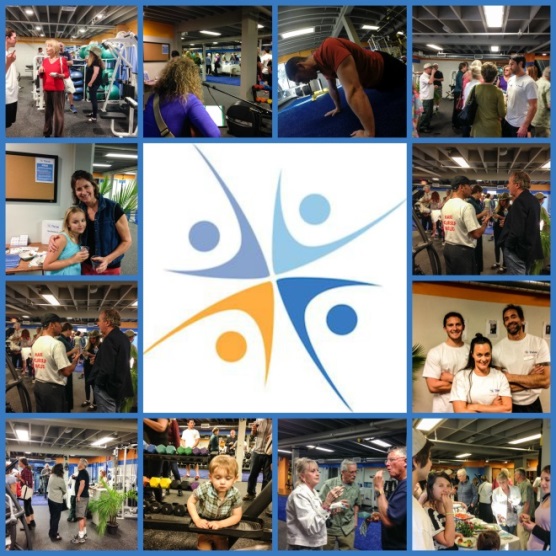 LUCKY YOU!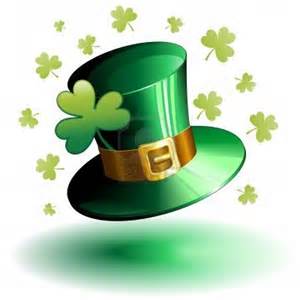 Here it is already March. Perhaps you wanted this year to be different. You wanted to lose that weight you've been carrying around. But life gets in the way. You're busy with work. The kids need your attention. Obstacles have prevented you from achieving what you want. I understand. As a fitness professional for over 17 years, I have seen people come and go from the gym without succeeding at what they came to do.

Would you like to develop better eating habits? Lose weight? Increase energy? Quit smoking or other things you know are chiseling away at your health? Would you like to be living a happy, satisfied life?

I want to help you uncover the secret to making lasting change! That is why I became a Wellness Coach! To get to the heart of the matter:

For the Month of March, I am giving away a FREE 90 minute Wellness Coaching Session to anyone who does a little something for me...actually for yourself. (revealed at the end)

This 90 minute telephone session includes:
~ A Well Being Assessment that you complete before our call (19 pages)
~ Designing a Wellness Vision for yourself
~ Developing 3-month goals based on your highest priorities
~ Creating your first set of weekly goals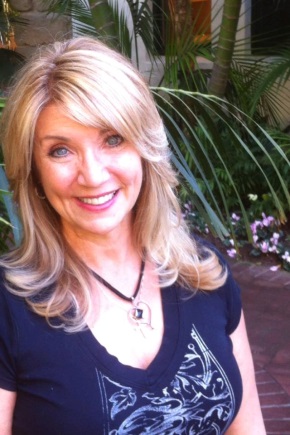 ll this to get you pointed in the right direction! And feeling good about it!

Here's what to do to qualify for your FREE session:
Tell me (in an email) about your story. Tell me what you hope to accomplish this year as it relates to your well being. There is no right or wrong answers. Can be short, can be long. And everything you say will ALWAYS be held in complete confidence.



I'm looking forward to hearing from you!

Pamela Vos, CFT
Wellness Coach,
805-832-2020

Email: Pam@foreverfitliving.com


THIS EXERCISE MISTAKE COULD HURT YOU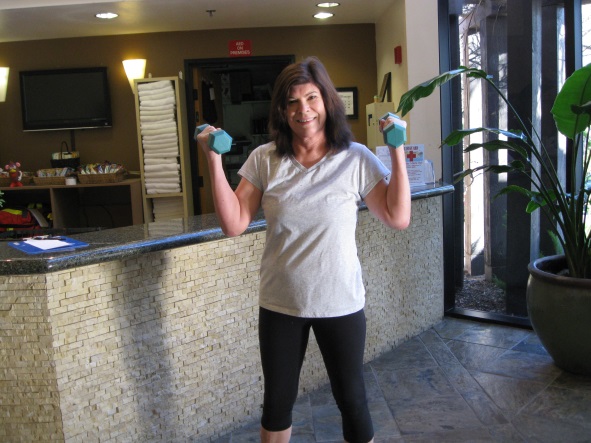 By Danielle Williams, Fitness Director
Squats are one of my all time FAVORITE exercises. What's not to love? Squats strengthen the muscles in the back and front of your thigh (quads and hamstrings) in addition to the butt (glutes). This functional exercise mimics the bend and lift movement you do every time you pick up a bag off the floor, pick up a child or sit down in a chair. The mistake I see in the gym that maybe harming you is squatting with your weight too far forward. Instead you should put most of your weight in your heels when lowering into a squat. The weight distribution will help keep the torso upright through the squat rather than teetering forward, and help keep the hips back and down, outside of the heels. Try to spread the floor apart by driving outwards through the back/outer portion of the heel. Why is this important? This mistake can put too much pressure on the delicate tendons, ligaments and cartilage that hold the knee in place.
CONSERVE WATER – OUR MOST PRECIOUS RESOURCE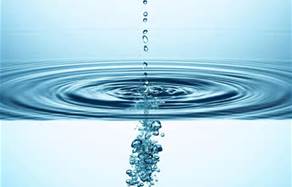 Californians are being asked to step up their efforts to conserve water in the face of the driest weather in decades. With two thirds of California in extreme drought conditions, Governor Jerry Brown declared an emergency and is asking residents to voluntarily reduce water use by 20%.
Here is what we are doing at Ojai Valley Athletic Club:
• We have installed low-flow shower heads on our showers.
• We are using recycled water (not from Ojai's water supply) for outdoor cleaning and landscaping.
Here is what you can do to help:
• Limit your showers to 5 minutes.
• Turn off the water while you are shaving or brushing your teeth.
• Turn off the water while you are applying soap & shampoo in the shower. Then turn the water back on to rinse.
• Try to use fewer towels. Lower towel usage will mean fewer loads of laundry for the club.
Please remember to use water wisely and do your part to help us conserve our most precious resource. Thank you!


BEYOND THE GYM-OVAC'S HIKING EXPERIENCE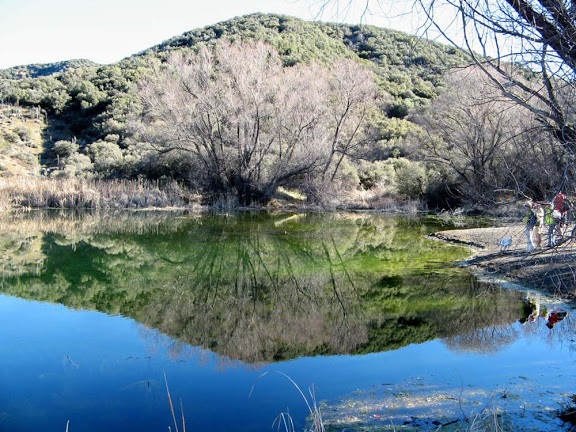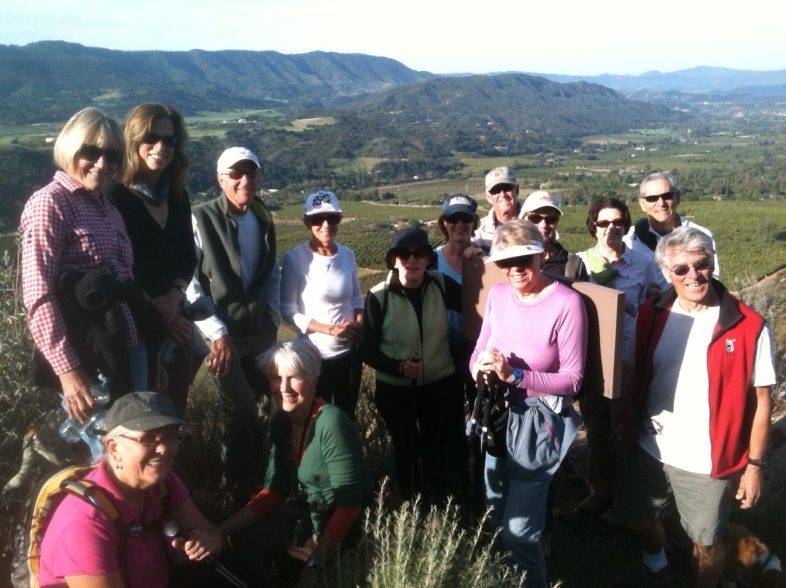 WITH ROBERT EVANS
MONDAY'S 8:30am
Did you know that OVAC is one of the few clubs in California offering a FREE hike class to members? Exercise outdoors and explore the Ojai Valley hiking trails. Learn the history, flora and fauna, while increasing strength, cardiovascular fitness and improving balance.

Hiking is a great form of exercise accessible to all fitness levels. In addition to helping you get fitter and stronger, hiking can help you lose weight also, particularly if you are hiking up some of the hills surrounding the beautiful Ojai Valley. Hiking outdoors will help you feel closer to nature and natural rhythms, which may increase your happiness and help you feel more fulfilled, in addition to being an amazing stress reliever and insomnia reducer. As a result you will feel mentally recharged and physically stronger.

Other benefits of hiking include helping to fight off osteoporosis, increasing your levels of vitamin D (something most of us are deficit in, even in sunny California), improving your. cardiovascular system (thus reducing the risk of heart disease). Hiking is excellent for improving muscle tone as your body and legs compensate for the rough terrain..

Hiking is an all around wonderful activity that is easy to start and continue. The variety and customizable nature of hiking will provide a lifetime of benefits and enjoyment. And here at OVAC you will make some amazing new friends as you clear your mind and build a healthier body. So join our outstanding hike guide Robert Evans as he leads you on an invigorating journey to all your fitness goals.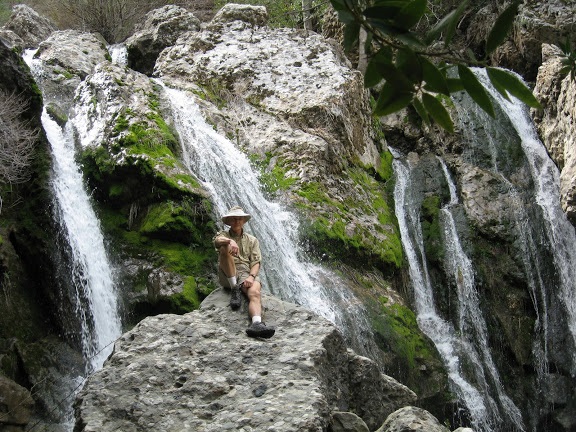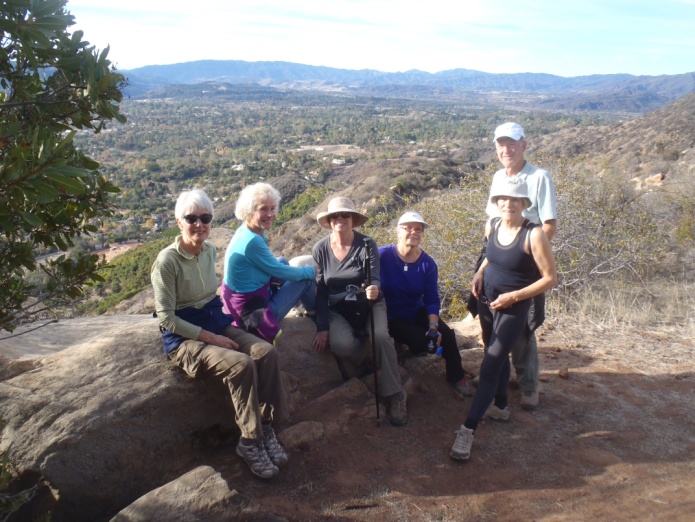 MASTER'S SCHEDULE CHANGE
Coach Rick will no longer be holding a MWF 4:30pm Master's workout. The lap pool will be TEMPORARILY available during this timeslot for lap swimming. Starting in April, the Ojai Heat Swim team will make time changes to adjust. A huge "Thank you" to Coach Rick for running a great 4:30 workout for many years!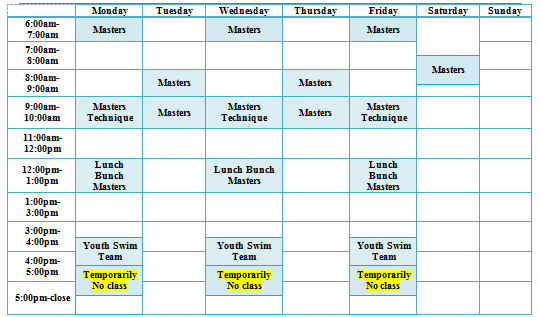 OVAC coaches will always do their best to accommodate lap swimmers. As swim class attendance continues to grow you may be asked to share a lane if you plan to swim during scheduled classes. To ensure a comfortable lap swim, it's best to plan your lap pool workout before or after swim classes.
MEET YOUR PERSONAL TRAINING TEAM

Joanne Terry
(805)798-1875
"I like to be a personal fitness trainer because I want to inspire people to move, to be strong, and to be the best they can be. I believe in exercise and I know that when we work on our bodies our life improves."



Eric Leija
(805)216-4331
"I love being a personal trainer because it gives me a chance to share my passion for fitness and the opportunity to make a positive impact in someone's life."



Jeff Hoefling
(805)512-1880
"What I like best about being a personal trainer is when my client looks at me and says I'm so glad I picked you."



Josh Peters
(805)217-9629
"I enjoy being a personal trainer because I have a strong passion for health and fitness. I want to show members that you can exercise and create a healthier lifestyle while having fun. Helping others get excited about working out has brought me to become a personal trainer at the OVAC."

Robert Evans
(805)798-2810
"Being a trainer puts me in the unique position of being qualified to help other achieve their goals. It might be relief of back pain through corrective exercises; especially in the area of scoliosis. It might be muscle strength and stability or weight loss, empowering them to reach to new heights they previously thought impossible."

David Rogge
(323)717-6018
"Helping people move better and feel better through fitness is what I love best about being a personal trainer. Life is about movement and I am passionate about showing others how to be strong, powerful and move to their fullest potential."



Danielle Williams
Fitness Director
(818)219-4835
"My passion in life is to empower others to reach goals they never imagined possible, especially in the area of weight loss. Changing lives and experiencing real results with my clients every day is why I love being a personal trainer."