THE OJAI IS COMING!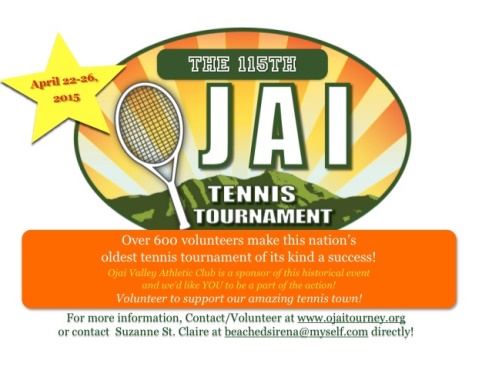 The 115th Ojai Tennis Tournament is coming to the Ojai Valley April 22-26th. Over 600 volunteers make this nation's oldest tennis tournament of its kind a success! Ojai Valley Athletic Club is a sponsor of this historical event and we'd like YOU to be a part of the action! Volunteer to support our amazing tennis town! For more information, Contact/Volunteer at www.ojaitouney.org or contact Suzanne St. Claire at
beachedsirena@myself.com
directly!
THE NEW GROUP FITNESS SCHEDULE IS HERE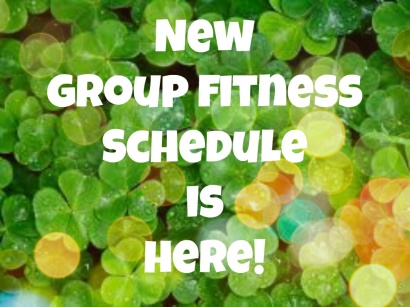 Exciting changes and new classes. Check it out today at OVAC or online at ovac.caclubs.com.
GROUP FITNESS COMING EVENTS!
We're still working on adding classes, but here is a brief preview:
Monday, March 2nd-
Eden will be taking over the 4pm Pilates class.
Sunday March 8th-
We're adding Morning Vinyasa Yoga class at 11am with Katie.
Coming Soon…
• Sunday Rhythm Spin Class (in addition to the existing class)
• Friday Hike
• Thursday class with Blake
• Tuesday Rhythm & Dance
CONGRATS TO OUR LADIES 3.0 TEAM!
Last month our OVAC Ladies 3.0 Team sent 6 ladies to represent at Southern California Sectionals. The team played amazing and had the strongest showing at Sectionals of any Ojai team to date. We are very proud of them and their accomplishment! Congrats Cassandra VanKeulen, Kathy Bergman, Katrina Schmidt, Kelly D'Angelo, Mattie Oehmke and Michelle Gaston!
HEY KIDS!
Look who just swam in to Kid's Club!
Please help us choose a name for her.
Drop your suggestion in the fish bowl at the front desk.
TENNIS NEWS
It was a very productive February with great weather and active tennis leagues throughout OVAC Tennis. Our Interclub C Team is still kicking butt and rocking first place in the Santa Barbara Interclub. Our Ladies 3.5 40&over USTA team also came up with a big win to take first place in the Ventura County Section. With two more matches left on the calendar lets wish them good luck and hopefully another trip to Sectionals!

On a different note, we have added more filters to the tennis water fountains. Hopefully by the end of the month all fountains will have a filter attached. It has greatly improved the taste and quality of the water. We also received a big shipment of clay that we are in the process of adding to the courts during this month. It's
a nice reminder to think about playing on the clay when the Ojai is in full force.

See Ya on the Courts!
Ryan
SO YOU WOULD LIKE TO START SPRINTING?

PERSONAL TRAINERS ERIC & BLAKE ARE READY TO SHOW YOU HOW
FREE SPRINT TRAINING WORKSHOP
FRIDAY MARCH 20th at 4pm
Sprinting has been around since the dawn of man, but only in the past few years has it really taken off as a widespread fitness trend. Prior to this it was either sprint to kill our dinner or sprint in an athletic competition. Recently the fitness industry has realized that doing sprint work for our interval training is a tremendously effective way to get/stay lean, enhance mobility, improve athleticism, and prepare ourselves for the demands of life.

However, sprinting full-tilt without some tips, direction and guidance can lead to unnecessary pain or injury. Blake and Eric will be presenting how to prepare and perform sprint workouts to ease you into the benefits with less risk. Meet in the OVAC lobby for this no cost informative event.
NO EXPERIENCE NECESSARY. ALL FITNESS LEVELS ARE WELCOME.
Questions? Contact Eric at 805-216-4331 or Blake at 614-560-6904.
ADD ZEST TO THE END OF YOUR WORKOUT
By Fitness Director Danielle Williams
If you want to get fitter, stronger, leaner faster, considering adding a Finisher after your normal strength training workouts. A cardio Finisher is a quick, movement specific exercise that burns a ton of fat without the negative repercussions of long duration, low intensity, steady-state cardio.
We live in a society that embraces "if some is good, then more is better!" Nope. Although doing more and more minutes of cardio has become commonplace over recent years, this type of extra cardio is a bad idea. Why? Because for most of us, those extra minutes spent pounding away on a cardio machine floods your body with inflammatory hormones, kills your body's natural anabolic response to training, and sets you up for a long, hunger-filled rest of your day. This doesn't mean long duration cardio is bad, it definitely has its time and place. But, Finishers are a great option to have in your toolbox to get your heart rate up, stay lean and strong, while minimizing damage to muscle tissue.
The sample cardio Finishers below can be tacked onto the end of your normal workout. You are going to push it as hard as you possibly can during these Finishers. The harder you push, the more you'll get out of it. Unlike regular cardio, your improvements will be directly proportional to your intensity.
FINISHER #1 Incline Treadmill Sprints
Speed:
Beginner: 9.0-10.0 mph
Intermediate: 10.0-11.0 mph
Advanced: 11.0-12.5+ mph
Incline:
Beginner: 1.0-3.5%
Intermediate: 3.5-6.5%
Advanced: 6.5-8.0+%
Work:
 10-25 seconds (variable dependent on speed/incline) at your top speed
Rest (walk):
Beginner: 45-60 seconds
Intermediate: 30-45 seconds
Advanced: 20-30 seconds
Rounds:
Beginner: 4-5
Intermediate: 6-7
Advanced: 8-10
Total Time: 4-10 minutes (dependent on above variables)
FINISHER #2 Bike Sprints
Resistance:
Beginner: 8-10
Intermediate: 10-15
Advanced: 15-20
Work:
 10-30 seconds (variable dependent on resistance/speed)
Rest
(slow pedal):
Beginner: 45-60 seconds
Intermediate: 30-45 seconds
Advanced: 20-30 seconds
Rounds:
Beginner: 6-8
Intermediate: 9-12
Advanced: 13-15
Total Time: 4-12 minutes (dependent on above variables)
A FAREWELL NOTE FROM PAM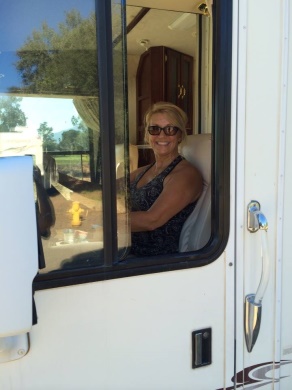 There is a time for everything.....and for me, it's time to say Goodbye
Needing a rest, recuperation and re-grouping, I moved to Ojai five years ago. I was drawn here. It's been what I call "my safe haven" and it was a great choice. The community provided me, not only with much needed healing, but with wonderful, wonderful friends. Many of those friends I made right here at OVAC! In my 2 1/2 years as Pilates Instructor/Director, I have become very fond of my clients, the staff and members, many of which I care deeply about on a personal level.
Last Fall I came to realize part of a dream I've had for many years; to own an RV so I can travel to the beach and write books. With that being said, I am trading in my tennis shoes for a pen/paper and hitting the road as a full-time RV'er.
OVAC is a wonderful club with great trainers, instructors, fun and effective classes and a caring staff. You're in great hands! I'll miss you....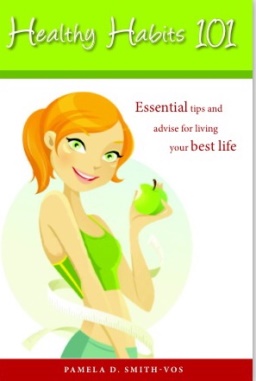 Much love to you all!
Pam
FREE E-BOOK OFFER!
P.S. It's been on the back burner for a long time, but my first book is coming out soon. You can get a FREE copy of it as an E-book as my Thank you gift! Please email me at writeforliving@gmail.com if you'd like to know when it's released.
MARCH ON IN FOR YOUR FREE PRIVATE PILATES SESSION!

It's time to spring into action and try the springs! The reformer is a whole new experience and you get to try it FREE! Contact one of our instructors today to book your session: Victoria Ott 805-665-7406 or Julie Fox 323-829-5562