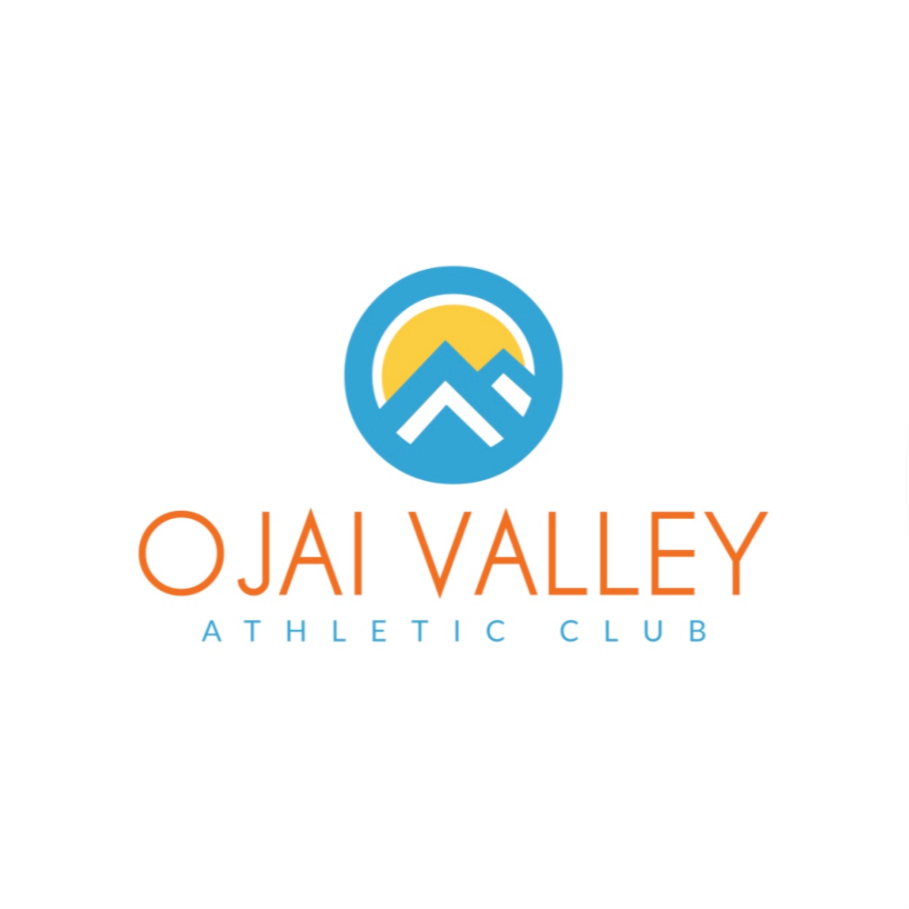 Winter is in full force and it is just what we needed. It might not be the best for my tennis game but it is so nice to see our creek actually have running water! I remember when I first started working at OVAC back in 2000 seeing the creek run all year long. Hopefully we can see that again throughout the valley!
We hope everyone is enjoying the new look of the club along with the new equipment. We also added some great classes like the Monday Mat Pilates class with our Pilates Director Georgia Cotsis. She is amazing and something to try out if you want a great core workout.
Get ready as Spring is just around the corner and that means The Ojai Tennis Tournament! Let's all have a great March and look forward to seeing you at OVAC!
See Ya at the Club!
Ryan



SPIN RIDE EVENTS WITH MALLORY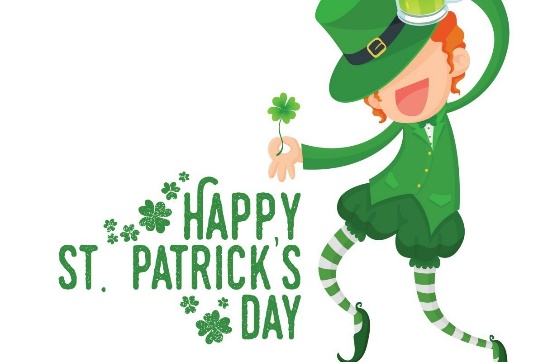 ST. PATRICK'S DAY RIDE
Join Mallory on Saturday, March 16th at 8:30am for a fun spin ride to Irish music!

ALL REQUEST SPIN RIDE
Have you always wanted to request your own music in Spin Class? Here's your chance! Join Mallory on Saturday, March 30th at 8:30am for an All Request Spin ride. She will be taking requests in the weeks before the class of songs riders would like to hear (she will have a basket and slips of paper in Spin room for people to record their requests). You choose your music! What's better than that?



PLEASE HELP US GO PAPERLESS!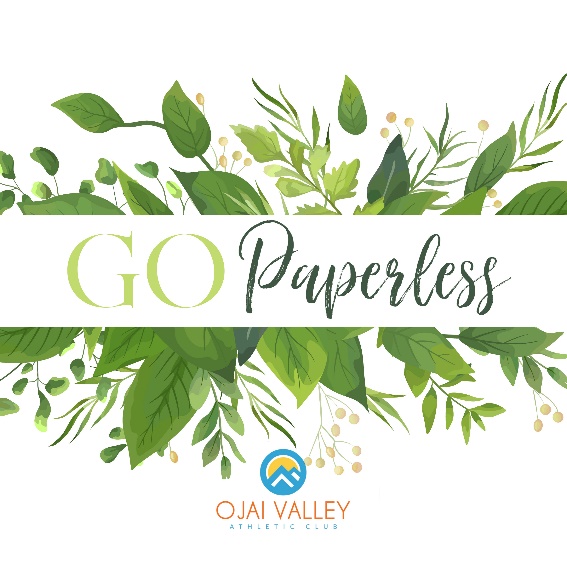 CHOOSE YOUR INCENTIVE!
In an effort to cut down on paper usage we would like to offer our members an incentive to switch to paperless billing. Members can choose between two incentives, either a FREE Small Group Training Class or a Buy One Get One Free gift certificate for the Café.
What does it mean to go paperless? Every month on the first of the month, our system automatically runs membership dues. If you sign up for paperless billing you would receive an email with a pdf attachment of your bill THAT DAY. The best part is that you don't have to wait to get your bill in the mail, you know exactly what your bill looks like immediately. This does not mean that you have to sign up for automatic payments. You can still send in your check if that's what you prefer.
Our goal is to go primarily paperless and we would love your help!
If you would like to find out more about paperless billing or would like to choose your incentive, please contact Sarah Sidote-Ortiz at ssidote@caclubs.com.



TENNIS NEWS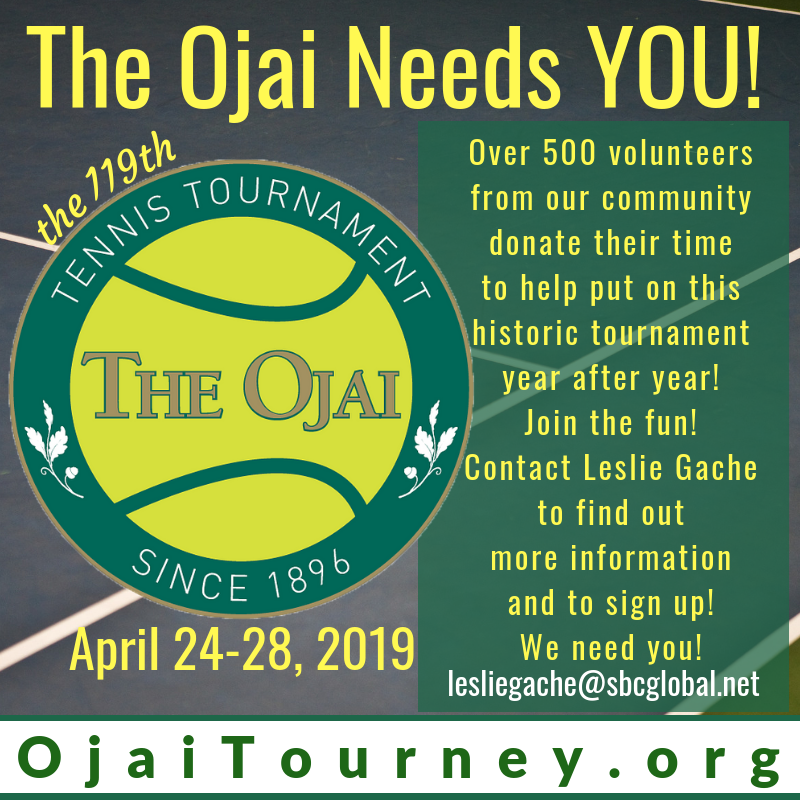 Hey Everyone-Lots of exciting times ahead at OVAC Tennis:
The days are getting longer and tennis players across the nation are super-pumped for March 10. That marks the beginning of Daylight Saving Time and an extra hour of daylight in which to hit tennis balls for those who hate hitting under the lights which pretty much includes everybody.
Mark your calendars -Thursday March 14th at 4:30pm is the "Irish I Was Playing Tennis" mixer for our tennis members. Our nod to St. Patrick's Day. Wear something green, play some tennis and bring something snackish to eat/share. Drinks will be provided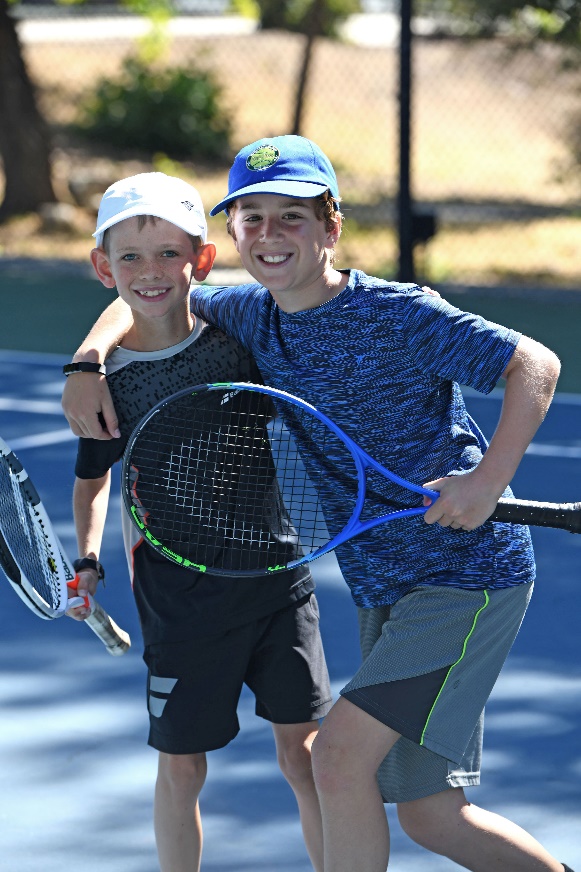 The Ventura County Junior Tennis Association series of tournaments returns to OVAC with a novice/open tournament slated for April 6th & 7th. The VCJTA novice division is perfect for those just beginning the game and learning how to compete. The open division raises the bar a bit and is for players with more experience. Please visit the VCJTA website at
vcjta.com
to join or contact Tennis Director Steve Beckendorf for more details at
sbeckendorf@caclubs.com
.
The Ojai- the oldest and one of the largest tournaments in the nation returns April 23-28. More on that next month.
USTA adult spring leagues are in full swing and USTA Junior Team Tennis begins Sunday March 3
Repair work on Courts 3,8, and 9: A date has not yet been established but we will be doing repair work on courts 3, 8 and 9 in the coming weeks in advance of The Ojai. We'll try to make it short and sweet to minimize disruption of play. Thanks in advance for your patience.
And finally, we'll be setting dates for our kids summer camps in the next week- be on the lookout for our sign up board in the lobby.
PILATES EQUIPMENT IS THE ANSWER FOR MOBILITY
By Georgia Cotsis

Most of us strive for better flexibility/mobility. It helps us to keep our joints healthy, to have correct posture, to create longer muscles, and allows us to feel better. If having strong mobility is a challenge for you, have you ever noticed that it is difficult to stretch in the first place? So how can we progress our mobility if stretching ITSELF is too much of a challenge. Well there is an answer! Using Pilates equipment can enhance your mobility greatly. The equipment gives you assistance by having a set of springs with different levels of resistance. This type of resistance is important to help support and lead you through an exercise. Also, the equipment comes with straps that you can place your feet, legs, arms, etc in. This trains you to find your full range of motion. A lot of the time, as I have worked with a client, they are surprised with the range of motion that they already had, but the equipment made it easier to place themselves into the correct form/position. With Pilates equipment specifically, you are able to lay on your back rather than trying to get into a stretch in a seated position, which is usually more challenging for us. Then, over time, you will be better trained to take stretching classes that you would like to take with a better awareness of how to place yourself in space. This is a great reason why we teach "mind/body" connection in Pilates. Multiple sessions can allow you to become much more aware of your own body in everyday life. And if you are looking for better mobility, there is nothing more effective than using our equipment.
Written by, Georgia Cotsis



OVAC IS ACCEPTING APPLICATIONS

FOR 2018 SUMMER LIFEGUARDS!
Ojai Valley Athletic Club is hiring Lifeguards for the upcoming summer season. This is a temporary seasonal job from May-Sept. in which the employee will be assigned tasks related to water, customer safety, customer service, daily maintenance and other given tasks. A current American Red Cross Lifeguarding Certification is required or willingness to obtain one. Pick up and application at the front desk and return ATTN: Elin




WHAT DO I DO WITH THIS THING?!?
By Danielle J Wommack, Fitness Director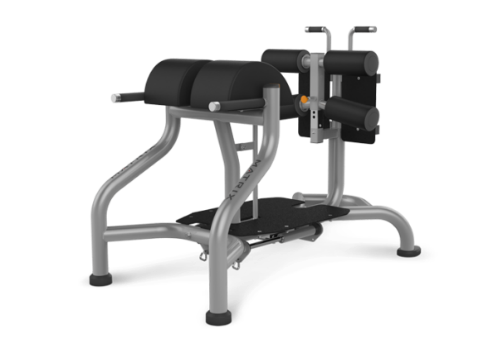 How To Do Glute Ham Raises & Back Extensions

First of all, what is this new machine called? Meet the Matrix Glute Ham Bench. It is a powerhouse machine that can primarily works the muscles on the backside of your body. Specifically, the Glute Ham Bench uses your hamstrings, gluteals, spinal erectors, and your calves (isometrically). This means that you can use the Glute Ham Bench to develop your glutes and hamstrings, improve your low back health, increase postural control, and even see positive carryover into your weightlifting.

Increased Hamstring and Glute Development
There are not many movements that can isolate the hamstrings and the hips as well as the Glute Ham Raise Bench without the need for spinal loading. Don't get me wrong, I love Romanian Deadlifts, but the Glute Ham Bench allows you to build muscular endurance and hypertrophy in your hamstrings, glutes and lower back without needing any added load.

Improved Lower Back Function
As with any exercise, form matters. Too much spinal extension and/or not controlling the movement can do more harm than good. But, if you contract and lengthen the muscles on the backside of your body by hinging in the correct place (i.e., not extension at the lumbar spine), you can minimize the stress placed on the low back and avoid excessive strain on the lumbar spine, which leads to better injury resistance.

Increased Postural Control
Crucial components of squatting, deadlifting, running and doing your normal daily activities are having an upright torso and/or being able to resist excessive spinal flexion Being able to control and contract the hamstrings, glutes, and spinal erectors will help to keep you upright and disperse stress and loading across the entire backside of your body, rather than just negatively taxing one muscle group (often the spinal erectors)

Weightlifting Carryover
As previously touched upon, the Glute Ham Bench can translate to a better form in exercise set up and exercise execution by providing a more stable torso position when lifting weights. By increasing your awareness, strength, and muscle mass in the glutes, hamstrings, and spinal erectors, you will be better equipped to resist spinal flexion and forward collapsing in the difficult positions some exercises put us in.

What's the Difference Between a Glute Ham Raise and a Back Extension?
These movements are very similar, both target the backside of the body, and each has beneficial carryover to the other. While both exercises work the hamstrings, a Glute Ham Raise exercise places greater demand on the hamstrings because of the fulcrum of movement. In a Glute Ham Raise, the movement occurs at the knee joint, whereas in a Back Extension exercise, the movement occurs at the hip joint (refer to the photos). Since the hamstring crosses the knee joint, the Glute Ham Raise exercise will work the hamstring more than the lower back. The Back Extension exercise targets the spinal erectors more so than the Glute Ham Raise exercise primarily because the knees remain fixed.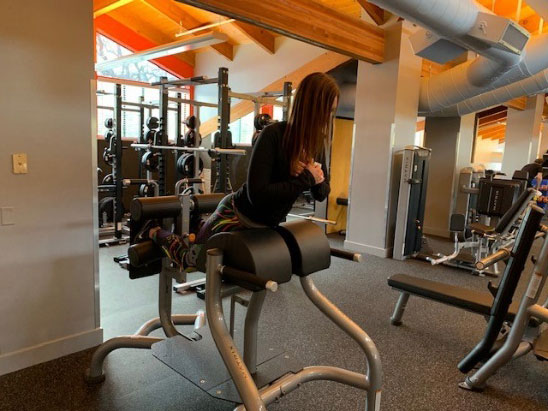 GLUTE HAM RAISE (notice bent knees as motion should occur through the knees)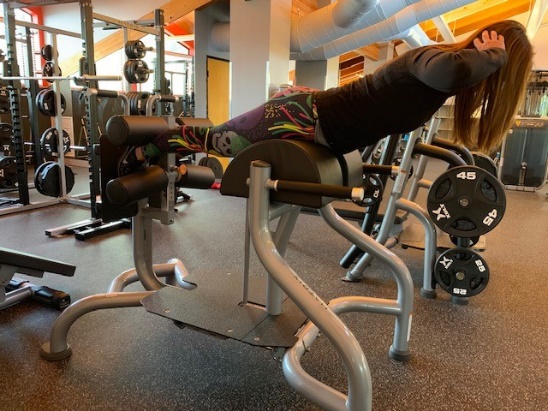 BACK EXTENSION (notice straight knees as motion should occur through the hips)




AQUATICS NEWS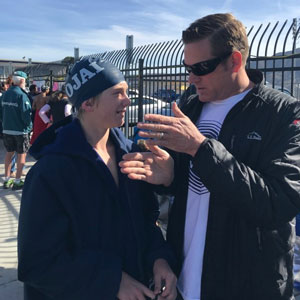 Quin Seider (12), one of our Ojai Heat Waves swimmers was able to qualify for the Southern California Spring junior Olympics in the 50 freestyle with a time of 0:26.9.
The Spring Junior Olympics are the highest-level competition in Southern California and the most difficult meet to qualify for in age group swimming.
This is a great accomplishment and will be the first time Ojai is being represented at this meet.

The apple doesn't fall far from the tree! Quin Seider is Ojai Heat Waves coach and world champion swimmer, Wenke Sieder's, son. OVAC is proud to have such amazing athletic talent within our program.

Photo: Quin Seider(12) receives pre-event pep talk from his dad, Brandon Seider.
IMPROVE YOUR STROKE EFFICIENCY—PLAY SWIM GOLF.
To learn how to get more out of each stroke, play a game of Swim Golf! This simple swimming drill will help swimmers develop:
Better swimming technique: Placing value on distance per stroke, the swimmer will adapt their stroke, reducing drag and improving technique.
Improved efficiency: Swimming efficiency is essential for success, as an inefficient stroke is slow and tiresome. Combining a technical and performance aspect in the score of the drill, swimmers further enhance efficiency.
Sense of pace: Many swimmers have difficulty properly pacing their swimming races. Poor pacing can impair performance and increase injury risk. Having swimmers perform multiple repetitions while maintaining a stroke rate and time encourages them to properly pace their swimming.
How to Play Swim Golf
Determine a reasonable distance, like 25m and a repeat like 6X25m
Perform one repeat; using the pace clock leave at an easily timed interval
Count your stroke cycles for that repeat - a cycle is each time your left hand (or your right hand, but only one hand) enters the water.
Note your time for the repeat.
Add the two numbers together for your par score - for example, 25 seconds plus 10 strokes = a par of 35.
Perform the set of 6x25m , starting a new 25 every 1 minute.
Count your stroke cycles for each repeat, adding that number to your time for each repeat.
Compare this number to your par.
Keep track of the difference. For example, on your first 25 you take 10 strokes and have a time of 20 seconds for a score of 30. Compared to a par of 35, you are 5 under!
Complete all of the repeats, trying to balance stroke speed and efficiency
Total your score for six.
Do the set from time to time to measure your progress. Focus on something different on different repeats - long strokes, fast strokes, high elbows - and note the results. Technique is more important than brute force. Many sports rely on ground reaction force for performance, but swimming requires precise technique. Remember to do drill work as part of your practices for enhancing your swimming technique and performance.



COME SWIM WITH US!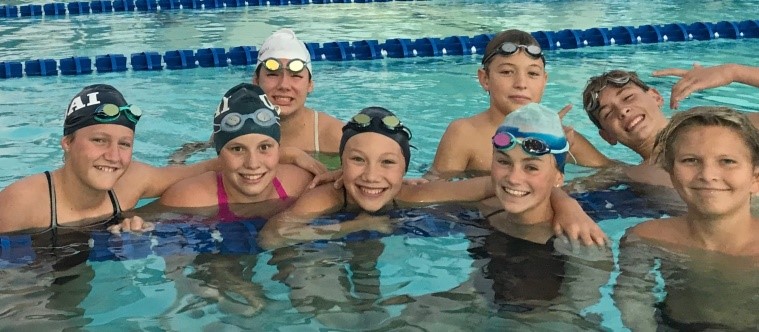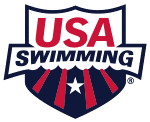 Are you looking for a new sport for your kids? Have you considered swimming? Ojai Heat Waves is the only youth swim team in the valley. We offer the Ojai Valley youth (4-14) ALL levels of competitive swimming from novice to high level competition. We compete in Southern California Swimming (USA Swimming).
There are so many benefits from youth swimming! Number one, it's a safety issue! Kids who swim are confident in the water and can also pursue other aquatic sports like surfing, triathlon, water polo and lifeguarding! Swimming is hard work! Swimmers are disciplined, fit (swimming burns more calories than jogging) and goal oriented. Swimming also provides kids with the tools, skills, and dedication to maintain healthier lives as adults. Join Us!
Novice Practices Start Tuesday March 5th 3:45-4:30
• No Experience Necessary*
• 8 classes/$75 members
• NON-Members welcome (add $20)
• Swim Meets Optional
• All Levels Welcome
*must be able to swim unassisted for 25 yards
Contact Aquatic Director Elin Cheverez for more information echeverez@caclubs.com