We Care About Your Health!

Flu & Virus Prevention
At the Ojai Valley Athletic Club, we are passionately committed to serving our members and guests and our daily focus is on improving the quality of life for all who come to enjoy our wonderful facility and property.

This includes being mindful of seasonal threats to overall health and wellbeing such as the influenza virus, and having an awareness and prevention plan in place for other communicable viruses that are of concern in our country today.

Rest assured our Club has customized procedures in place for each department with specific regard to cleanliness and sanitation of surfaces and equipment, and these practices are regularly reviewed by our management team.

With regard to the flu and other recent viral concerns, we provide ample disinfecting wipes and hand sanitizing stations throughout the Club and are increasing the number of dispensers for use.

Additionally, we are educating and encouraging our entire staff, and also would like to encourage our members and guests as well, to follow precautionary measures recommended by the Centers for Disease Control:
Take everyday preventive actions to stop the spread of germs.
Try to avoid close contact with sick people.
While sick, limit contact with others as much as possible to keep from infecting them.
If you are sick with flu-like illness, CDC recommends you stay home for at least 24 hours after your fever is gone except to get medical care or for other necessities. (Your fever should be gone for 24 hours without the use of a fever-reducing medicine.)
Cover your nose and mouth with a tissue when you cough or sneeze. After using a tissue, throw it in the trash and wash your hands.
Wash your hands often with soap and water. If soap and water are not available, use an alcohol-based hand rub.
Avoid touching your eyes, nose and mouth. Germs spread this way.
Clean and disinfect surfaces and objects that may be contaminated with germs like flu.
Preventative care is the best care.
Antioxidant-rich fruits and veggies and probiotic-rich fermented foods can strengthen your body's immune system. Ensure you are getting enough Vitamin D, whether in foods or supplements, to also increase your natural body armor. A balanced diet, plenty of water, physical activity daily, and a strong sleep schedule are your best defenses.

Your fellow members and the staff at the Club appreciate you following virus defense best practices during the flu season.

Sources:
https://www.cdc.gov/flu/weekly/index.htm#ILIActivityMap
https://www.healthline.com/health/flu/how-to-prevent-flu-naturally#takeaway
https://www.cdc.gov/handwashing/index.html
https://www.cdc.gov/coronavirus/2019-ncov/faq.html
OVAC NEWS
I don't know about you but I am ready to Spring forward and get that extra hour of sunshine in the evening! I think I just miss my Monday evening tennis clinics with Steve in the Spring and Summer. Can't wait to get back in action! Anyway, enough about me..let's talk about March at OVAC! We have a new round of Rock Your Diet starting at the beginning of the month. Danielle does an amazing job with this program. If you need more info please contact her and she can answer any questions you might have. We are also changing up a few things around the Cafe before The Ojai tournament in April. We will be getting a new look to the deck and the Cafe counter outside. Also a new menu and name!! The Cafe has really stepped up their game and I hope everyone gives it a try in the near future.

Our tennis and aquatics programs are rocking! If you have any interest in getting involved now is the perfect time! Elin in aquatics and Steve in tennis are great and can help you get started in either sport! We will also have the Pickleball courts done by the end of the month! We hope everyone has a great March and let's cross our fingers for a few more rain days before Summer!!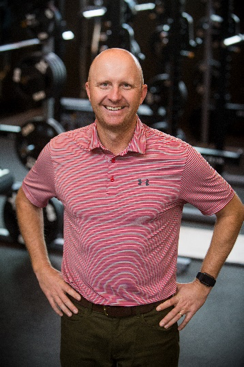 See Ya at the Club!!

Ryan
STABILITY

By Georgia Cotsis

Pilates is a lot about building strength and mobility at the same time. Yes, strength and mobility are two entities to exercise, but they do connect more than we think.
Our stabilizing muscles play a big part in our flexibility. No matter how flexible we are, it does not hardly matter until our stabilizing muscles can support the body. I may be able to bring my leg up to my nose, but if I cannot hold it there than the muscle is not as mobile as it can be. It was not until Pilates came into my life, where I started using my smaller muscle groups more consistently. The smaller muscle groups are what support our stretching exercises, and they also are there so that even our larger muscle groups can extend with more length instead of building a short muscle. Therefore, there ends up being more room, more "space" to extend to your fullest potential with the help the body needs.
Like they always say, "Less is more."
OJAI HEATWAVES

SWIMMERS MAKE A SPLASH AT COASTAL CHAMPIONSHIPS
By Head Coach Wenke Seider
12 swimmers from the Ojai Heatwaves swim team qualified and competed at the 2020 Southern California Swimming Short Course Coastal Championships in Lompoc, CA, on February 7-9. The Ojai swimmers all competed in the morning Preliminary sessions, and many swam fast enough to qualify for the afternoon Finals. Certain events had multiple Heatwave Swimmers represented in the same Final. Based on the 90% personal best times achieved at this championship meet, the event represented an important turning point for the team, which has only been competing at USA Swimming Events for the past two years.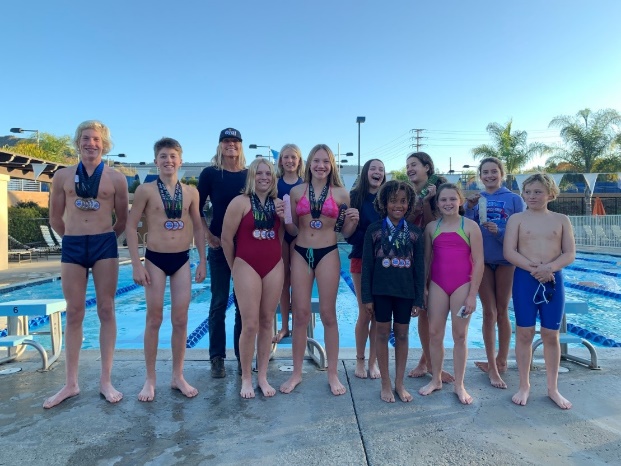 The top Heatwave scorers included (25 Yard Pool): Quin Seider (14) placing first in the 50 Freestyle :23.55, first in the 100 Freestyle :50.69, first in the 200 Freestyle 1:51.34, first in the 500 Freestyle 5:04.22, second in the 200 Individual Medley 2:13.06, and second in the 100 Butterfly 58.38; Amelie Pinkernell (13) placing third in the 200 Individual Medley 2:27.04, fourth in the 200 Freestyle 2:07.87, and fifth in the 50 Freestyle :27.29; Isabella Coleman (13) placing seventh in the 200 Individual Medley 2:33.52 and seventh in the 100 Breaststroke 1:18.41; Rian Aquila (12) placing fifth in the 50 Backstroke :32.07, fifth in the 50 Butterfly :32.18, and sixth in the 100 Backstroke 1:11.57; Ija Burton (8) placing second in the 50 Backstroke :41.84 and third in the 100 Individual Medley 1:39.19. Also scoring points and representing Ojai were Dahlia Bates Torres, Flynn Van Auker, Danielle Jowell, Meghan Roney, Maximilian Pinkernell, Melina Seider and Kirra Fink.



FITNESS NEWS

JUNIOR YOGA
Tuesday's at 3:45pm

Junior Yoga has a new time slot! It will now be held at 3:45pm on Tuesdays instead of it's original time of 3pm.
VIGOROUS VINYASA
Join our new instructor Oliver Newell Wednesday's at 10:45am for Vigorous Vinyasa. Cultivate strength, flexibility and presence by vigorously flowing through yogic postures, linking breath with movement.
NUPOWER VINYASA YOGA WITH BECKI DEVRIES
Join Becki Devries Fridays at 11:30am for Power vinyasa flow set to music and linked to breath. This class moves at a quick pace yet participants are encouraged to modify as needed.
WHAT IS AN ELIMINATION DIET?
By Danielle Wommack, Fitness Director

An elimination diet is a targeted nutrition plan that will allow you to determine specific information about the foods you eat and any food intolerances that may be undermining your health, fitness, and weight loss goals. Elimination diets are short-term, usually lasting between 2-6 weeks, and they are crucial in helping you learn, specific to your body, which foods may be causing digestive distress, skin irritation, and brain fog. Quite simply, an elimination diet cuts certain foods out of your diet for a few weeks, and then slowly introduces them, one-by-one, in order to pinpoint troublesome foods.

What foods are eliminated? Most elimination diets target common allergens (for example, dairy, eggs, peanuts, to name a few). In fact, a mere eight foods constitute over 90% of all allergic reactions (the ultimate food intolerance). Interestingly enough, allergy tests don't pick up on food intolerances and sensitivities. Some elimination diets also ask you to cut out other common culprits of inflammation, like alcohol, processed sugar and nightshades (eggplant, peppers, tomatoes, and potatoes).

But why cut out any foods, even short term? By eliminating the sources of inflammation even for only a few weeks, your body can heal and start a cascade of positive changes within your body. Leaky gut occurs when your intestinal lining becomes inflamed from eating dairy, gluten, sugar, or other foods to which you have developed a food intolerance. The inflamed gut lining unfortunately then allows food particles and other toxins to pass into the bloodstream, creating more inflammation. An elimination diet allows you to break the cycle and heal the gut. Such healing can be assisted through the addition of gut healing foods.

An elimination diet can even help with the following:
Reduce skin irritations, such as eczema and acne: Dairy and grains are two food groups with a strong link to acne and other skin irritations.
Prevent/treat learning and attention disorders: Elimination diets have been used as a successful treatment for the symptoms of ADHD.
Reduce migraines: Often the gut is referred to as the "second brain" because the gut actually communicates with your brain. An inflamed gut can send signals to your brain signaling migraines and headaches.
Reduce bloating, diarrhea, and constipation: Regularly eating foods you are sensitive to – even unknowingly – can cause long term gastrointestinal distress People who have gone on food elimination diets often say they didn't know there was something wrong until they cut out the foods that were causing them to suffer.
Help heal autoimmune conditions: Food sensitivities can create and worsen autoimmune disease. Not only is it possible to stop the severity of your autoimmune disease from worsening, but it is even possible to reverse your autoimmune disease by removing inflammatory problem foods.

If you suffer from digestive distress, skin breakouts, rashes, hormone issues, brain fog, difficulty losing weight, or sleep issues, an elimination diet is great place to start. The antibodies your immune system makes when it reacts to a problematic food you've eaten take about 3 weeks to dissipate, which means you can feel like a whole new person in only 3 weeks!

If you would like help getting started with an elimination diet, please feel free to contact me at dwommack@caclubs.com and together we can Rock Your Diet!
TENNIS NEWS

There is lots of exciting tennis action coming up in March. Stop by the courts during a match and cheer on your fellow members. Here are some important upcoming tennis dates:

Wednesday March 4, 9 AM, women's A2 Interclub vs Cathedral Oaks.
Sunday, March 8, 10 AM, USTA mixed doubles.
Wednesday, March 11, 9 AM, women's C Interclub vs Knollwood.
Saturday, March 14, 10 AM, USTA women's 3.5.
Sunday, March 15, 10 AM, USTA men's 4.5+
Wednesday, March 18, 9 AM, women's A2 Interclub versus SBTC.
Saturday, March 21, 12:30 PM, USTA men's 4.5+.
Saturday, March 21, 2:30 PM, USTA women's 4.0.
Wednesday, March 25, 9 AM, women's B interclub versus SBTC.
Sunday, March 29, 10 AM, USTA mixed doubles and USTA women's 3.5.
Sunday, March 29, 1 PM, junior team tennis versus Ventura (Camino Real)

Coming up in April it's time once again for the world famous Ojai Tennis Tournament which will take place at all courts in the area including OVAC's.

Also on April 4th and 5th OVAC will again be hosting a Ventura County Junior Tennis Association (VCJTA) youth tournament for both open and novice level players. Sign up at VCJTA. com.