UPDATE FROM RYAN
Well... we are still waiting to see what the Governor and Ventura County has to say in regards to a reopening date for gyms. It seems like we get different information almost daily. I'm sure everyone wants to get back to OVAC and we hope to open in the near future. I want to address a few things in regards to what a "reopening" means for gyms in the COVID era.
We will have many restrictions when we open. With social distancing it will require different rules for group fitness and the use of exercise equipment. Be ready for limited hours to exercise and limited number of members in group fitness classes. We will also have only one swimmer per lane in the lap pool. The rec pool might be limited to a certain percentage of people swimming at a time. Social events will be a thing of the past for at least a few months. Our lounge area will be limited for use and might even be converted to a stretch area if needed. Items like yoga mats and blankets will be eliminated for the short term. Members might need to bring their own towels for the first month or so.
I guess you can see that we are trying to provide a healthy and safe environment for everyone but also understanding that our regular way of operating will be compromised for the near future. We are still looking at any and all options to make OVAC the best club during these difficult circumstances. We hope everyone is doing well and staying safe. We really can't wait to get back open and thank everyone for their support!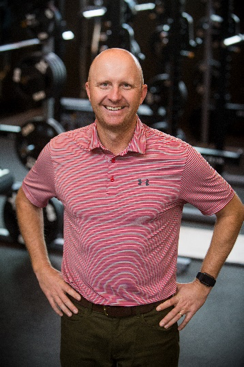 See you Soon!
Ryan
LIVE CLASSES FROM OVAC
We are so happy to have some of our amazing OVAC instructors holding class LIVE from Zoom. Classes may change weekly so please make sure you look for an email with each week's class schedule. Here are some of the classes we are offering this week:
Flexibility with Susan Bronstein
Yoga with Robert Evans
Dance Release with Maria David
Cardio Dance with Taylor Koester
Muscle Corset with Anna Kotula
Pump It Up with Trudie Town
WERQ with Sarah Houseman
High Intensity Strength Training with Andrea Gaines
Barre Above with Sarah Houseman
Dance Conditioning with Kim Hoj
TENNIS COURTS AND PICKLEBALL SOFT OPENING

BEGINS MAY 4th 8am-12pm
Exciting news- we feel things have progressed to the point where we can do a soft reopening of tennis and a grand opening of our now completed pickleball courts with social distancing guidelines in place. Some key aspects:
Begins Monday May 4
This a courtesy to all members and will run Monday-Friday. Your membership will not be charged.
Hours 8 AM to Noon Daily
First-come, first-served basis.
No court reservation necessary for now unless this proves problematic with long waiting times for courts.
One-hour time limit when courts are full
Check-in at staffed gate adjacent to court 1 and downstairs gym.
There will be no access to the clubhouse i.e. locker rooms and common areas (porta potty between courts. 5 and 6 has been removed)
Court 10/ball machine will remain closed until OVAC reopens.
Max 4 people per court for tennis and pickle.
HOME WORKOUT TIPS

By Danielle Wommack, Fitness Director

As gyms don't necessarily pose a risk greater than any other public space, I want to reassure you that we are working hard here at OVAC have the gym set up so that you can feel safe and confident to return and enjoy our Valley's premeire center for health and wellness without fear. Our personal trainers are being trained in the necessary steps they will need to take once our doors re-open to ensure your safety as priority #1, including having each personal trainer equipped with cleaning supplies on their person for constant and immediate usage. Most importantly, all our personal trainers are VERY eager to get back to their greatest passion - working in partnership with you to reach all of your fitness goals as soon as possible!
But, while we are all stuck at home working out for the time being, I wanted to share with you a quick tip for how to address the issue of having no weights or weights that you feel are too light at home. One trainer trick is simply to create more time under tension for your muscles and there a quite a few ways to achieve this. Here are a few…
PERFORM PAUSED REPETITIONS – Every exercise has a starting motion, a stopping point, and a return motion. Simply pause for 3 to 5 seconds at the stopping point. With a squat for example, you would lower down and hold down there for 3 to 5 seconds before standing again.
PERFORM SLOW REPETITIONS – Just like it sounds, slow down the pace. Using the squat example again, take 3 to 5 seconds to lower and 3 to 5 seconds to rise. You can even combine this with the example above and pause at the stopping point also for 3 to 5 seconds.
PERFORM 1 ½ REPETITIONS-This involves doing a full range of motion for the exercise you have selected and then performing only half a repetition. With our squat example – simply do a normal squat all the way down and back up, then only go all the way down again, but only ½ way up. Drop all the way down again and rise all the way up. This is considered 1 repetition.
PERFORM PULSE REPETITIONS-When you get to the stopping point, pulse there. Back to the squat example, squat down and just pulse (bob up and down ever so slightly) before rising up again.
ISOMETRICS-This involves simply stopping and holding at the toughest part of the exercise. With our squat, simply squat down and stay down. You can do this for a set period of time (30 seconds) or for as long as possible.
PERFORMS MORE SETS & REPITITIONS-If the weights aren't heavy enough, or you don't have any weights, this is the no brainer fix.
Use these variations to create more time under tension for your muscles with any exercise, not just the squat. And, if you need advice or guidance with your home workouts, nutrition, or anything related to your health and fitness, please reach out to me at dwommack@caclubs.com and I will make sure that the incredible OVAC Personal Training Staff do all that we can to help.
TENNIS UPDATE
I hope May finds you healthy and happy. As some of you already may know, the new pickleball courts and tennis/basketball court #11 have been completed and are ready for use once we reopen. We are planning a grand opening for these additions but that will have to wait until we know better what that will look like based on guidelines going forward.
By the time this newsletter comes out I'm hoping that we will already have tennis and pickleball partially reopened with social distancing on a limited basis and reduced hours each day. Tentatively we are looking at 5/4 as the day. A separate e-mail will be going out regarding this soft opening of racquet sports in the very near future if it hasn't happened at the time of your reading this.
Stay safe and see you on the courts soon!!

Steve
KIDS CLUB UPDATE

WE MISS YOU!

Hi Kids,
Here is what's going on in Kid's Club.
All of the Kid's Club staff have been very busy bees getting your room sparkling clean and organized for when we reopen. It sure looks like a big mess right now!

We would love to hear from you!

What have you been doing?
Please send us an email with a photo and description of what you've been doing to have fun, be creative, stay fit, eat yummy healthy foods, or to help someone else?

With your parent's permission we may post your photo and idea on the OVAC social media AND you will receive 30 minutes of Kid's Club free when we reopen.
Wishing you and your families health and happiness.

Please send your photos and ideas to Corkey at csolow@caclubs.com

We can't wait to see you!
Corkey, Meg, Kimari, Caysee, Rachel, Tiffany, Amber, Lindsay, and Caity