September Newsletter 2018
OVAC UPDATE FROM RYAN…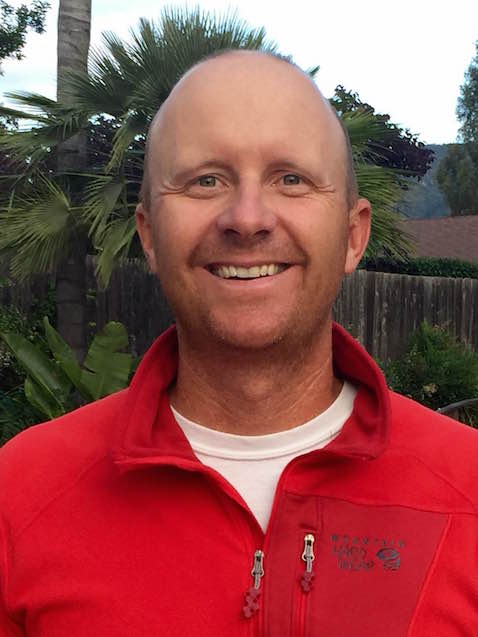 It has been a great August here at OVAC! It's always interesting when the Ventura Fair comes to town. We tend to be much slower during this time but not this year! It was great to see the pool active and classes full of members. We also added a great Wine and Painting Social that sold out! I want to thank Sara and Jamie for putting together a great event for our members! I hope everyone has met our new Tennis Director, Steve Beckendorf. He is starting his Fall program and if anyone is interested in getting introduced to Tennis please contact him anytime. We also have great Swim and Fitness programs throughout the Fall! I am very excited about September and I hope everyone enjoys the club!!
See Ya at the Club!
Ryan
WINTER HOURS START OCTOBER 1ST!!
Please be aware that we will start Winter hours at the club starting October 1st. The hours are the following:
Monday-Thursday 5:30am-9:30pm
Friday 5:30am-9:00pm
Saturday 7:00am-8:00pm
Sunday 8:00am-8:00pm



WINE AND PAINT NIGHT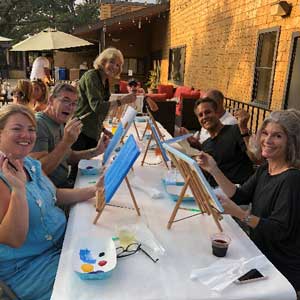 FRIDAY, SEPTEMBER 21ST 5:30PM-8PM
$30 per person. Non-Members welcome!
Our August Paint Night was so fun we are offering another in September! Come meet new people and bring your friends for a fun night creating your very own painting. You'll receive 2 glasses of wine, a canvas to paint, and inspiration. We supply everything you'll need to create your one of a kind painting. The last one was sold out so sign up in advance by signing up in the lobby or email Sarah at ssidote@caclubs.com. We ask that you give 48 hours notice if you need to cancel so that we can fill your seat from the waiting list. Cancellations in less than 48 hours or no shows will be charged $15.
FITNESS
TRY SOMETHING NEW…
Single Arm Bottoms-Up Kettlebell Floor Press
By Danielle Wommack, Fitness Director

This interesting variation on a standard Floor Press will help you develop forearm and grip strength, upper body strength, shoulder and scapular controlled mobility, as well as lumbo-pelvic stability. That's a lot of bang for your buck! And as a bonus, this is also a terrific core stability exercise as the muscles of your core work to stop your spine from rotating and hyperextending.

To perform this exercise:
Lie on the floor with your knees bent and your feet about hip width apart.
Holding the handle of the kettlebell with the round portion pointed up towards the ceiling, extend your elbow.
Lower the weight with control. At the bottom position, your elbow should be about 45 degrees away from your torso.
Stop just as your upper arm touches the floor.
Keeping the other arm extended up will prevent you from using it as a "cheat" for your core.
Do not allow your lower back to hyperextend, your rib cage to flare up, or your torso or hips to rotate.
Here is a video demonstration if you are more of a visual learner: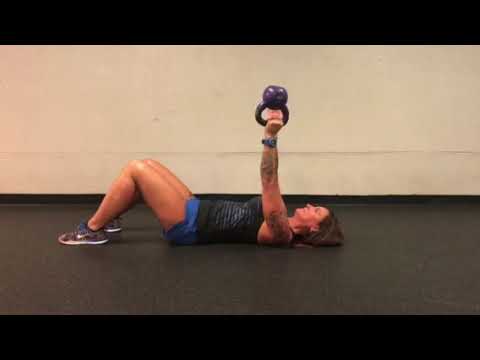 Try 3 sets of 8-12 repetitions in your next workout – I like you'll love it.



TENNIS NEWS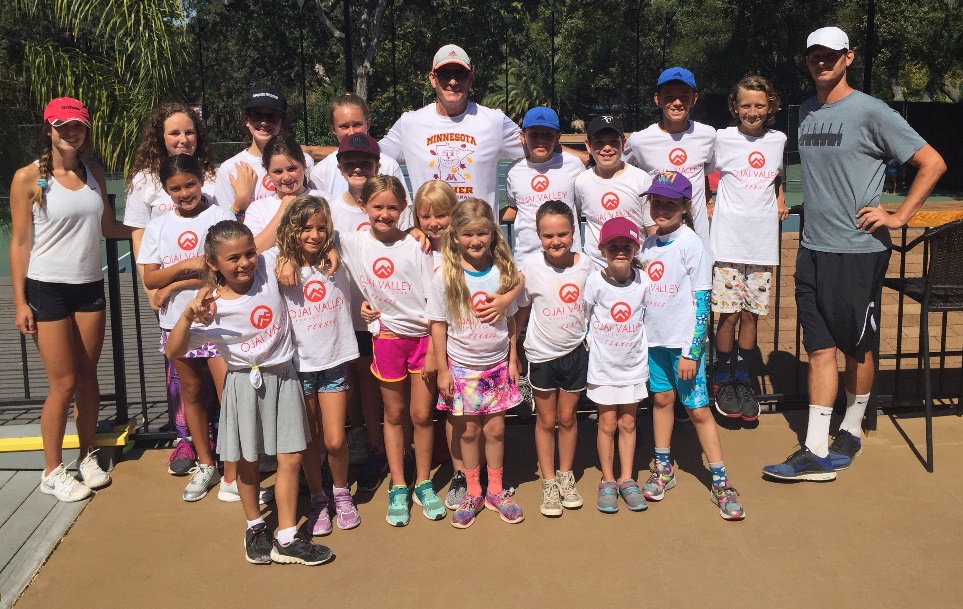 The ladies interclub season is about to get underway and OVAC will be having two teams represent us this time around, the A2's and the B's. The A2 roster is burgeoning and can accept no more players. The B's however need more players and could use some help! If you are a tennis member with a history of playing and have been waiting for the right time to get back into it, now is the perfect time. The interclub league is fun and social and consists of practices and doubles match play against other clubs mainly in the Santa Barbara area. Please contact Steve @ 805.746.0819 for more information.

In other news for those of you who need to dust off your racquets and get out on the courts or if you've been playing and are looking to improve your game, we'll be starting a beginning/intermediate adult co-ed clinic on Saturday mornings from 10:00 to 11:00. All members are welcome and non-members can also participate for an additional fee. Reservations will be required as the class size will be limited to 8 per court. Please contact Steve at sbeckendorf@caclubs.com or 805.746.0819.

Stay tuned for more information on TENNIS HAPPY HOUR. Save the date for September 28, the last Friday of the month.

I would just like to take a moment to personally thank the management, staff and members of OVAC for being so welcoming to me and my family over the course of the last few weeks. Although I arrived here under unexpected and emotionally trying circumstances, the warmth and kindness shown by everyone has been amazing and has made a difficult time easier to bear. I am truly grateful. If I haven't already met you I look forward to doing so. If you have any questions about tennis at the club please free to track me down.

Steve Beckendorf
Tennis Director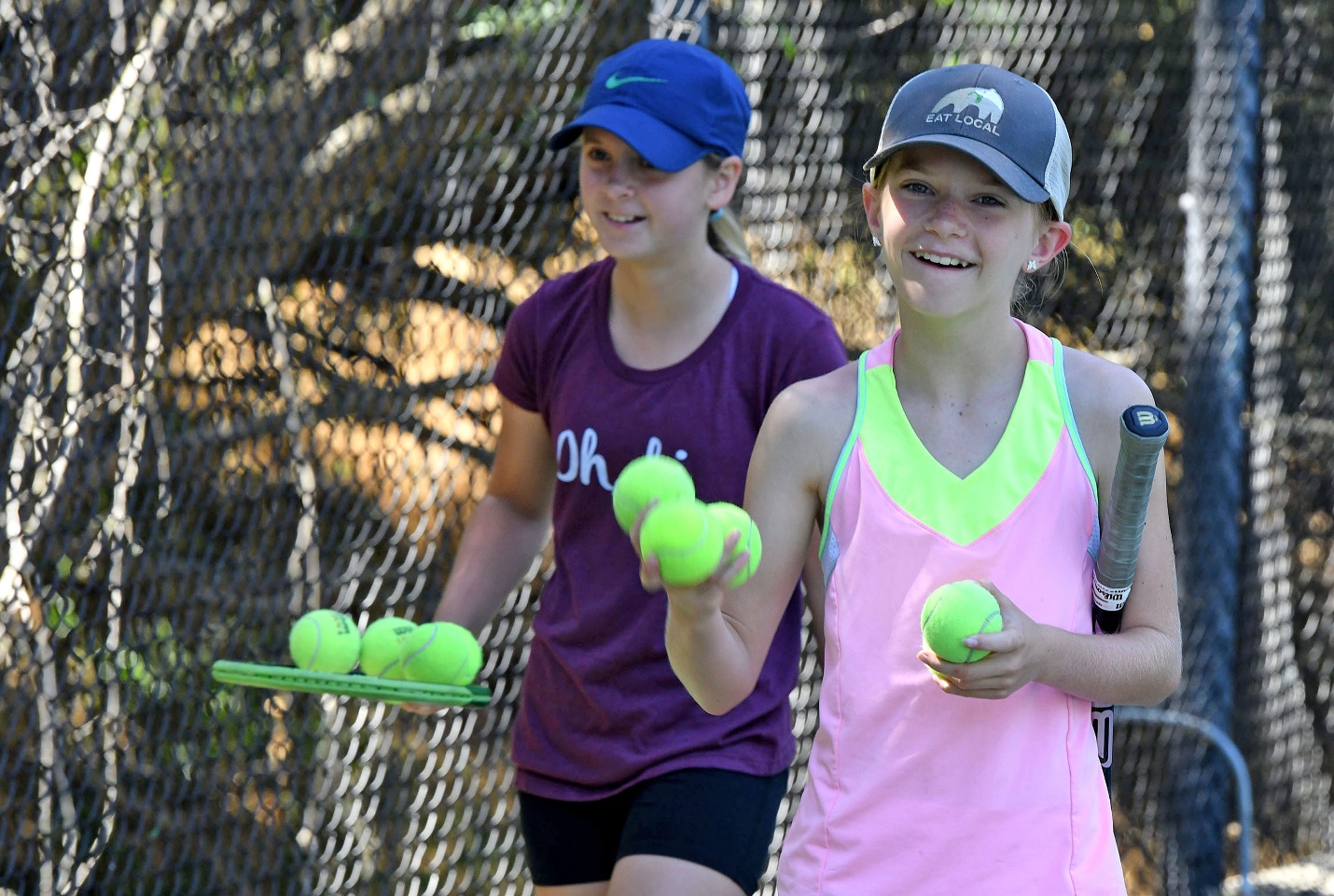 CLINIC AND LESSON PRICES
Lessons Member | Non-Member
90 min private $95 | $100
60 min private $65 | $70
45 min private $48 | $53
30 min private $35 | $40

Semi-Private: 2 People
90 min $50 ea | $55 ea
60 min $35 ea | $40 ea
Semi-Private: 3 People
90 min $30 ea | $35 ea
60 min $22 ea | $25 ea
Semi-Private: 4 People
90 min $25 ea $30 ea
60 min $18 ea $20 ea

Clinics Member Non-Member
90 min $18 | $21
60 min $15 | $18
45 min $12 | $15
Aquatics
COME SWIM WITH US!
Are you looking for a new sport for your kids? Have you considered swimming? Ojai Heat Waves is the only youth swim team in the valley. We offer the Ojai Valley youth (5-14) ALL levels of competitive swimming from novice to high level competition and non-competition. We are members of Southern California Swimming (USA Swimming).
There are so many benefits from youth swimming! Number one, it's a safety issue! Also, kids who swim are confident in the water can pursue other aquatic sports like surfing, triathlon, water polo and lifeguarding. Swimming is hard work! Swimmers are disciplined, fit (swimming burns more calories than jogging) and goal oriented. Swimming also provides kids with the tools, skills, and dedication to maintain healthier lives as adults. Join Us!
Novice Practices Start Tuesday Sept 4 3:45-4:30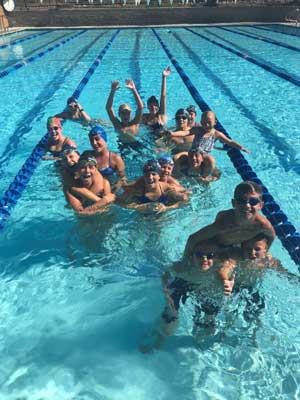 • No Experience Necessary*
• 8 classes/$70 members
• NON members welcome(add $25)
• Swim Meets Optional
• All Levels Welcome
*must be able to swim unassisted for 25 yard
Contact Aquatic Director: Elin Cheverez for more information
echeverez@caclubs.com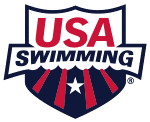 SAVE THE DATE: SATURDAY, OCTOBER 6TH
2018 SWIM PENTATHALON
5 X'S THE FUN
All Swimmers All Ages Welcome!
Registration begins Sept 10th
9:00am warm-up 10:00am start
Each entrant must swim 5 events which include:
• 50m Butterfly
• 50m Backstroke
• 50m Breastroke
• 50m Freestyle
• 100m Individual Medley