OJAI Heatwaves

OJAI HEATWAVES is a year round swim team that provides youth competitive swimming for all ages and abilities with an emphasis on education, achievement, and community. Our goals are to offer our members the highest quality stroke instruction, create enthusiasm for competitive swimming, and offer the Ojai Valley community youth the opportunity to pursue swimming as a life-long sport. We emphasize personal goal setting, excellent technique, health, fun and friendship.
If you are interested in joining the Ojai Heatwaves, please fill out the form below. Aquatic Director, Elin Cheverez will contact you with more information.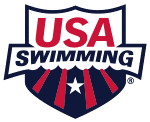 We are members of Southern California Swimming (USA Swimming.) We offer non-competition, novice competition and high level competition options. We have four levels and offer practices Monday through Friday and offer different swim meet options for the different training groups.



Contact Aquatic Director Elin [email protected]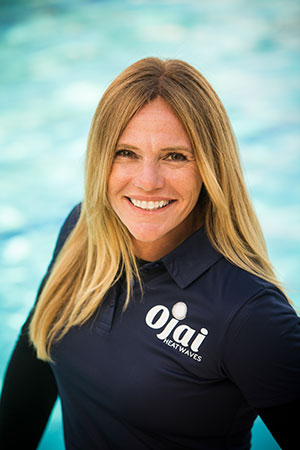 Elin Cheverez started swimming at age 4 and continued to swim competitively through high school in Walnut Creek, CA. She revisited the sport after becoming a member at OVAC and started swimming with the Ojai Masters. Swimming under Coach Rick Goeden , Elin enjoyed competing at Master's meets and earned a top 10 in the 200 LCM Breastroke. In 2008 Elin started coaching under Ojai Masters coach Rick Geodon. In 2011 Elin became the Aquatic Director at OVAC and Rick Goeden passed on the youth swim team to Elin. Starting with only 8 swimmers Elin has grown the team to 60+ swimmers working with Head Coach Wenke Seider. Elin and Wenke enjoy working together to accomplish their mission of offering high quality technical training. Elin is an ASCA Level 2 Masters coach, and is so grateful to be continually learning from the incredible coaching staff of the Ojai Heatwaves and Ojai Masters. She loves to see kids progressing in a lifelong sport that offers valuable life skills, and feels lucky to be part of the Ojai Heat Waves!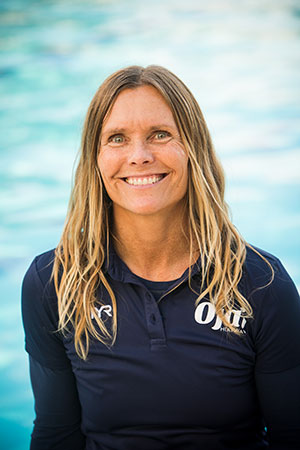 Head Coach Wenke Seider
Growing up in Germany, Coach Wenke started swimming at seven years old. At the age of 12 she became the German Age Group National Champion in the 100 breaststroke. At 13 she joined the German Junior National Team and competed at the European Junior Championships, placing fifth in the 100 breaststroke. She joined the German National Team at age 15 and competed for Germany for the next few years in international competitions such as European Championships, World Cup, etc.
During her high school years in Heidelberg (Germany), Wenke spent one year in Geneva,(Switzerland) training and competing for Geneve Natation.
At 19 Wenke moved to France to study at the University of Paris and continued to swim for one of the major clubs in France (Dauphins de Creteil), competing at French Nationals and other meets.
After receiving her College degree (DEUG) in Paris, she moved to Santa Barbara on a swimming scholarship for UCSB. There she became a two-time Big West Conference Champion, earned a BA in French Literature and later a Single Subject Teaching Credential, as well as a Master's degree in Education.
From 1998 to 2008 Wenke worked at the Santa Barbara Swim Club coaching all levels (from novice to elite) and together with her husband Brandon helped run the team of over 400 athletes for two of those years. During her time coaching at SBSC she coached swimmers to the highest level of age group swimming (Junior Olympics, All Star Swim Festival, Pacific Coast All Stars and North American Challenge Cup). Many of her swimmers went on to swim in College.
She has been coaching the youth swim team at the Ojai Valley Athletic Club since 2012.
As a masters swimmer Wenke qualified for the 2000 US Olympic Trials in the 100 and 200 breaststroke and held several Masters World Records, as well as five Masters World Championship titles. ASCA Level 4.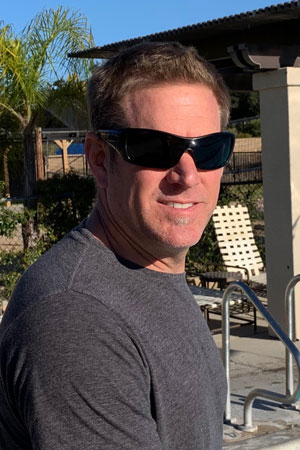 Coach Brandon Seider
Coach Brandon grew up in Carpinteria, CA and has enjoyed a long-time love of the water, going back to 1980 when he first experienced the joy of surfing and the ocean. His career in Aquatics began in 1989 as a member of the opening-day staff at the newly built Carpinteria Community Swimming Pool, where he maintained employment until 2002.

In 1995, Brandon was hired as a coach at the Santa Barbara Swim Club (SBSC), under nationally recognized coach, Ira Klein. From 1995 to 2002 Brandon coached the SBSC Senior Team, Masters Team and Novice Team, and is known for growing both the Novice and Masters Teams well beyond their capacity.

In 2000 Brandon was awarded the Southern Pacific Masters Association (SPMA) Coach of the Year Award. This was the same year Coach Wenke received the SPMA Swimmer of the Year Award, due to her amazing accomplishments as a Masters Swimmer, breaking numerous World and National Masters Records, as well as qualifying for the US Olympic Trials in two events (not an easy achievement at any age, but especially at age 30!).

In 2002, Brandon and Wenke became married, and Brandon accepted a position as the Sprint and Breaststroke Coach at UCSB, under legendary coach, Gregg Wilson. He experienced success while coaching the Sprint Group, including one of his athletes qualifying for and participating at Division I Women's NCAAs.

In 2004, Brandon left UCSB to take on the position of Head Coach at the Santa Barbara Swim Club. Being given the opportunity to lead the team where his competitive swim coaching career started was one of his highest honors.

Brandon thinks there is no greater joy than having the opportunity to help athletes of all ages become the best they can be, and is excited to return to swim coaching as a part time assistant to the Ojai Heat Waves Age Group and Senior Programs.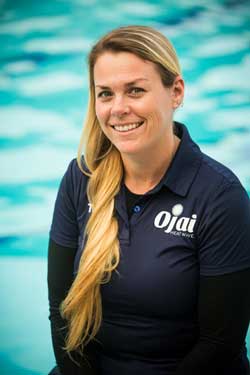 Coach Meg McCormick
Meg is a 4th generation Ojai resident raising her 4 daughters. She has always been passionate about sports from a young age including many junior lifeguard courses. As an adult she runs as well as swims and has completed it 7 marathons in her free time.

Meg is a self-taught swimmer at age 4 and even participated in swim class with her mom through the college when she was young. She later attended Ventura College after high school and swam during her time there. Meg started working at OVAC and continued to swim with her mom through the OVAC's master program with Coach Rick Geoden. Because of her prior years' experience working with children, she began working in the OVAC Kid's Club department. Coach Elin approached her with the opportunity as a swim instructor and she jumped at the chance. The fit was perfect due to the connection with the kids through Kid's Club and her passion of wanting to be a positive role model for kids which she wished she had more of growing up.
Meg completed her WSI training and taught learn-to- swim and parent child classes for years at OVAC.

She discovered her niche for teaching technique and started teaching pre- swim team groups for the Ojai Heatwaves. Meg also assisted with a couple seasons of swim and water polo through Nordhoff High School and coaches as well as serves as a board member for youth track team.
Meg is a certified CPR instructor and teaches American Red Cross CPR for all of the OVAC employees. Currently she coaches the first 3 levels of the swim team; Novice I, Novice II, and Junior Levels.

Teaching beginners the basics is an important task and Coach Meg has helped many children stay safe in the water and progress their swim careers. It has truly become a passion for her to help kids develop fundamentals and create a strong swimming foundation that not only creates lifelong skills but is also fun! Seeing the kids progress and move up to the higher levels and set goals makes her so proud.